MFIT Receives Silver MUSE Award
May 23, 2014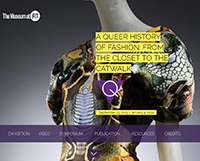 The Media & Technology Professional Network of AAM announce award winners during a special ceremony at AAM's Annual Meeting. This year's meeting, held in Seattle, WA, was based on the theme "The Innovation Edge" and also marked the 25th anniversary of the MUSE awards. Presented to institutions or independent producers who use digital media to enhance the GLAM experience and engage audiences, the MUSE awards celebrate scholarship, community, innovation, creativity, education, and inclusiveness.
View the full list of winners at AAM, and check out this funny Flickr album of winners
From the early stages of planning the exhibition, curators Fred Dennis, senior curator of costume, and Valerie Steele, director and chief curator of The Museum at FIT, envisioned, and fund-raised for, a strong and dynamic educational exhibition website. Committed to educating and inspiring new and existing audiences, The Museum at FIT knew it was imperative that this special exhibition have a significant web presence, not only for the run of the show but, one that could live on past the closing of the physical exhibition. "The Museum at FIT felt a deep sense of mission and purpose in putting together an exhibition and website on a topic of such great social and cultural significance," noted Valerie Steele. "Fostering a culture of inclusiveness for today and the future was a primary focus of this digital project."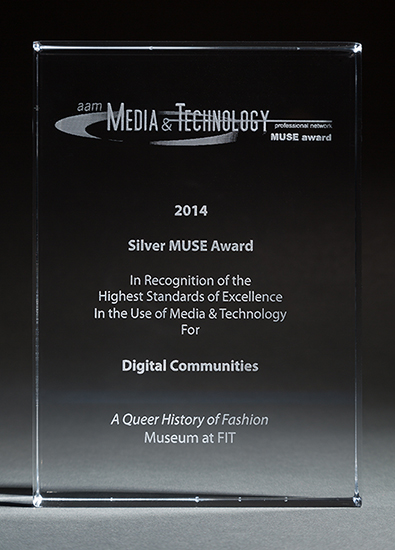 2014 MUSE Award for Digital Communities, © MFIT
Tamsen Young, Museum Media Manager, spearheaded the development of the exhibition website and its social media strategy. "It has been a pleasure and a privilege to work on this project and it is the Museum's hope that the website and its content continues to be an asset for those looking to engage with others about LGBTQ life and culture."
Thank you to AAM, Andrew Iskowitz from
Cortina Productions
who partnered with The Museum at FIT on the design and development of the website, and to our many sponsors, especially to FIT Trustee Richard Anderman, who hosted a fundraising event to support the development of the exhibition's educational website.
This is the second award for The Museum at FIT exhibition
A Queer History of Fashion: From the Closet to the Catwalk
. The museum received the
2013 Award of Merit
from the Museum Association of New York for engaging communities. The Award of Merit program acknowledges outstanding programs and individuals who have made the state's museum community richer and more relevant.