April 03, 2013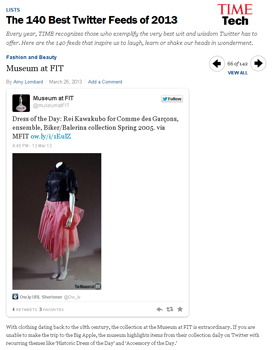 TIME magazine has named The Museum at FIT one of The 140 Best Twitter Feeds of 2013 in the fashion and beauty category.
As the magazine writes:
After consulting with TIME editors in every field from politics and sports to technology and entertainment, we've compiled a list of Twitter feeds that stand out for their humor, knowledge and personality. It's not comprehensive—there are more deserving tweeters than we can tally, and all honorees from previous years have been excluded. But like a good tweet, we've boiled down the issue to its essence: 140 feeds in 14 categories that you should follow right away.
Others cited in the fashion and beauty category are Tyra Banks, Tavi Gevinson, FIT alumnus Michael Kors, Maybelline, Laurel Pantin, Nicole Richie, Coco Rocha, Kate Upton, and VFiles.
Glamour magazine picked up this category from TIME's list and reposted it on Glamour.com, titling it 9 Fashiony People You Should Follow on Twitter NOW!
Written daily, the feed offers weekly themes that highlight artistic pieces from the museums extensive collection dating back to the 18th century, as well as other curated collections. The @museumatfit features Dress of the Day on Mondays and Wednesdays, Accessory of the Day on Tuesdays, and the Historic Dress of the Day on Thursdays. The last day of the week is devoted to the Fashion Image Friday, an engaging photograph, illustration, or painting. The Museum's Twitter feed currently has over 8,200 followers.