Valerie Steele discusses MFIT paper dresses
The thing about paper is, you usually throw it out.
The whole point of paper plates and napkins is that you don't have to wash them and put them away; as soon as you finish eating, they go into the trash. That's the main reason why a paper dress that cost less than $5 in 1966 can set you back a couple of thousand dollars today if you're lucky enough to find one at auction. People didn't usually save their paper dresses. They wore them once or twice—a rip, a spilled drink, a fallen ash—and it was history.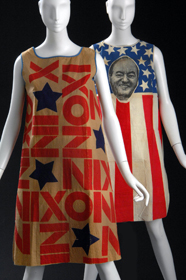 As a fashion historian, I'm fascinated by paper clothes. The Museum at FIT has a big room that we call the closet and when I go in, I find a long row of paper dresses that we have collected over the years.

Unfortunately, we don't have any of the rare and beautiful paper garments that Japanese Buddhist priests used to wear that symbolized transience and holy poverty. (The Japanese virtually fetishise paper and make some of the world's best hand-made paper, which is familiar to us all from origami, folding fans, waxed paper parasols, and other fragile items of beauty.) Nor do we have any of the once-common 19th-century European paper collars and cuffs that lower-middle-class men often wore because these could be easily and cheaply replaced when they got dirty.

But we do have dozens of great paper dresses from the 1960s; especially from their heyday, which lasted from 1966 to 1968. The wearers must have kept them as mementos of great parties. Or maybe they remembered playing with paper dolls, and kept them as souvenirs of the joy of dressing up. The classic style is a simple, sleeveless A-line dress with a seam up each side and along the shoulders. Despite the name, they are not really made of paper, but rather a nonwoven mixture of cellulose and cotton or rayon. Many were given away free (or with a coupon and a dollar) as advertising gimmicks by companies like the Scott Paper and Hallmark Card companies.

Many paper dresses are covered with an all-over pattern, such as flowers or a psychedelic print, but the more interesting ones have a picture. Among the most beautiful are a series of poster dresses, each featuring a giant photograph by Marc Leonard one of a woman's eye, for example, and another of a cat. In 1968, some women wore paper dresses with pictures of a presidential candidate, such as Hubert Humphrey or Richard Nixon, whereas today they'd probably wear T-shirts.

One of my favorites is The Souper Dress. Produced by the Campbell Soup Company in 1968, it features rows of red and white Campbell's Soup cans, and is obviously a spoof of Andy Warhol's famous artwork. (It promises you'll look "Mmm, Mmm Good!") Souper Dress originals are hotly coveted by collectors today.

Some paper dresses were intended to be hand-painted, and Warhol himself actually decorated two dresses in 1967. The Mars Manufacturing Company provided the blank white dresses. The singer Nico from The Velvet Underground laid down on a table and Warhol silkscreened the word FRAGILE on her dress and then signed it Dali. He also pasted silkscreened paper bananas on another dress. Today both are in the collection of the Brooklyn Museum.

Paper dresses perfectly embodied the spirit of Pop Art, since they were amusing and of the moment. But they soon fell out of fashion. In recent years, however, some avant-garde designers have begun experimenting with paper. The Museum at FIT has one of Hussein Chalayan's Airmail Dresses, made out of Tyvek that can be folded into an envelope. And I am dying to get my hands on one of Tao Kurihara's beautiful white paper dresses from her Spring/Summer collection of 2007, inspired by the special quality of bridal gowns, which like the classic paper dress are intended to be worn only once. Project Runway recently featured an episode in which contestants made garments out of newspaper, such as an origami dress and the winner a paper trench coat. These fragile garments remind us that, even in a digital age, paper is here to stay.