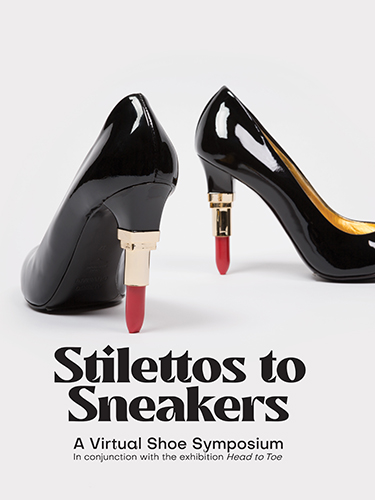 Alberto Guardiani, patent leather and plastic shoes, spring 2013, Italy, gift of Alberto Guardiani, 2013.15.1.
Friday, December 3, 2021
11am – 1pm EST
Online – YouTube Premieres
The Museum at FIT's 25th fashion symposium Stilettos to Sneakers: A Virtual Shoe Symposium brings together scholars and curators and their new research on the social and cultural significance of shoes. Shoes have played an important role in human society for millennia, but interest in them has grown exponentially in the past few decades with Americans—especially women—buying more shoes. A growing cohort of men have begun collecting sneakers. This symposium explores the evolving significance of shoes over the centuries—in real life and in the cultural imagination. In this way, we hope to show the many ways in which shoes matter to us.
Join us for Q&A during the YouTube premieres of these pre-recorded events.
The symposium is organized in conjunction with the forthcoming exhibition Head to Toe, which will open November 17, 2021.
Symposium Schedule
11 am-11:30 am EST
Dr. Valerie Steele and Colleen Hill , "Shoes: The Collection of The Museum at FIT"

11:30am-12 pm EST
Melissa Marra-Alvarez and Elizabeth Way, "Head to Toe"

12 pm-12:30 pm EST
Elizabeth Semmelhack, "He Wore/She Wore: The Short History of High Heels"

12:30 pm-1:00 pm EDT
Christyna Pourhabib, "The First Pair: A Look into Sneaker Culture"