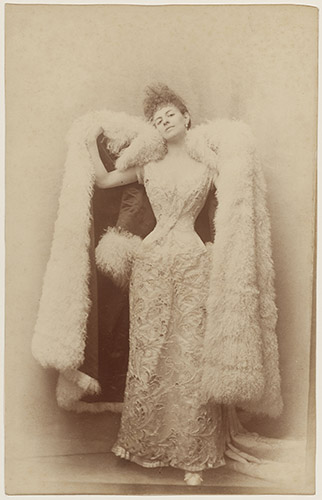 Photograph by Otto, the Countess Greffulhe in a ball gown, circa 1887.
© Otto/Galliera/Roger-Viollet
Thursday, October 20, 2016
Katie Murphy Amphitheatre
Fred P. Pomerantz Art and Design Center,
First Floor
The Museum at FIT presented its 16th academic symposium Proust's Muse. The day-long symposium was organized in conjunction with the exhibition Proust's Muse, The Countess Greffulhe. Researchers from the United States and Europe discussed the connections between fashion, patronage, literature, and the arts in turn of the century France. The Countess Greffulhe was a champion of the arts, who influenced literature, ballet, and music. The French composer Gabriel Fauré dedicated his slow processional piano piece—Pavane—to her, and she was a major supporter of the Ballets Russes, an itinerant ballet company based in Paris. She also supported the scientist Marie Curie, and the unjustly-imprisoned Jewish army officer, Alfred Dreyfus.

See our Proust's Muse Symposium playlist on YouTube for recordings of this event.
Thursday, October 20, 2016
10 am-1 pm
Dr. Joyce F. Brown
, president of FIT
Welcoming remarks
Dr. Valerie Steele
, introduction
Laurent Cotta and Dr. Valerie Steele,
in conversation "Proust's Muse, the Countess Greffulhe" |
VideoLaurie Hillerin
, "The Countess Greffulhe: Portrait of a Forgotten Star"
Françoise Tétart-Vittu,
"1885-1900, Golden Age of Parisian Fashion: International Makers and Propagators" |
VideoPhillipe Thiébaut,
"Robert de Montesquiou, Artist of Attitude and Gesture" |
Video
2-5pm
Dr. Caroline Weber
, "Dressing in Code: Mme. Greffulhe and the Costume Balls of Fin de Siècle Paris"
Dr. Heidi Brevik-Zender
, "A Fashion Inspiration: The Countess de Castiglione"
Dr. Susan Hiner,
"Feathers, Flowers, and Fantasies: Accessorizing the Belle Époque"
Dr. Justine De Young,
"Fashion, Art, and Portraiture in the Belle Époque"
Dr. Mary E. Davis,
"Proust and the Ballets Russes"
Lucy Norris,
"The Influence of the Countess Greffulhe on Contemporary Fashion" |
Video
5:15pm
Fashionable Muses | A concert inspired by Proust's Muse: The Countess Greffulhe
With music by Reynaldo Hahn (1874-1947), Igor Stravinsky (1882-1971), Richard Strauss (1864-1949), and Gabriel Fauré (1845-1924).
---
The Proust's Muse Symposium is made possible thanks to the generosity of the Couture Council and the Coby Foundation, and is supported by an Action Grant from the New York Council for the Humanities.