Ballerina: Fashion's Modern Muse Symposium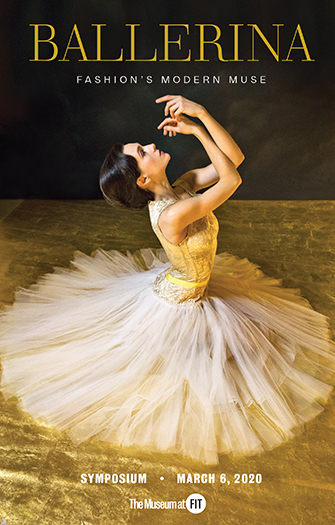 Friday, March 6, 2020, 10 am - 5 pm
Morris W. and Fannie B. Haft Theater
Marvin Feldman Center, Second Floor
Ballerina: Fashion's Modern Muse was The Museum at FIT's 23rd academic symposium. The one-day event explored the ways in which twentieth-century ballerinas and their glamorous, romantic costumes profoundly inspired modern fashion.
Speakers included Lynn Garafola, professor emeritus of Columbia University; Laura Jacobs, dance and fashion critic; Jane Pritchard, curator of dance at the Victoria and Albert Museum; and Patricia Mears, deputy director of MFIT and curator of Ballerina: Fashion's Modern Muse.
WATCH RECORDINGS OF ALL THE PRESENTATIONS ON THE MUSEUM AT FIT'S YOUTUBE CHANNEL
Symposium Schedule
SPEAKER BIOGRAPHIES | SYMPOSIUM READING LIST (PDF) | EVENT PHOTOS
Friday, March 6, 2020
10 am-1:00 pm
Dr. Valerie Steele, director of The Museum at FIT, Welcoming remarks
Patricia Mears, "Ballerina: Fashion's Modern Muse" | Video
Laura Jacobs, "Crown Jewels: Reflections on the Ballerina" | Video
Caitlyn Lehmann, "Turbans, Tulle and Taglioni's Influence on Fashion, 1830–45" | Video
Jane Pritchard, "Sylphs, Snowflakes and Soldiers: Fashionable Costumes for the Ballet Dancer in the Late Nineteenth Century" | Video
Lynn Garafola, "Anna Pavlova: A Ballerina of Taste" | Video
1-2:30 pm
Lunch break
2:30 pm-5:30 pm
Rosemary Harden, "Enter the Ballerina: Margot Fonteyn and Fashion, 1930s–1960s" | Video
Russ Tallchief, "The Five Moons: Oklahoma's Native American Ballerinas" | Video
Joel Lobenthal, "Dryads of West 55th Street" | Video
Theresa Ruth Howard, "Dark Muse: Balanchine and Blackness" | Video
Ballerina: Fashion's Modern Muse has been made possible thanks to the generosity of the Couture Council of The Museum at FIT and the New York State Council on the Arts, with the support of Governor Andrew M. Cuomo and the New York State Legislature. Additional support was provided by the Society of Antiquaries of London and the Gainsborough Bath Spa.