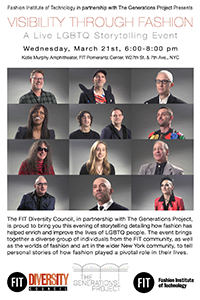 "Visibility Through Fashion" - An LGBTQ Storytelling Event

Friday, April 6, 2018 | 6pm
Katie Murphy Amphitheatre
Fred P. Pomerantz Art and Design Center
The FIT Diversity Council, in partnership with The Generations Project, is proud to bring you this evening of storytelling detailing how fashion has helped enrich and improve the lives of LGBTQ people. The event brings together a diverse group of individuals from the FIT community, as well as the worlds of fashion and art in the wider New York community, to tell personal stories of how fashion played a pivotal role in their lives.
No registration is required.
---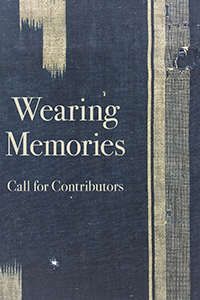 Contribute to an upcoming exhibition at The Museum at FIT!
Do you have a garment that holds special meaning? Share with us its story and images for our spring 2018 exhibition, Fashion Unraveled, a show about clothing that is worn, imperfect, and incomplete. The Museum at FIT is inviting the public to help tell the story of clothes. Join us by sharing yours and it might be included in a digital component of our exhibition!
---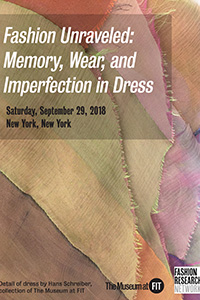 Call for Papers – Colloquium on "Fashion Unraveled"


Saturday, September 29, 2018
The Museum at FIT
New York, New York

The Museum at FIT is excited to announce its first call for papers. We request abstract submissions by April 25, 2018 for the colloquium, Fashion Unraveled: Memory, Wear, and Imperfection in Dress. Organized by Colleen Hill (The Museum at FIT) and by Alexis Romano and Ellen Sampson (both of the Fashion Research Network), this one-day colloquium on Saturday, September 29 explores the concepts of memory, wear, and imperfection in fashion. Read more.
---

---
Past Workshops

Cross-Pollination: Masterpieces of the Collections
Online event
This workshop was organized by The Museum at FIT in conjunction with Mexico's Atelier Romo and the Sala de Arte Publico Siqueiros (SAPS). Under the mentorship of artist Sebastian Romo and Tanya Melendez, MFIT's curator of education, students from FIT and Atelier Romo interpreted MFIT's costume collection and SAPS' murals. Results are published via the link above.
---

Cross-Pollination: Eco-Fashion
Online event
Students from FIT and the Mexican school CENTRO shared their skills, diverse perspectives and interpretations of the MFIT exhibition
Eco-Fashion: Going Green
.
In the summer of 2010, The Museum at FIT invited five students from each institution to investigate ecological sustainability in fashion and what that means to them. The two teams of students were then asked to work together to develop a joint project that would
reflect their discoveries and conclusions
...
This workshop was organized in collaboration with the Mexican Cultural Institute of New York and Centro de diseño, cine y television. It was made possible in part through funding by the FIT Student-Faculty Corporation.
---