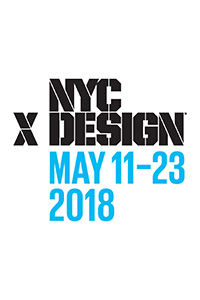 NYCxDESIGN: Celebrating A World of Design
FIT is part of NYCxDESIGN, New York City's annual celebration of design which attracts hundreds of thousands of attendees and designers from across the globe. Taking place each May — this year on May 11–23 — the event celebrates a world of design and showcases over a dozen design disciplines through events taking place across the city's five boroughs. For details, visit NYCxDESIGN.com.
2018 FIT Art and Design Graduating Student Exhibition
May 9 - 24, 2018
The Museum at FIT and various locations
NYCxDesign Student Showcase
Monday, May 14, 2018 | 7 - 9am
School of Visual Arts, 136 W. 21st St., Seventh Floor
---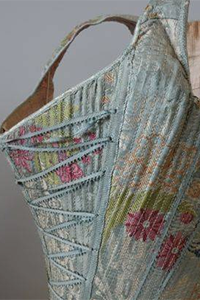 Structuring Fashion – Foundation Garments through History


September 13 - 14, 2018 | 6pm
Bayerisches Nationalmuseum
Munich, Germany
This conference will focus on undergarments that have shaped fashionable silhouettes. It will cover a broad timespan from the Middle Ages up to the 21st century. Conducted in English, the event will be held in Munich to celebrate a very special exhibition and the launch of an exciting new book. Internationally renowned experts like Dr. Valerie Steele, Alexandra Palmer (ROM Toronto), Peter McNeil (UTS Sydney), Amalia Descalzo (ISEM Madrid) and Denis Bruna (MAD Paris) will be among the speakers at the conference.
---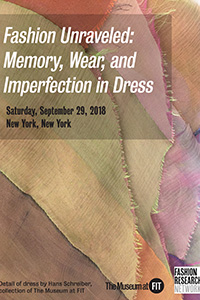 Fashion Unraveled: Memory, Wear, and Imperfection in Dress


Saturday, September 29, 2018
The Museum at FIT
New York, New York

Fashion Unraveled: Memory, Wear, and Imperfection in Dress is organized by Colleen Hill (The Museum at FIT) and by Alexis Romano and Ellen Sampson (both of the Fashion Research Network). This one-day colloquium on Saturday, September 29 explores the concepts of memory, wear, and imperfection in fashion. Read more.
---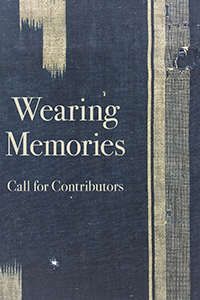 Contribute to an Upcoming Exhibition at The Museum at FIT
Do you have a garment that holds special meaning? Share with us its story and images for our spring 2018 exhibition, Fashion Unraveled, a show about clothing that is worn, imperfect, and incomplete. The Museum at FIT is inviting the public to help tell the story of clothes. Join us by sharing yours and it might be included in a digital component of our exhibition!