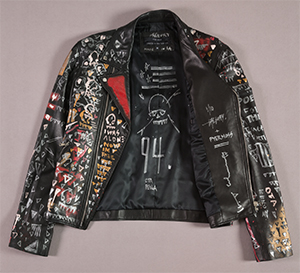 Power is part identity, part behavior, and part physicality. The way we outfit ourselves can play an outsized role in conveying power to others - whether it be the pink "pussy hats" at the 2017 Women's March or the Cleveland Cavaliers' coordinated Thom Browne suits during the 2018 NBA playoffs. However, power is not easily defined. It is political position and economic status, but also military strength, sexual authority, rebellion, and protest. Each form of power has found sartorial expression in a variety of ways, from gray flannel suits to latex fetish wear, and from gilded brocades to distressed jeans.
Power Mode: The Force of Fashion will explore the role fashion plays in establishing, reinforcing, and challenging power dynamics within society. It will include both men's and women's clothing from the 18th century to the present, organized thematically to concentrate on five categories: military, suits, status, rebellion, and sex. Each section will investigate how certain designs and garments have come to be culturally associated with power, as well as how their meanings have evolved over time. The exhibition will also examine how fashion designers have interpreted these stylistic archetypes — both to convey and to subvert power.
Image: Pyer Moss by Kerby Jean-Raymond, jacket, fall 2015, USA, gift of Pyer Moss.
---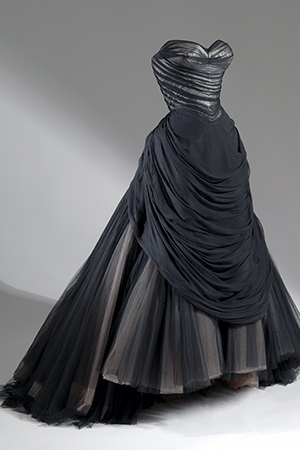 Ballet is a century's old art form that consistently reflected and absorbed prevailing fashions. It was not until the interwar years of the twentieth century that ballet took its place in the western pantheon of modern high culture and began to influence many areas of creativity, including fashion. At the same time, the ballerina, the art form's most celebrated practitioner, blossomed into a revered figure of beauty and glamour, and her signature costume — the corseted tutu — inspired many of fashion's leading designers for the first time. Organized by Patricia Mears, deputy director of MFIT, Ballerina: Fashion's Modern Muse will illustrate the rise and subsequent influence of classical ballet and ballerinas on high fashion from the early 1930s to the late 1970s. The popularization of classical ballet during the mid-century owes much to the British and Americans. A French creation that was elevated to a supreme art form in Imperial Russian, classical ballet would become the most popular performing art in the United Kingdom during the 1930s and 1940s, and later, the United States. At its peak, from the early 1930s to mid-century, haute couture looked to classical ballets such as Giselle, Swan Lake, and Sleeping Beauty for aesthetic inspiration. Modern ballets performed in leotards and tights would also influence mid-century American activewear fashions.
Most of the 80 objects on view in the exhibition will be high fashion garments, ranging from Parisian couture to British custom-made clothing to American ready-to-wear. Also included will be a small selection of costumes and rehearsal clothing illustrating the rich yet often overlooked connection between classical ballet and fashion. The exhibition will be accompanied by a lavishly illustrated book to be published by Vendome Press. Contributors will include Patricia Mears, Laura Jacobs, Joel Lobenthal, Jane Pritchard, and Rosemary Harden.
Read more about Ballerina.
Image: Charles James ballgown, s

ilk chiffon, satin, netting, and boning

,

1954-1955

, USA, gift of

Robert Wells in memory of Lisa Kirk

.
---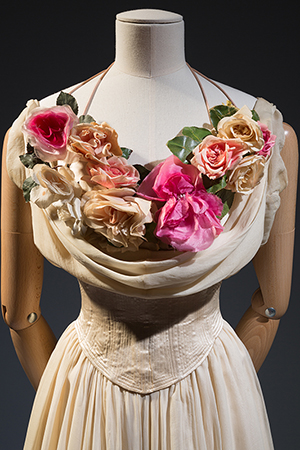 Ravishing: The Rose in Fashion
Special Exhibitions Gallery
September 2020 – January 2021
Ravishing: The Rose in Fashion presents the first socio-cultural examination of the rose in fashion. This flower can be dated back over 3 million years, and its broad geographic sweep is entwined with stories of trade, immigration, politics, religion, gender, food, beauty, and identity. It has been worshipped and reviled, and it is inextricably linked to perceptions of love. Not surprisingly, this delicate and fragrant flower — as well its sharp thorns — have provided endless inspiration for artists, writers, and designers. The rose has greatly influenced the form and decoration of apparel, jewelry, and fashion imagery.
Ravishing will explore the significance of the rose in fashion and dressed appearance from circa 1750 to the present. More than seventy-five objects will be selected for their historic and aesthetic significance in addition to their broader symbolic, socio-economic, and geo-political importance. The exhibition is curated by Amy de la Haye, Rootstein Hopkins Chair of Dress History and Curatorship and Joint Director of the Centre for Fashion Curation at London College of Fashion, and Colleen Hill, curator of costume and accessories at The Museum at FIT.
Image:

Charles James, debutante dress, 1937, USA, Gift of Mrs. John Hammond, 77.89.3.
.
---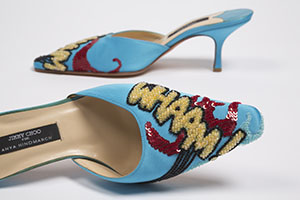 Shoes
Special Exhibitions Gallery
September 2021 – January 2022
Shoes will be a major exhibition at The Museum at FIT, scheduled to open in September 2021. The exhibition will highlight more than 400 spectacular shoes from the museum's permanent collection, dating from the 17th century to the present, with particular emphasis on spectacular 21st-century footwear. Labels to be featured include Alaïa, Manolo Blahnik, Chanel, Ferragamo, Christian Louboutin, Alexander McQueen, Prada, Noritaka Tatehana, Iris van Herpen, and Roger Vivier, among others. Where appropriate, we will include both historic and contemporary styles from each brand.
The exhibition will be augmented by a lavishly-illustrated companion book, published by Taschen, which will loosely follow the format of the beautiful 2012 publication Fashion Designers A-Z: The Collection of the Museum at the Fashion Institute of Technology (Taschen; now in its third edition). The publication will include images of shoes from approximately 55 major labels, accompanied by short essays explaining the importance of each brand. Another 100 shoe styles will be featured in a timeline, complemented by extended captions that highlight the historical significance of each style.
Following the success of the MFIT exhibitions Shoes: A Lexicon of Style (1999) and Shoe Obsession (2013), this exhibition will provide its own rich narrative on the enduring cultural significance of shoes, and showcase the museum's world-class collection of footwear.
Image: Jimmy Choo for Anya Hindmarch, evening mules, circa 1998, England, gift of Virginia Barbato. 2017.72.2.