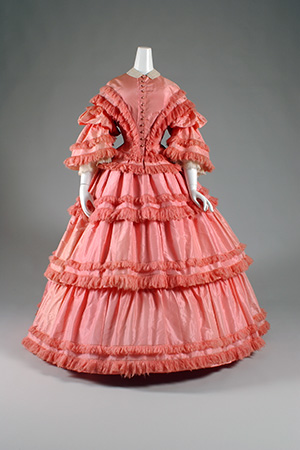 Pink is popularly associated with little girls, ballerinas, Barbie dolls, and all things feminine. Yet the symbolism and significance of pink have varied greatly across time and space. The stereotype of pink-for-girls versus blue-for-boys may be ubiquitous today, but it only gained traction in the mid-twentieth century. In the eighteenth century, when Madame de Pompadour helped make pink fashionable at the French court, it was perfectly appropriate for a man to wear a pink suit, just as a woman might wear a pink dress. In cultures such as India, men never stopped wearing pink.
Yet anyone studying pink comes up against "the color's inherent ambivalence." One of "the most divisive of colors," pink provokes strong feelings of both "attraction and repulsion." "Please sisters, back away from the pink," wrote one journalist, responding to the pink pussy hats worn at the Women's March. Some people think pink is pretty, sweet, and romantic, while others associate it with childish frivolity or flamboyant vulgarity. In recent years, however, pink has increasingly has been interpreted as cool, androgynous, and political.
Curated by Dr. Valerie Steele, director of The Museum at FIT, Pink: The History of a Punk, Pretty, Powerful Color will explore the changing significance of the color pink over the past three centuries.
Read more about Pink.
Image: Afternoon dress, pink silk taffeta, 1857, USA, museum purchase.
---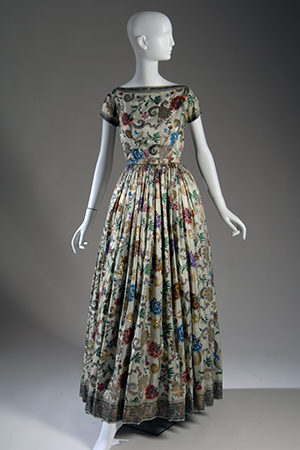 Fabric In Fashion
Fashion & Textile History Gallery
December 4, 2018 – May 2019
Fabric In Fashion explores the role played by textiles in forming the silhouette in Western fashion over the last 250 years. The examination of textiles is often separated from that of the fashionable silhouette, yet historically, textiles were as important as the cut of clothing in keeping up with current fashion. This exhibition will delve into the mechanics of textiles, looking at how fibers and weaves build the materiality of fashion. It will also explore the cultural influence of fabric. The Western world's demand for fashionable textiles of silk, cotton, wool, and synthetics has had enormous repercussions across the globe.
Fabric In Fashion will highlight both clothing and flat textiles from the museum's permanent collection, examining how the physical properties of specific fabrics determine the way a piece of clothing interacts with the body, as well as how the design and cultural associations of textiles reveal the social motivations that drive fashion forward. The exhibition is organized by Elizabeth Way, assistant curator of costume.
Image: Traina-Norell, "Indian sari" silk brocade dress, circa 1955, gift of Mildred Morton.