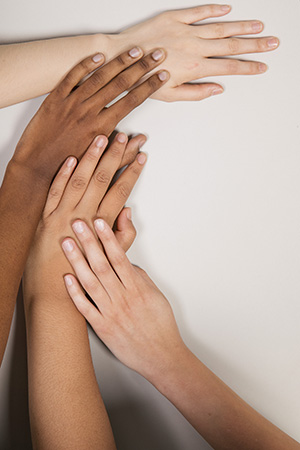 Expressions of Civility
Gallery FIT & Other Locations
November 19, 2018 – January 26, 2019
Expressions of Civility is the annual Fashion Institute of Technolgy faculty/staff exhibition. This year, for the first time ever, the faculty/staff show will include student work. The theme was chosen in order to support and expand upon President Dr. Joyce F. Brown's campus-wide initiative on civility, which culminated in October with Civility Week. All of the work featured in this multimedia exhibit will revolve around
this meditation on civility:

What does it mean to be civil in a world that is increasingly coarse and unkind? In an era during which personal attacks and inflammatory positions have superseded dialogue and debate, how do we seek to understand that which separates us? How do we build connections that increase empathy, inclusivity, knowledge, and community? Civility, and the ability to reconcile our differences for the greater good, are at the very root of a democratic society. Civility encourages forward movement, it moves us past our points of conflict, it fuels progress. Ultimately, it's the only thing that ever has.

Other dates/locations for the exhibit include:
November 14th, 2018 - October 2019: Lynn and Carl Goldstein Gallery, Feldman Center, Ninth Floor (Faculty/Staff Work)
November 19th, 2018 - March 31, 2019: Gladys Marcus Library, Fifth and Six Floors (Student Work)
Image: Courtesy of

Ni Ouyang

.
---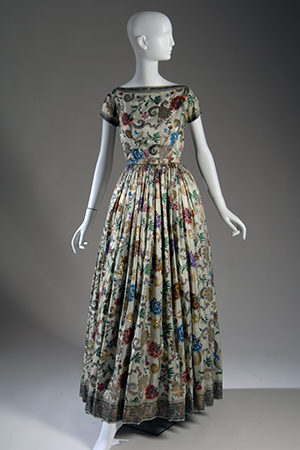 Fabric In Fashion explores the role played by textiles in forming the silhouette in Western fashion over the last 250 years. The examination of textiles is often separated from that of the fashionable silhouette, yet historically, textiles were as important as the cut of clothing in keeping up with current fashion. This exhibition will delve into the mechanics of textiles, looking at how fibers and weaves build the materiality of fashion. It will also explore the cultural influence of fabric. The Western world's demand for fashionable textiles of silk, cotton, wool, and synthetics has had enormous repercussions across the globe.
Fabric In Fashion will highlight both clothing and flat textiles from the museum's permanent collection, examining how the physical properties of specific fabrics determine the way a piece of clothing interacts with the body, as well as how the design and cultural associations of textiles reveal the social motivations that drive fashion forward. The exhibition is organized by Elizabeth Way, assistant curator of costume.
Read more about Fabric In Fashion.
Image: Traina-Norell, "Indian sari" silk brocade dress, circa 1955, gift of Mildred Morton.
---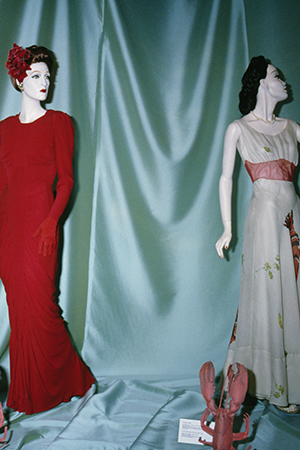 Exhibitionism: 50 Years of The Museum at FIT
Special Exhibitions Gallery
February 8, 2019 – April 20, 2019
Founded in 1969 by the Fashion Institute of Technology, The Museum at FIT is a specialized fashion museum famous for its innovative and award-winning exhibitions. The museum has been the site of more than 200 exhibitions since the 1970s, and Exhibitionism commemorates approximately 33 of the most influential of these, including Fashion and Surrealism (1987), a groundbreaking show that explored the relationship between art and fashion; The Corset (2000), a beautiful and brilliant exploration of the most controversial garment in fashion history; and Fairy Tale Fashion (2016), a magical look at the such enchanted and emblematic items as the glass slipper and the red riding hood. Exhibitionism also includes highlights from more recent, award-winning exhibitions, such as A Queer History of Fashion: From the Closet to the Catwalk (2013) and Black Fashion Designers (2017). Each exhibition will be highlighted using garments, photos of its original installation, and text that explains its importance, providing an engaging, "behind the scenes" look at the process of exhibition making.
Image: Installation view of

Fashion & Surrealism

(1987

)

featuring

La Sirène

dress by Charles James and "Lobster" dress by Elsa Schiaparelli and Salvador Dalí.
---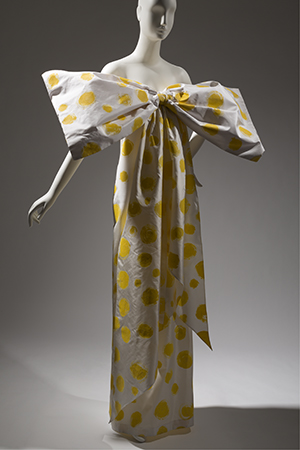 Minimalism/Maximalism: Fashion Extremes
Fashion & Textile History Gallery
June 2019 – November 2020
Fashion is a world of extremes, where sartorial expression ranges from minimalist to maximalist aesthetics. Some designers may identify almost exclusively with one over the other; Calvin Klein, for instance, was known for fashion minimalism. However, the cyclical nature of fashion moves us through design periods alternatively dominated by a minimalist or maximalist aesthetic, re-affirming Isaac Newton's third law of motion: For every action, there is an equal and opposite reaction.
In fashion, minimalism and maximalism define two extremes along the design spectrum. Minimalism, the aesthetic of less-is-more, is based on a reductive approach to design, and celebrates purity and restraint. Maximalism, on the other hand, accentuates the beauty of excess and redundancy. While these may be considered aesthetic opposites, both seek to challenge perception, and as forms of expression, they serve as indicators of the sociocultural and economic zeitgeist of the given time period. Minimalism/Maximalism: Fashion Extremes will explore the interplay between minimalist and maximalist aesthetics as they have been and continue to be expressed through fashion. Beginning in the eighteenth century the exhibition will examine how these aesthetic viewpoints are expressed over time and move fashion forward.
Image:

Agatha Ruiz de la Prada, dress, spring/summer 2014, Madrid, gift of Agatha Ruiz de la Prada.
---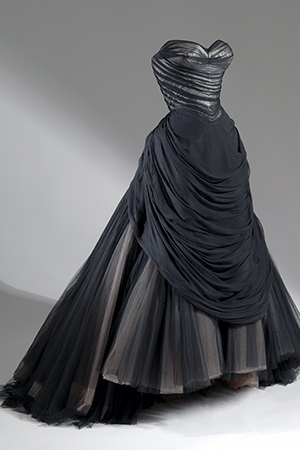 Ballerina: Fashion's Modern Muse
Special Exhibitions Gallery
February 7, 2020 – April 18, 2020
Ballet is a century's old art form that consistently reflected and absorbed prevailing fashions. It was not until the interwar years of the twentieth century that ballet took its place in the western pantheon of modern high culture and began to influence many areas of creativity, including fashion. At the same time, the ballerina, the art form's most celebrated practitioner, blossomed into a revered figure of beauty and glamour, and her signature costume — the corseted tutu — inspired many of fashion's leading designers for the first time. Organized by Patricia Mears, deputy director of MFIT, Ballerina: Fashion's Modern Muse will illustrate the rise and subsequent influence of classical ballet and ballerinas on high fashion from the early 1930s to the late 1970s. The popularization of classical ballet during the mid-century owes much to the British and Americans. A French creation that was elevated to a supreme art form in Imperial Russian, classical ballet would become the most popular performing art in the United Kingdom during the 1930s and 1940s, and later, the United States. At its peak, from the early 1930s to mid-century, haute couture looked to classical ballets such as Giselle, Swan Lake, and Sleeping Beauty for aesthetic inspiration. Modern ballets performed in leotards and tights would also influence mid-century American activewear fashions.
Most of the 80 objects on view in the exhibition will be high fashion garments, ranging from Parisian couture to British custom-made clothing to American ready-to-wear. Also included will be a small selection of costumes and rehearsal clothing illustrating the rich yet often overlooked connection between classical ballet and fashion. The exhibition will be accompanied by a lavishly illustrated book to be published by Vendome Press. Contributors will include Patricia Mears, Laura Jacobs, Joel Lobenthal, Jane Pritchard, and Rosemary Harden.
Image: Charles James ballgown, s

ilk chiffon, satin, netting, and boning

,

1954-1955

, USA, gift of

Robert Wells in memory of Lisa Kirk

.