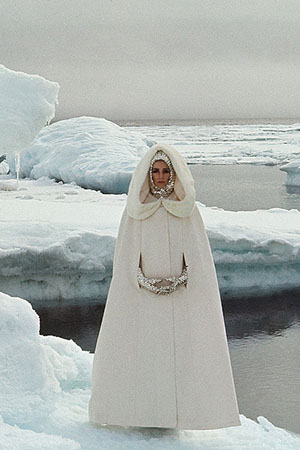 Expedition: Fashion from the Extreme examines high fashion inspired by clothing made for survival in the most inhospitable environments on earth and beyond. Today's luxurious parkas trace their roots to the "heroic era" of polar navigation (1890 to 1922), while down-filled "puffer" coats and backpacks were originally perfected for extreme mountain climbing in the mid-twentieth century. Experimental, high tech materials made for exploration to otherworldly realms — such as neoprene (deep sea) and Mylar (outer space) — made their way onto the runway.
Expeditions to these extreme environments were motivated primarily by interest in the natural world that flourished during the Victorian era. Thanks to the theoretical works of Charles Darwin and the wildly popular science fiction books by Jules Verne, expeditions became increasingly popular, aspirational endeavors.
On view in Expedition will be a historical fur garment created in Siberia, as well as adaptations of indigenous Arctic clothing by the pioneering American explorer, Matthew Henson. Also included will be the earliest down-filled jackets, dating to the 1930s, and other technologically experimental objects engineered for polar and mountain exploration. These expedition-worthy garments will be placed alongside a range of fantastic and outrageous fashions from the 1960s, as well as a dramatic selection of contemporary designs.

A book of the same title, to be published by Thames and Hudson, will accompany the exhibition.
Read more about Expedition: Fashion from the Extreme.
Image: John Cowan for Vogue, November 1964.
---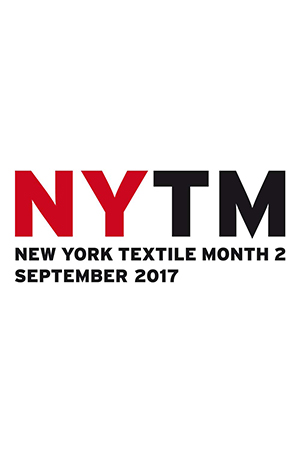 Crafting Change: New Textile Work by Students and Faculty
Gallery FIT
September 19 – September 30, 2017
The work of FIT students and faculty takes center stage in the Gallery FIT exhibition Crafting Change. Organized by the textile/surface design department in conjunction with New York Textile Month, the works featured in Crafting Change use long-established techniques in a modern context to explore the shifting boundaries between art, design, and technology. Projects bridging science and textiles have the potential to revolutionize the fashion and textile industries, leading us to a more sustainable future. These works are promising examples of how FIT is successfully encouraging interdisciplinary mergers between craft, technology, and sustainability to usher textile arts into the 21st century.
Image: Maison Martin Margiela, tunic, linen, spring 1997, Belgium, museum purchase.
---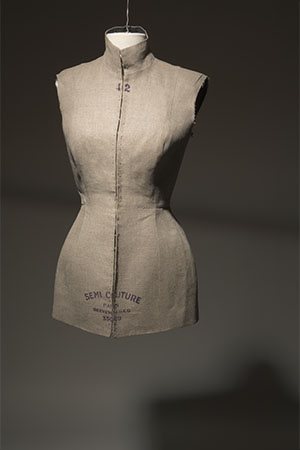 The Body: Fashion and Physique
Fashion & Textile History Gallery
December 5, 2017 – May 2018
Fashion is inextricably linked to the physical form of the wearer. The cut of a garment draws the eye to zones of the body, simultaneously accentuating and concealing in order to achieve a desired silhouette. Elaborate undergarments, diet regimens, exercise routines, and even plastic surgery have all been promoted as necessary tools for attaining the ideal fashion shape. However, the idealized fashionable body is a cultural construct. Over the last 250 years, full hips, narrow hips, feminine waists, and boyish frames have each, at different times, been hailed as the pinnacle of beauty. According to a Vogue article from 1950, "A 'figure'…is considered good or bad only as related to clothing generally, and current fashions specifically." The Body: Fashion and Physique will explore the complex history of the "perfect" body in fashion.
This exhibition will also examine the broader relationship between the fashion industry and body politics from the nineteenth century to the present. 50 objects from the collection of The Museum at FIT will be on view, alongside clippings, photographs, and videos from the popular press. The Body: Fashion and Physique will elucidate the impact the fashion industry has had on how people have viewed and treated their bodies throughout history. It will also consider how fashion has contributed to the marginalization of certain body types within our culture.
Image: Maison Martin Margiela, tunic, linen, spring 1997, Belgium, museum purchase.
---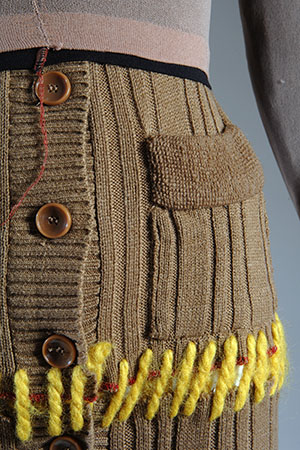 Fashion Unraveled
Fashion & Textile History Gallery
May 2018 – November 2018
Fashion Unraveled will examine the concepts of imperfection and incompletion in fashion. Garments that are altered, unfinished, or deconstructed, in addition to clothing that shows signs of wear, will highlight the aberrant beauty in flawed objects. Unless such imperfections are intentional—as they are in the case of deconstructed fashion—these garments are often overlooked in museum collections. This exhibition will include a selection of objects from the museum's permanent collection, highlighting objects that are not only visually compelling, but that may also tell intriguing stories about their makers and/or wearers.
It is only in recent years that imperfect or inauthentic objects have been given greater consideration, as interest in their "biographies" has grown. Signs of repeated wear, shortened hemlines, and careful mends can be found even on haute couture garments, and they highlight the lasting economic and emotional worth of many clothes within museum collections. These findings – which are often unseen and unknown by museum visitors – challenge the concept of fashion as a strictly ephemeral, disposable commodity. Fashion Unraveled will also reveal how the appearance of aged clothing, with its flaws and signs of decay, has been embraced by many designers as an aesthetic choice, furthering the reconstruction of notions about beauty and value in fashion.
Image: detail of ensemble by XULY.Bët, repurposed acrylic sweaters, fall 1994, gift of XULY.Bët.
---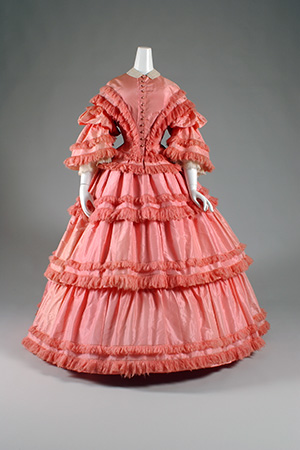 Pink: A History of Pink in Fashion, Art & Culture
Special Exhibitions Gallery
September 2018 – January 2019
There is much more to pink than the ubiquitous stereotype of pink-for-girls versus blue-for-boys. "For a long time in the West, pink was only considered to be a nuance of red…and was little appreciated," writes the great color historian, Michel Pastoureau. By the eighteenth century, however, pink had become a very fashionable color for both men and women. Over the following centuries, pink acquired both positive and negative associations. Indeed, anyone studying pink comes up against "the color's inherent ambivalence." One of "the most divisive of colors," pink provokes strong feelings of both "attraction and repulsion."
Some people think pink is pretty, sweet, and romantic, while others find it a disagreeable, vulgar, and chemical color. One recent study found that only 2% of those polled described pink as their favorite color, while 17% called it their least favorite color. Many people deny that pink is a "real" color at all. Color symbolism is popularly identified with natural phenomena, but in reality it is highly conventional and varies widely across cultures. As Diana Vreeland once said, "Pink is the navy blue of India." Curated by Dr. Valerie Steele, director of The Museum at FIT, Pink: A History of Pink in Fashion, Art & Culture will explore the changing significance of pink over the past three centuries, not only in the west but around the world.
Image: Afternoon dress, pink silk taffeta, 1857, USA, museum purchase.