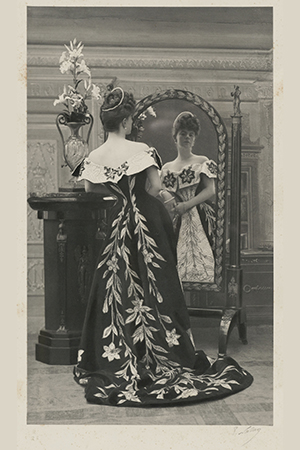 Proust's Muse, The Countess Greffulhe features 40 extraordinary fashions and accessories from the fabulous wardrobe of Élisabeth de Caraman-Chimay, the Countess Greffulhe (1860-1952). A famous beauty celebrated for her "aristocratic and artistic elegance," the countess fascinated her contemporaries, including Marcel Proust who told her cousin, Robert de Montesquiou, "I have never seen a woman so beautiful." When Proust wrote his great novel In Search of Lost Time (À la recherche du temps perdu), the Countess Greffulhe was one of the primary inspirations for his immortal fictional character, Oriane, the Duchess de Guermantes, of whom he wrote, "Each of her dresses seemed like...the projection of a particular aspect of her soul."
Proust's Muse is based on La Mode retrouvée: Les robes trésors de la comtesse Greffulhe, an exhibition organized in Paris by Olivier Saillard, director of the Palais Galliera, Musée de la Mode de la Ville de Paris, which is the repository of the countess's wardrobe. Dr. Valerie Steele, director and chief curator of The Museum at FIT, has organized the exhibition in New York in collaboration with Saillard.
Read more about Proust's Muse.
Image: the Countess Greffulhe wearing the "Lily Dress" created by Worth, 1896. Galliera, musée de la Mode de la Ville de Paris. © Nadar / Galliera / Roger-Viollet.
---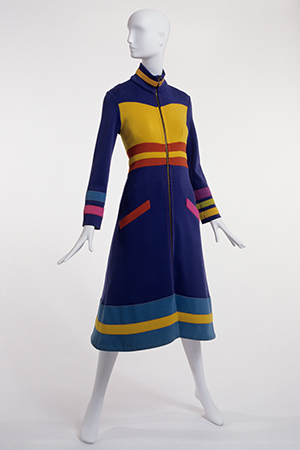 Black Fashion Designers
Fashion & Textile History Gallery
December 6, 2016 – May 13, 2017
Black Fashion Designers examines the impact of African American and African designers on the fashion industry. Drawing exclusively from The Museum at FIT's permanent collection, the exhibition features approximately 70 fashion objects that illustrate the individual styles of more than 30 designers, placing them within a wider fashion context. Objects date from the 1950s to the present, including mid-century evening gowns by Anne Lowe and the jovial, yet controversial, work of Patrick Kelly from the 1980s. Contemporary pieces include Lagos-based designer Maki Oh's spring 2013 dress, which reconceptualizes Nigerian traditions, and pieces from the latest runways of established designers, such as Tracy Reese, and emerging talents, such as Charles Harbison. The exhibition addresses the influence of black fashion models as well, by highlighting milestone events, such as "The Ebony Fashion Fair." Black Fashion Designers is meant to enliven the conversation about historic and ongoing issues of diversity within the fashion industry. It honors the creative talents of designers who are often overlooked and provides a fresh, holistic view of the fashion industry, emphasizing the significant roles in culture and society played by black designers.
Image: Stephen Burrows, coatdress, wool, Fall 1970, USA, gift of Stephen Burrows.
---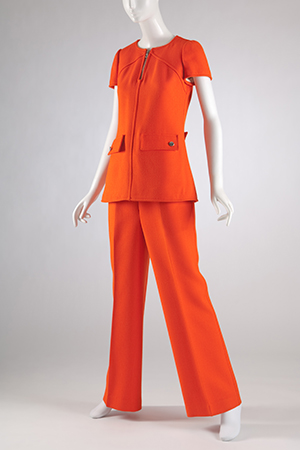 Paris Refashioned, 1957-1968
Special Exhibitions Gallery
February – April 2017
Paris Refashioned, 1957-1968 will examine the significant role that Paris played during one of the most fascinating and groundbreaking periods in fashion history. In 1957, twenty-one-year-old Yves Saint Laurent was made creative director of the esteemed couture house of Christian Dior. His first solo collection for Dior included his A-line "trapeze" dresses, ushering in an unmistakable shift toward more relaxed and ultimately more youthful designs—and with it, dramatic changes to the couture fashion industry.
By 1963, a group of young French ready-to-wear designers known as the stylistes had begun to make an impact on fashion both in their home country and abroad. Their of-the-minute fashions, which were favored by style arbiters such as Brigitte Bardot, presented an unexpected challenge to the more staid, costly, and labor-intensive creations of the couturiers. By 1968, some of the best-known couturiers—including Saint Laurent, Pierre Cardin, and André Courrèges—were presenting ready-to-wear lines in addition to their couture creations. Paris Refashioned will examine the shift from the unassailable dominance of the haute couture to the newfound influence of ready-to-wear.
Image: Couture Future (ready-to-wear label by André Courrèges), pantsuit, 1968, wool blend, France, gift of Mrs. Phillip Schwartz.
---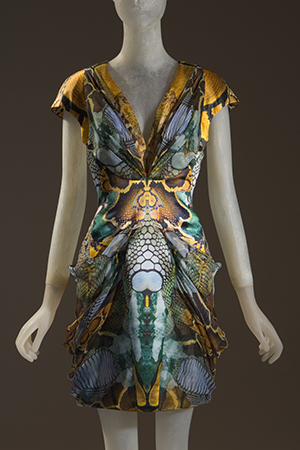 Force of Nature
Fashion & Textile History Gallery
May – November 2017
Force of Nature examines how the beauty and complexity of the natural world have inspired fashion designers for centuries. The exhibition places more than 75 objects from MFIT's permanent collection, dating from the 18th century to the present, within a context of period philosophies and scientific literature in order to demonstrate the deep interconnectedness between fashion and nature. An enthusiasm for country life is represented with a 1785 robe à l'anglaise that illustrates a movement towards simple dress, influenced by philosopher Jean Jacques Rousseau, who urged a return to nature. A dress by Alexander McQueen from his acclaimed final collection in 2010, presents a meditation upon Charles Darwin's theory of evolution and concern over climate change. More than a survey of flora, fauna, and geology as merely decorative, the exhibition reveals the natural world as a nexus of ideas and symbolism in fashion design. Force of Nature aims to contribute to today's important, ongoing conversation about society's relationship with the natural world and humankind's place within it.
Image: Alexander McQueen, Plato's Atlantis collection, Spring 2010, England, museum purchase.