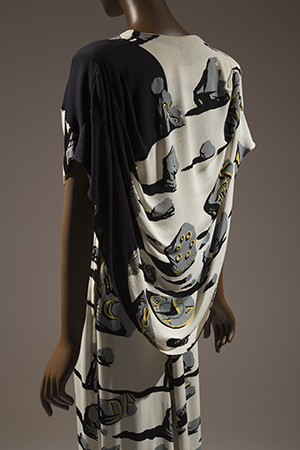 Adrian: Hollywood and Beyond will explore Gilbert Adrian's ready-to-wear and costume designs, with a focus on his innovative use of textiles. Organized by graduate students in the Fashion and Textile Studies: History, Theory, Museum Practice program, this exhibition will be the first to analyze Adrian's work within the context of the contemporary fashion and textile design of the mid-twentieth century.
Adrian's relationships with prominent figures within the textile industry, such as Wesley Simpson and Pola Stout, were integral to his artistic vision. In Adrian: Hollywood and Beyond, these collaborations and other professional associations will be explored alongside a selection of garments and textile samples from the permanent collection of The Museum at FIT. Included is an eye-catching gown created from a Wesley Simpson textile and illustrated by artist Salvador Dali. This dress, alongside a selection of garments, textiles, advertisements, and film clips will demonstrate how Adrian's use of printed textiles and creative construction methods made him a master of modern design.
Read more about Adrian: Hollywood and Beyond.
Image: Adrian, evening dress, 1947, USA, printed rayon textile by Wesley Simpson/Salvador Dalí.
---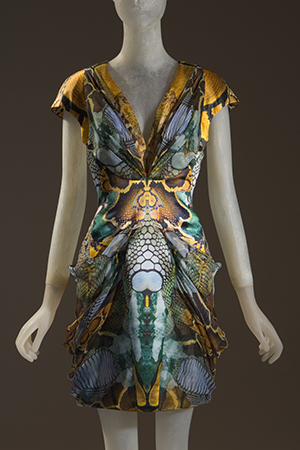 Force of Nature
Fashion & Textile History Gallery
May 30 – November 18, 2017
Force of Nature examines how the beauty and complexity of the natural world have inspired fashion designers for centuries. The exhibition places more than 75 objects from MFIT's permanent collection, dating from the 18th century to the present, within a context of period philosophies and scientific literature in order to demonstrate the deep interconnectedness between fashion and nature. An enthusiasm for country life is represented with a 1785 robe à l'anglaise that illustrates a movement towards simple dress, influenced by philosopher Jean Jacques Rousseau, who urged a return to nature. A dress by Alexander McQueen from his acclaimed final collection in 2010, presents a meditation upon Charles Darwin's theory of evolution and concern over climate change. More than a survey of flora, fauna, and geology as merely decorative, the exhibition reveals the natural world as a nexus of ideas and symbolism in fashion design. Force of Nature aims to contribute to today's important, ongoing conversation about society's relationship with the natural world and humankind's place within it.
Image: Alexander McQueen, Plato's Atlantis collection, Spring 2010, England, museum purchase.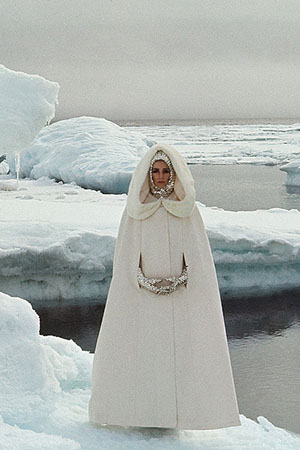 Expedition: Fashion from the Extremes
Special Exhibitions Gallery
September 15, 2017 – January 6, 2018
Expedition: Fashion from the Extremes traces a few of the most challenging forms of human exploration and looks at how the clothes made for survival in these environments found their way into high fashion. Types of expeditions will include deep sea, polar navigation, mountain climbing, treks through the extreme tropical and arid environments, and even travel to outer space. Four major types of clothing will constitute the majority of the exhibition: indigenous clothing such as anoraks worn by the Inuit that were later appropriated by the first Western European explorers; tailored menswear clothes made in the late 19th and early 20th centuries in cities such as London and commissioned by the first European explorers; an array of garments displaying novel technologies, mainly the newest high technology materials; and lastly, a wide range of high fashions inspired by these endeavors.
Image: John Cowan for Vogue, November 1964.
---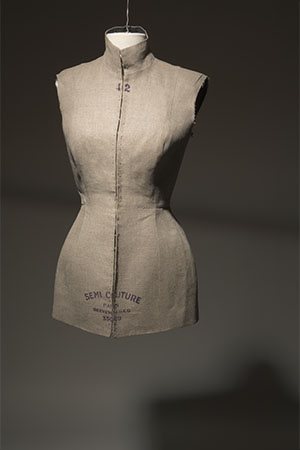 The Body: Fashion and Physique
Fashion & Textile History Gallery
December 5, 2017 – May 2018
Fashion is inextricably linked to the physical form of the wearer. The cut of a garment draws the eye to zones of the body, simultaneously accentuating and concealing in order to achieve a desired silhouette. Elaborate undergarments, diet regimens, exercise routines, and even plastic surgery have all been promoted as necessary tools for attaining the ideal fashion shape. However, the idealized fashionable body is a cultural construct. Over the last 250 years, full hips, narrow hips, feminine waists, and boyish frames have each, at different times, been hailed as the pinnacle of beauty. According to a Vogue article from 1950, "A 'figure'…is considered good or bad only as related to clothing generally, and current fashions specifically." The Body: Fashion and Physique will explore the complex history of the "perfect" body in fashion.
This exhibition will also examine the broader relationship between the fashion industry and body politics from the nineteenth century to the present. 50 objects from the collection of The Museum at FIT will be on view, alongside clippings, photographs, and videos from the popular press. The Body: Fashion and Physique will elucidate the impact the fashion industry has had on how people have viewed and treated their bodies throughout history. It will also consider how fashion has contributed to the marginalization of certain body types within our culture.
Image: Maison Martin Margiela, tunic, linen, spring 1997, Belgium, museum purchase.
---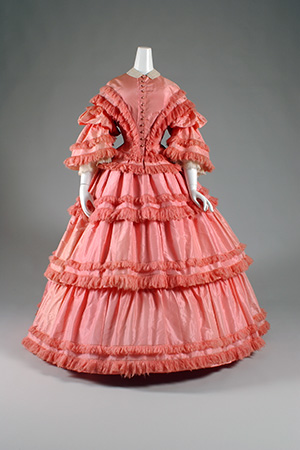 Think Pink: A History of Pink in Fashion, Art & Culture
Special Exhibitions Gallery
September 2018 – January 2019
There is much more to pink than the ubiquitous stereotype of pink-for-girls versus blue-for-boys. "For a long time in the West, pink was only considered to be a nuance of red…and was little appreciated," writes the great color historian, Michel Pastoureau. By the eighteenth century, however, pink had become a very fashionable color for both men and women. Over the following centuries, pink acquired both positive and negative associations. Indeed, anyone studying pink comes up against "the color's inherent ambivalence." One of "the most divisive of colors," pink provokes strong feelings of both "attraction and repulsion."
Some people think pink is pretty, sweet, and romantic, while others find it a disagreeable, vulgar, and chemical color. One recent study found that only 2% of those polled described pink as their favorite color, while 17% called it their least favorite color. Many people deny that pink is a "real" color at all. Color symbolism is popularly identified with natural phenomena, but in reality it is highly conventional and varies widely across cultures. As Diana Vreeland once said, "Pink is the navy blue of India." Curated by Dr. Valerie Steele, director of The Museum at FIT, THINKing about PINK in Fashion, Art & Culture will explore the changing significance of pink over the past three centuries, not only in the west but around the world.
Image: Afternoon dress, pink silk taffeta, 1857, USA, museum purchase.