For more information about how you can support the activities of The Museum at FIT, please visit Support MFIT.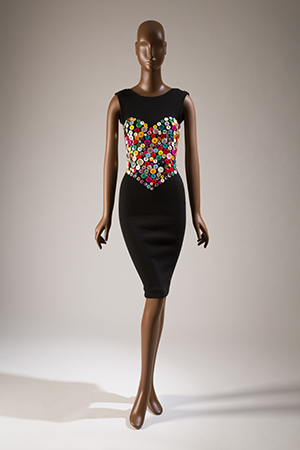 This dress was on view in the exhibitionBlack Fashion Designers.
Patrick Kelly
Dress
Wool and plastic
Fall 1986, France
Museum purchase, 2016.48.1

Patrick Kelly's signature heart motif and mismatched buttons served as symbols for his love of women, fashion, and his own heritage. Kelly was born in Mississippi; he established his company in Paris in 1985 with partner Bjorn Amelan. He was the first American designer admitted to the Chambre Syndicale du Pret-a-Porter.
---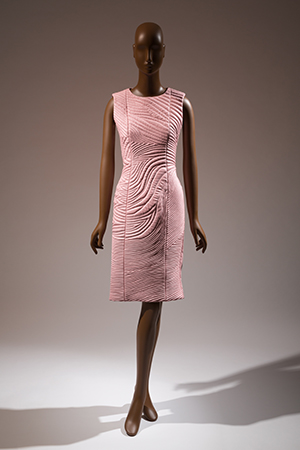 This ensemble was on view in the exhibition Black Fashion Designers.
Mimi Plange
Dress
Leather
Spring 2013, USA
Gift of Mimi Plange, 2016.49.1
"I embed my biography into garments," says Ghanaian-born designer Mimi Plange, now based in New York. The curved lines on this dress refer to the ancient African tradition of scarification. Plange's innovative designs were recognized by Michelle Obama at the "Celebration of Design" event in 2014.
---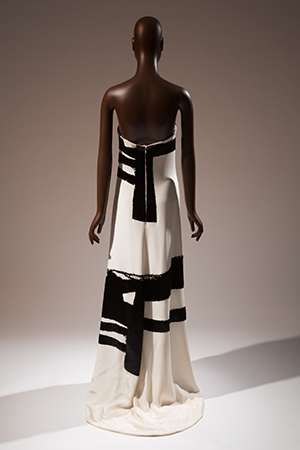 This dress was on view in the exhibition Black Fashion Designers.
Eric Gaskins
Dress
Silk and glass beads
2014, USA
Gift of Eric Gaskins, 2016.53.1
Eric Gaskins trained as a fine artist and apprenticed with Hubert Givenchy before establishing his company in 1987. This gown's meticulous beading captures the brushwork of one of his favorite artists, Franz Kline. Elegant eveningwear such as this exemplifies Gaskins's aesthetic of simple lines coupled with rigorous cut and extraordinary details.
---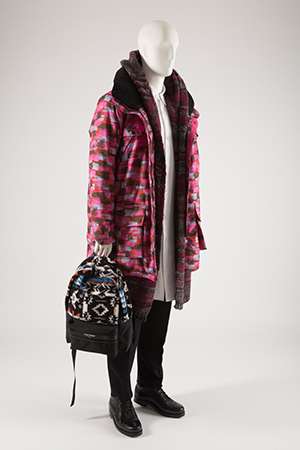 This dress was on view in the exhibition Black Fashion Designers.

Casely-Hayford
Ensemble
Synesthetic, acrylic, wool & alpaca blend; wool, leather
Fall 2015, England
Gift of Joe Casely-Hayford, 2016.57.2

Father-son design duo Joe and Charlie Casely-Hayford begin their menswear design process with an exchange of ideas from which they develop a thesis that balances their opposing aesthetics. The parka and mohair sweater in this ensemble reference the layered look of runaways, and deliberately contrast with the sophisticated tailoring of the trousers and shirt.