For more information about how you can support the activities of The Museum at FIT, please visit Support MFIT.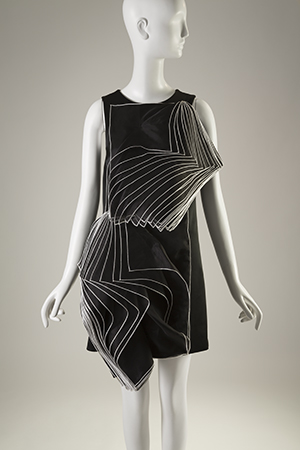 This dress was on view in the exhibition Global Fashion Capitals.
Christopher Kane
Dress
Black silk organza with white stitching
Fall 2014, United Kingdom
Museum purchase, 2014.15.1
This layered organza dress is from Christopher Kane's highly-publicized, fall 2014 collection. It shows Kane's extraordinary ability to balance skillful construction with unconventional, yet wearable, silhouettes. Poised to become a major international label, Christopher Kane attracted investment from Kering luxury group in 2013.
---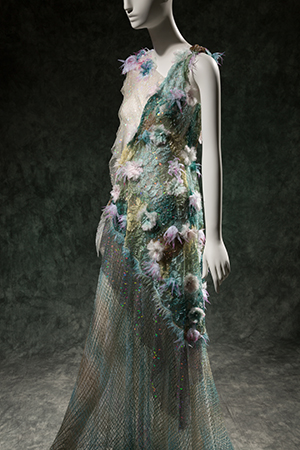 This ensemble was on view in the exhibition Fairy Tale Fashion.
Rodarte
Evening gown
White and aqua polyamide, viscose and nylon, Swarovski crystals, feathers, sequins, and pearls
Spring 2015, USA
Museum purchase, 2015.35.1
Kate and Laura Mulleavy of Rodarte explained that their spring 2015 collection was "inspired by tide pools and the ocean . . . [and] by the fantasy of mermaids, as they poetically capture the spirit of the sea."
---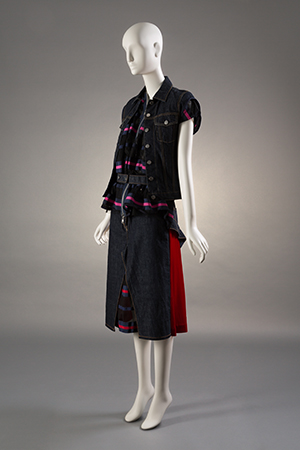 This ensemble was on view in the exhibition Denim: Fashion's Frontier.
Sacai (Chitose Abe)
Ensemble
Blue denim, red velvet, black net, and ribbon
Spring 2015, Japan
Museum purchase, 2015.37.2
Fashion label Sacai is known for a distinctive aesthetic built on complex layering that fuses sporty and feminine styles. Designer Chitose Abe often disassembles recognizable garments of western fashion and reassembles them in fascinating ways. Here, Abe plays with the tradition of the denim vest, shorts, and jean skirt, layering them with more luxurious, feminine fabrics, such as shears and velvets.
---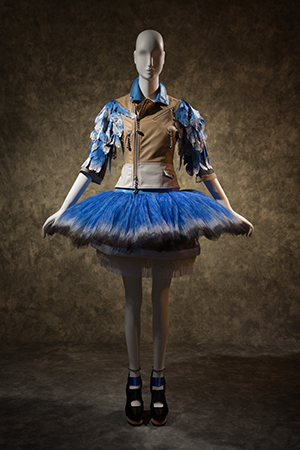 This dress was on view in the exhibition Fairy Tale Fashion.
Undercover
Ensemble
Tan leather, silk chiffon, silk, nylon, metal, silk net, silk and cotton blend, silk satin, cork, rubber, and elastic
Spring 2015, Japan
Museum purchase, 2015.38.1
The level of detail on this Undercover ensemble is astounding, including "feathers" that were printed, painted, and laser-cut. The tutu-style skirt evokes the ballet "Swan Lake," composed by Tchaikovsky in 1875.