For more information about how you can support the activities of The Museum at FIT, please visit Support MFIT.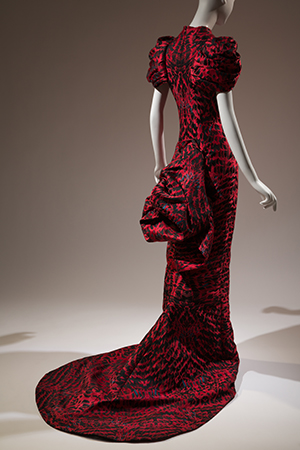 This dress was on view in the exhibition Force of Nature.
Alexander McQueen
Dress
Silk
Horn of Plenty collection
2009, England
Museum purchase, 2016.63.1


The elaborate feather pattern of this dress envelops the wearer in the primary component of avian beauty. In turn, the sculptural bustle and train suggest the tail of an exotic bird. "I am inspired by a feather's shape, but also its color, its graphics, its weightlessness, and its engineering," McQueen said. "I try to transpose the beauty of a bird to women."
---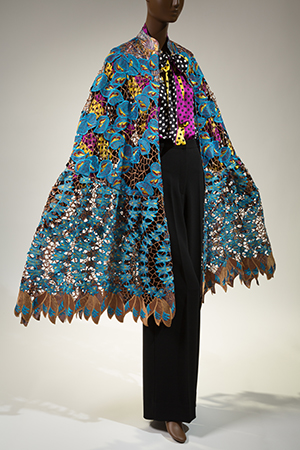 This ensemble was on view in the exhibition Black Fashion Designers.
Duro Olowu
Ensemble
Cotton and silk lace, silk charmeuse, wool and silk crepe
Fall 2012, England
Gift of Duro Olowu, 2016.65.1
Duro Olowu's international success arises from "a strong visual cross-cultural aesthetic, quality of the cut and the fabric, and an appreciation for the female form." Olowu masterfully embraces bricolage, vibrantly mixing colors, prints, and textures. He says, "This is how women wear clothes in contemporary Africa…It's an offbeat, strong aesthetic that influences my work."
---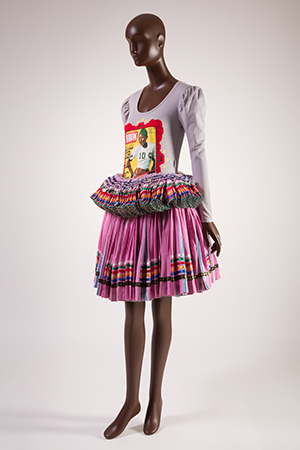 This ensemble was on view in the exhibition Black Fashion Designers.
Stoned Cherrie
T-shirt and Tsonga skirt
Cotton blend knit, cotton, polyester, and metal
2010, South Africa
Gift of Stoned Cherrie, 2016.70.1
A self-proclaimed "creative activist," Nkhensani Nkosi of Stoned Cherrie evinces South African political nostalgia and black consciousness in this ensemble by pairing a Drum T-shirt with a traditional, and distinctly South African, Tsonga skirt. Drum was popular in the mid-20th century for its celebration of black culture and discerning coverage of the emerging anti-apartheid movement.
---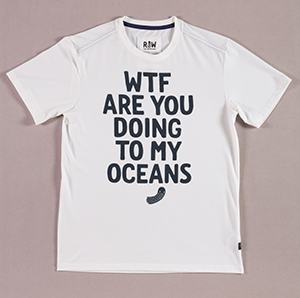 This t-shirt was on view in the exhibition Black Fashion Designers.

G-Star RAW
T-shirt
Bionic Yarn from recycled ocean plastic
Spring 2016, Netherlands
Museum purchase, 2016.71.1

Musician Pharrell Williams is a passionate environmental activist. He co-founded and acts as creative director of Bionic Yarn, a company that recycles plastic waste from the oceans into fabrics, such as the one used to create this T-shirt. After two years of collaborating with Dutch clothing brand G-Star RAW, Pharrell became its co-owner in 2016.