For more information about how you can support the activities of The Museum at FIT, please visit Support MFIT.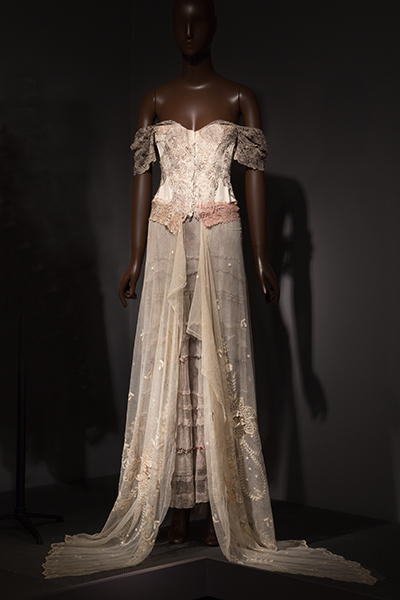 Mimi Prober Dress, Dreamscape collection / Off-white cotton and silk / spring 2018, USA / Gift of Mimi Prober, 2018.13.1
Mimi Prober's ethereal creations are meticulously fashioned from secondhand textiles, creating what she describes as "modern handcrafted heirlooms." In this example, a vintage corset has been reworked into a bodice and adorned with scraps of hand-embroidered, antique lace, while the skirt incorporates longer lengths of lace. Prober derived her soft pigments from discarded flowers.
This dress was on view in the 2018 exhibition Fashion Unraveled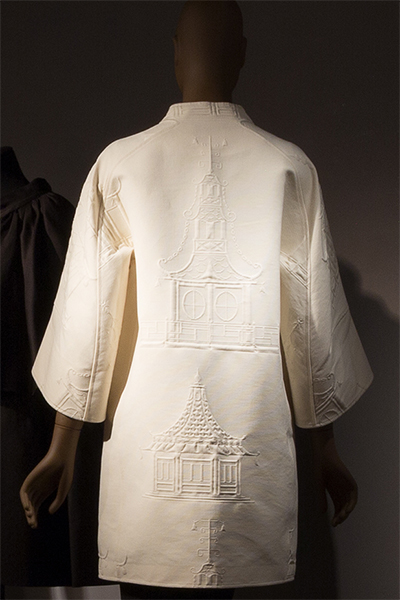 Chado Ralph Rucci coat / White cotton ottoman with jacquard-woven figures / Spring 2011, USA / Gift of Karen Kennedy, 2018.36.1
Ralph Rucci's coat features an ottoman fabric whose pagoda motif resembles trapunto quilting. However, the motif was woven seamlessly into the fabric's ground. The rigor of Rucci's construction technique relies on his exclusive and thoughtfully chosen textiles, revealing why he was only the second American ever to have been invited into the Chambre Syndicale.
This coat was on view in the 2018 exhibition Fabric In Fashion.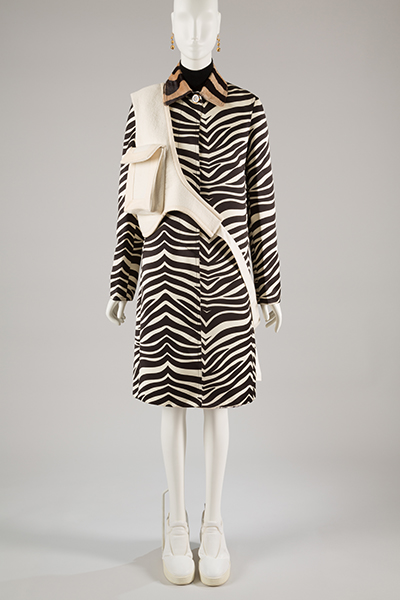 Céline (Phoebe Philo) ensemble / Silk, wool, leather, metal, and rubber / Fall 2015, France / Gift of CÉLINE, 2018.42.1
Contrasting animal prints are tempered with a white harness sling bag that gives this ensemble the elegant balance that designer Phoebe Philo is known for. The appeal of animal patterns derives from their exotic, often sexual, connotations. Céline's fall 2015 collection verged on the maximal, and addressed Philo's ideas about the authenticity of glamour and sexuality.
This coat was on view in the 2019 exhibition Minimalism/Maximalism.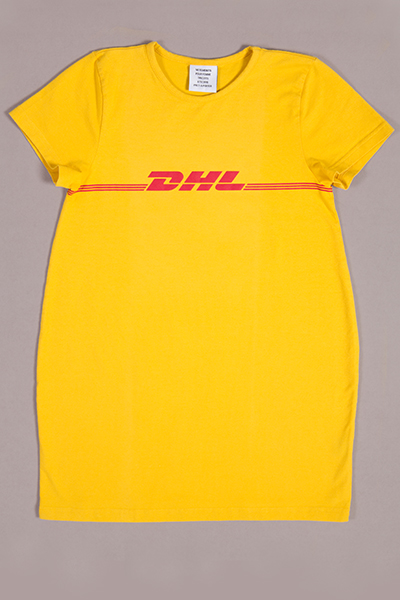 Vetements (Demna Gvasalia) T-shirt / Yellow cotton and elastane blend / spring 2016, France / Museum purchase, 2018.46.1
Demna Gvasalia opened his spring 2016 collection for Vetements with a bright yellow T-shirt emblazoned with the letters DHL across the chest. It is a near exact copy of the uniform shirt issued to deliverymen of the DHL shipping company. There is no parody or adaptation here. It is a biting twist on the branded status dressing of contemporary high fashion.
This T-shirt was on view in the 2019-2020 exhibition Power Mode: The Force of Fashion
Below are the collections the Museum at FIT currently supports.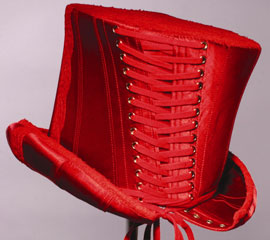 The accessories collection consists of approximately 15,000 objects that date from the mid-17th century to the present day. The collection has a particularly strong emphasis on designer accessories from the second half of the 20th century.

The accessories collection is supported by the Solomon-Sloan Endowment Fund, which was established in 2005 to facilitate the acquisition, conservation, documentation and exhibition of accessories.
The footwear collection contains more than 4,000 pairs of shoes, boots and sandals. It includes examples by designers such as Manolo Blahnik, Roger Vivier, Herbert Levine, and Salavatore Ferragamo.
The millinery collection contains more than 3,000 hats by famous milliners such as Caroline Reboux, Lilly Daché, Halston and Philip Treacy. There are also many examples from designers such as Christian Dior, Balenciaga and Jacques Fath.
The handbag collection includes fine examples by luxury houses such as Hermés and Gucci as well as examples by Roberta di Camerino, Judith Leiber and Bonnie Cashin for Coach.
Other accessories include fans, gloves, belts, hosiery and costume jewelry.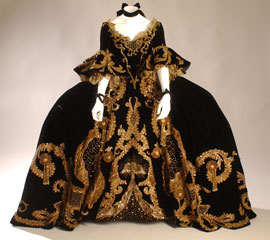 The Costume Collection consists of more than 50,000 objects dating from the mid-18th century to the present. The strength of the collection lies in its 20th-century holdings and, particularly, in couture and ready-to-wear women's clothing. The collections are currently being computerized to facilitate research.
The costume collection includes fashion by designers such as Azzedine Alaïa, Balenciaga, Chanel, Comme des Garçons, Dior, Galanos, Halston, Charles James, Norell, Paul Poiret, Yves Saint Laurent, and Vivienne Westwood.
The Halston Archives and Study Room hold designs, patterns, and related records documenting this important designer's life work.
The menswear collection features some 2,000 garments ranging from formal to activewear, including suits, coats, vests, and uniforms.
Also included are swimwear, lingerie, outerwear, and knitwear.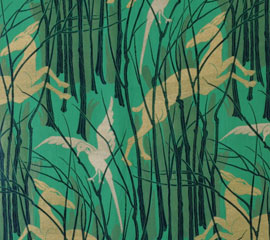 The Textile Collection consists of more than 30,000 textiles dating from the fifth century to the present, and includes the work of artists and designers such as Junichi Arai, Salvador Dali, Raoul Dufy, and William Morris.
The textile collection includes apparel and home furnishing fabrics, embroideries, and shawls.
The collection also includes a number of ribbon sample books.
The J.B. Martin Velvet Room archives handwoven and production velvets spanning a 125-year period.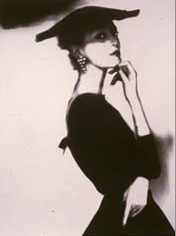 The Photography Archive features the work of fashion photographers Louise-Dahl Wolfe (1895-1989), who produced 86 cover images and thousands of interior shots for Harper's Bazaar magazine, and John Rawlings (1912-1970), who had over 200 Vogue and Glamour magazine covers.
For those looking for the Herman Landshoff collection, the archive has been transferred to:
Munchner Stadtmuseum
Sammlungsleiter Fotomuseum
St.-Jakobs-Pl. 1
80331 Munchen

The contact for the collection is:
Dr. Ulrich Pohlmann
Tel.: 089/233-22948
Fax.: 089/233-27969
email.: [email protected]