Fashion Culture programs are organized by The Museum at FIT to provide new perspectives on the culture of fashion.
Programs are free unless otherwise indicated. Reservations are required for all events, as space is limited.
Join the conversation online using #FashionCulture
DECEMBER 2016
S
M
T
W
T
F
S
1
2
3
4
5
6
7
8
9
10
11
12
13
14
15
16
17
18
19
20
21
22
23
24
25
26
27
28
29
30
31

JANUARY 2017
S
M
T
W
T
F
S
1
2
3
4
5
6
7
8
9
10
11
12
13
14
15
16
17
18
19
20
21
22
23
24
25
26
27
28
29
30
31

FEBRUARY 2017
S
M
T
W
T
F
S
1
2
3
4
5
6
7
8
9
10
11
12
13
14
15
16
17
18
19
20
21
22
23
24
25
26
27
28
---
Stay tuned for our Spring 2017 events!
---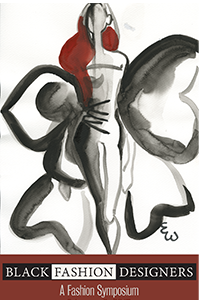 Cover illustration © Edward Wilkerson.
Black Fashion Designers Symposium
Monday, February 6, 2017
Katie Murphy Amphitheatre
Fred P. Pomerantz Art and Design Center
The Museum at FIT will host a one-day symposium on February 6, 2017, featuring talks by designers, models, journalists, and scholars on African diasporic culture and fashion. A provisional list of speakers for the symposium and Spring 2017 Fashion Culture program series includes writer Teri Agins, stylist June Ambrose, journalist and photographer Dario Calmese, Professor Alphonso McClendon, designers Carly Cushnie and Michelle Ochs of Cushnie et Ochs, Dapper Dan of Harlem, designer Grace Wales Bonner, former model and founder of The Diversity Coalition Bethann Hardison, Professor Monica Miller, designer Mimi Plange, Professor Eric Darnell Pritchard, Professor Elena Romero, Professor Victoria Rovine, costume designer Jeriana San Juan, and model Veronica Webb.
---
Stay tuned for upcoming talk and tours!