Fashion Culture programs are organized by The Museum at FIT to provide new perspectives on the culture of fashion.
Programs are free unless otherwise indicated. Reservations are required for all events, as space is limited.
Join the conversation online using #FashionCulture
JUNE
S
M
T
W
T
F
S
1
2
3
4
5
6
7
8
9
10
11
12
13
14
15
16
17
18
19
20
21
22
23
24
25
26
27
28
29
30

JULY
S
M
T
W
T
F
S
1
2
3
4
5
6
7
8
9
10
11
12
13
14
15
16
17
18
19
20
21
22
23
24
25
26
27
28
29
30
31

August
S
M
T
W
T
F
S
1
2
3
4
5
6
7
8
9
10
11
12
13
14
15
16
17
18
19
20
21
22
23
24
25
26
27
28
29
30
31
---
There are no upcoming events.
---
Past symposiums can be viewed on our
Symposia
webpage.
---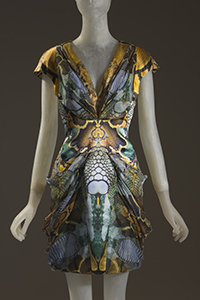 Photo: Alexander McQueen, Plato's Atlantis collection, Spring 2010, England, museum purchase.
Force of Nature
Wednesday, July 26 | 10:30 am SOLD OUT
Wednesday, August 16 | 10:30 am
Fashion & Textile History Gallery
Force of Nature examines how the beauty and complexity of the natural world have inspired fashion designers for centuries. More than 95 objects from MFIT's permanent collection are placed within a context of period philosophies and scientific literature in order to demonstrate the deep interconnectedness between fashion and nature.
Talk and Tours begin in the museum lobby. Reservations are required.