Fashion Culture programs are organized by The Museum at FIT to provide new perspectives on the culture of fashion.
Programs are free unless otherwise indicated. Reservations are required for all events, as space is limited.
Join the conversation online using #FashionCulture
NOVEMBER
S
M
T
W
T
F
S
1
2
3
4
5
6
7
8
9
10
11
12
13
14
15
16
17
18
19
20
21
22
23
24
25
26
27
28
29
30

DECEMBER
S
M
T
W
T
F
S
1
2
3
4
5
6
7
8
9
10
11
12
13
14
15
16
17
18
19
20
21
22
23
24
25
26
27
28
29
30
31

JANUARY
S
M
T
W
T
F
S
1
2
3
4
5
6
7
8
9
10
11
12
13
14
15
16
17
18
19
20
21
22
23
24
25
26
27
28
29
30
31
---
Events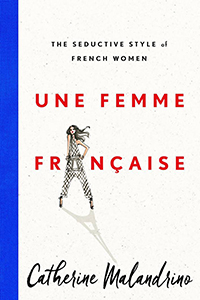 Photo: Cover of Une Femme Française, courtesy of St. Martin's Press.
Une Femme Française

Catherine Malandrino in conversation with Valerie Steele
Wednesday, December 6 | 6 pm
Katie Murphy Amphitheatre
Fred P. Pomerantz Art and Design Center
Join fashion designer Catherine Malandrino and MFIT Director Valerie Steele as they discuss Malandrino's new book, Une Femme Française, in which this Frenchwoman who has lived and worked in the United States for twenty years reveals to an American audience secrets of the nonchalant style and grace of French women. A book signing will follow the presentation.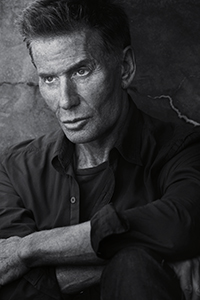 Photo: Calvin Klein © Steven Klein.
Calvin Klein

Calvin Klein in conversation with Valerie Steele
To Be Rescheduled -
Unfortunately, the Calvin Klein talk scheduled for November 30 must be rescheduled. As soon as a new date has been selected, it will be posted on our website and social media channels. We apologize for any inconvenience.
---
Symposium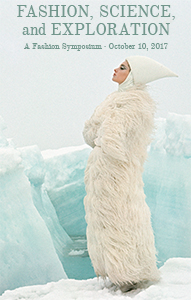 Cover: Photograph by John Cowan, 1964. Copyright The John Cowan Archive.
Fashion, Science, and Exploration Symposium

Tuesday, October 10, 10 am - 5 pm
Morris W. and Fannie B. Haft Theater
Marvin Feldman Center, Second Floor
The Museum at FIT presented its eighteenth academic symposium, Fashion, Science, and Exploration. The daylong event explored the impact of scientific thought on fashion in conjunction with two current MFIT exhibitions Expedition: Fashion from the Extreme and Force of Nature. Speakers delved into the influence of thinkers such as Charles Darwin, the history of exploration, the social implications of fur, and how environmental concerns are manifested in fashion and the visual arts.
---
Talk & Tours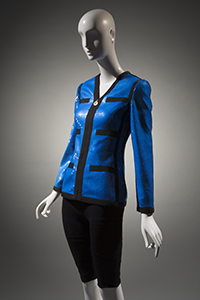 Photo: Karl Lagerfeld for Chanel, jacket, spring/summer 1991, France.
Expedition: Fashion from the Extreme
Monday, December 11 | 6 pm - SOLD OUT
Special Exhibitions Gallery
Expedition: Fashion from the Extreme explores how select items of clothing made for survival on journeys to the highest mountains, the deepest oceans, and even outer space, influenced high fashion and became modern wardrobe mainstays. The exhibition features fashions by a diverse group of designers, including Norma Kamali, Junya Watanabe, Thom Browne, Karl Lagerfeld, and Hussein Chalayan.
Talk and Tours begin in the museum lobby. Reservations are required.