Fashion Culture programs are organized by The Museum at FIT to provide new perspectives on the culture of fashion.
Programs are free unless otherwise indicated. Reservations are required for all events, as space is limited.
Join the conversation online using #FashionCulture
JULY
S
M
T
W
T
F
S
1
2
3
4
5
6
7
8
9
10
11
12
13
14
15
16
17
18
19
20
21
22
23
24
25
26
27
28
29
30
31

AUGUST
S
M
T
W
T
F
S
1
2
3
4
5
6
7
8
9
10
11
12
13
14
15
16
17
18
19
20
21
22
23
24
25
26
27
28
29
30
31

SEPTEMBER
S
M
T
W
T
F
S
1
2
3
4
5
6
7
8
9
10
11
12
13
14
15
16
17
18
19
20
21
22
23
24
25
26
27
28
29
30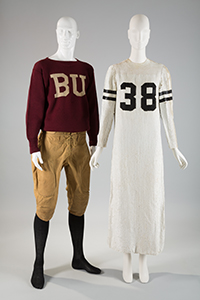 (left) Football uniform, c. 1920, wool and cotton duck, USA, museum purchase; (right) Geoffrey Beene, "football jersey" dress, Fall 1967, silk and sequins, USA, museum purchase.
Uniformity
Wednesday, July 27 | 10:30 am
Wednesday, August 17 | 10:30 am
Fashion & Textile History Gallery
Uniformity explores the dynamic history behind a variety of uniforms, considering both their social role and their influence on high fashion. The exhibition is organized thematically to focus on four categories of uniforms: military, work, school, and sports. Uniformity includes over 70 objects from The Museum at FIT's permanent collection, many of which have never been on view before.
Talk and Tours begin in the museum lobby. Reservations are required.
---
There are no upcoming MFIT lectures or panels.
---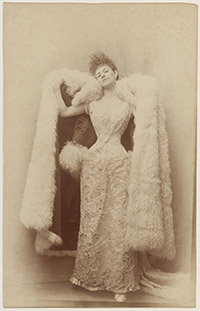 Photograph by Otto, the Countess Greffulhe in a ballgown, circa 1887. © Otto/Galliera/Roger-Viollet
Proust's Muse Symposium
Thursday, October 20
Katie Murphy Amphitheatre
Fred P. Pomerantz Art and Design Center
The Museum at FIT presents its 16th academic symposium Proust's Muse. The day-long symposium is organized in conjunction with the exhibition Proust's Muse, The Countess Greffulhe. Researchers from the United States and Europe will discuss the connections between fashion, patronage, literature, and the arts in turn of the century France.
This event will be free. Registration will be required, however reservations are not yet accepted.