2017-18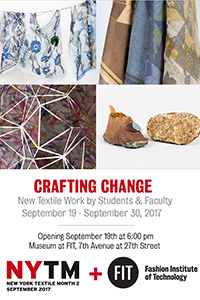 Image: Courtesy of the textile/surface design department.
Crafting Change: New Textile Work by Students and Faculty
Gallery FIT
September 19 – September 30, 2017
The work of FIT students and faculty took center stage in the Gallery FIT exhibition Crafting Change. Organized by the textile/surface design department in conjunction with New York Textile Month, the works featured in Crafting Change used long-established techniques in a modern context to explore the shifting boundaries between art, design, and technology. Projects bridging science and textiles have the potential to revolutionize the fashion and textile industries, leading us to a more sustainable future. These works were promising examples of how FIT is successfully encouraging interdisciplinary mergers between craft, technology, and sustainability to usher textile arts into the 21st century.