2017-18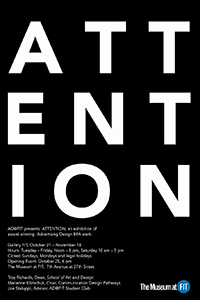 Image: Advertising Design exhibition 2017 poster courtesy of the Advertising Design program.
AD@FIT presents ATTENTION
Gallery FIT
October 21 – November 18, 2017
According to creative legend Bill Bernbach, "Principles endure, formulas don't. You must get attention to your ad. This is a principle that will always be true. How you get attention is a subtle, ever-changing thing."
This exhibition of Advertising Design at FIT showcases the award winning work that garnered the attention of the creative professionals in the advertising industry.
---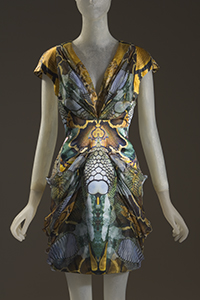 Image: Alexander McQueen, Plato's Atlantis collection, Spring 2010, England, museum purchase.
Force of Nature
Fashion & Textile History Gallery
May 30 – November 18, 2017
Force of Nature examined how the beauty and complexity of the natural world inspired fashion designers for centuries. The exhibition placed more than 95 objects from MFIT's permanent collection, dating from the 18th century to the present, within a context of period philosophies and scientific literature in order to demonstrate the deep interconnectedness between fashion and nature.
A 1775 robe à l'anglaise with a naturalistic pattern of fruit and flowers, illustrated a movement towards simple dress, influenced by philosopher Jean Jacques Rousseau, who urged a return to nature. A dress by Alexander McQueen from his acclaimed final collection in 2010, presented a meditation upon Charles Darwin's theory of evolution and concern over climate change.
More than a survey of flora, fauna, and geology as merely decorative, the exhibition revealed the natural world as a nexus of ideas and symbolism in fashion design. Force of Nature aimed to contribute to today's important, ongoing conversation about society's relationship with the natural world and humankind's place within it.
Read more about Force of Nature.
---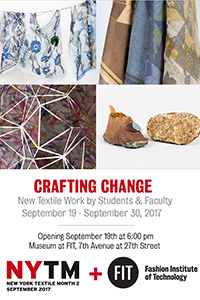 Image: Courtesy of the textile/surface design department.
Crafting Change: New Textile Work by Students and Faculty
Gallery FIT
September 19 – September 30, 2017
The work of FIT students and faculty took center stage in the Gallery FIT exhibition Crafting Change. Organized by the textile/surface design department in conjunction with New York Textile Month, the works featured in Crafting Change used long-established techniques in a modern context to explore the shifting boundaries between art, design, and technology. Projects bridging science and textiles have the potential to revolutionize the fashion and textile industries, leading us to a more sustainable future. These works were promising examples of how FIT is successfully encouraging interdisciplinary mergers between craft, technology, and sustainability to usher textile arts into the 21st century.