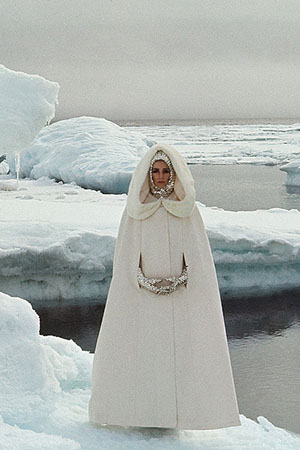 Expedition: Fashion from the Extreme examines high fashion inspired by clothing made for survival in the most inhospitable environments on earth and beyond. Today's luxurious parkas trace their roots to the "heroic era" of polar navigation (1890 to 1922), while down-filled "puffer" coats and backpacks were originally perfected for extreme mountain climbing in the mid-twentieth century. Experimental, high tech materials made for exploration to otherworldly realms — such as neoprene (deep sea) and Mylar (outer space) — made their way onto the runway.
Expeditions to these extreme environments were motivated primarily by interest in the natural world that flourished during the Victorian era. Thanks to the theoretical works of Charles Darwin and the wildly popular science fiction books by Jules Verne, expeditions became increasingly popular, aspirational endeavors.
On view in Expedition is a historical fur garment created in Siberia, as well as adaptations of indigenous Arctic clothing by the pioneering American explorer, Matthew Henson. Also included are the earliest down-filled jackets, dating to the 1930s, and other technologically experimental objects engineered for polar and mountain exploration. These expedition-worthy garments are placed alongside a range of fantastic and outrageous fashions from the 1960s, as well as a dramatic selection of contemporary designs.

Expedition: Fashion from the Extreme is also the title of the exhibition's companion book, published by Thames & Hudson.
Read more about Expedition: Fashion from the Extreme.
Image: John Cowan for Vogue, November 1964.
---