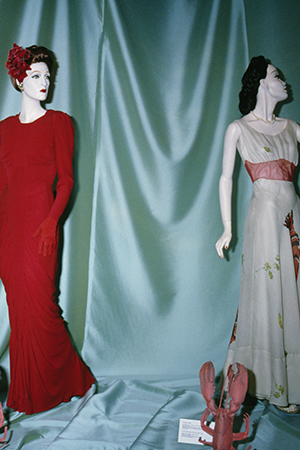 Founded in 1969 by the Fashion Institute of Technology, The Museum at FIT is a specialized fashion museum famous for its innovative and award-winning exhibitions. The museum has been the site of more than 200 exhibitions since the 1970s, and Exhibitionism commemorates approximately 33 of the most influential of these, including Fashion and Surrealism (1987), a groundbreaking show that explored the relationship between art and fashion; The Corset (2000), a beautiful and brilliant exploration of the most controversial garment in fashion history; and Fairy Tale Fashion (2016), a magical look at the such enchanted and emblematic items as the glass slipper and the red riding hood. Exhibitionism also includes highlights from more recent, award-winning exhibitions, such as A Queer History of Fashion: From the Closet to the Catwalk (2013) and Black Fashion Designers (2017). Each exhibition is highlighted using garments, photos of its original installation, and text that explains its importance, providing an engaging, "behind the scenes" look at the process of exhibition making.
Read more about Exhibitionism: 50 Years of The Museum at FIT.
Image: Installation view of

Fashion & Surrealism

(1987

)

featuring

La Sirène

dress by Charles James and "Lobster" dress by Elsa Schiaparelli and Salvador Dalí.
---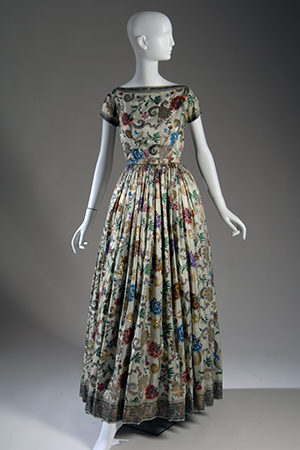 Fabric In Fashion explores the role played by textiles in forming the silhouette in Western fashion over the last 250 years. The examination of textiles is often separated from that of the fashionable silhouette, yet historically, textiles were as important as the cut of clothing in keeping up with current fashion. This exhibition delves into the mechanics of textiles, looking at how fibers and weaves build the materiality of fashion. It will also explore the cultural influence of fabric. The Western world's demand for fashionable textiles of silk, cotton, wool, and synthetics has had enormous repercussions across the globe.
Fabric In Fashion highlights both clothing and flat textiles from the museum's permanent collection, examining how the physical properties of specific fabrics determine the way a piece of clothing interacts with the body, as well as how the design and cultural associations of textiles reveal the social motivations that drive fashion forward. The exhibition is organized by Elizabeth Way, assistant curator of costume.
Read more about Fabric In Fashion.
Image: Traina-Norell, "Indian sari" silk brocade dress, circa 1955, gift of Mildred Morton.