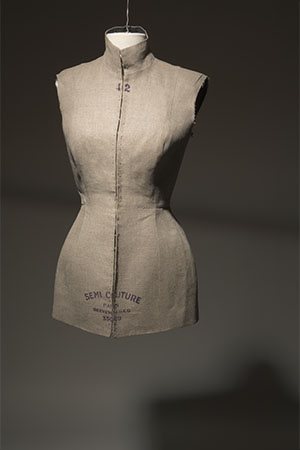 Fashion is inextricably linked to the physical form of the wearer. The cut of a garment draws the eye to zones of the body, simultaneously accentuating and concealing in order to achieve a desired silhouette. Elaborate undergarments, diet regimens, exercise routines, and even plastic surgery have all been promoted as necessary tools for attaining the ideal fashion shape. However, the idealized fashionable body is a cultural construct. Over the last 250 years, full hips, narrow hips, feminine waists, and boyish frames have each, at different times, been hailed as the pinnacle of beauty. According to a Vogue article from 1950, "A 'figure'…is considered good or bad only as related to clothing generally, and current fashions specifically." The Body: Fashion and Physique — curated by Emma McClendon — explores the complex history of the "perfect" body in fashion.
This exhibition examines the broader relationship between the fashion industry and body politics from the nineteenth century to the present. 50 objects from the collection of The Museum at FIT are on view, alongside clippings, photographs, and videos from the popular press. The Body: Fashion and Physique elucidates the impact the fashion industry has had on how people have viewed and treated their bodies throughout history. It also considers how fashion has contributed to the marginalization of certain body types within our culture.
Read more about The Body: Fashion and Physique.
Image: Maison Martin Margiela, tunic, linen, spring 1997, Belgium, museum purchase.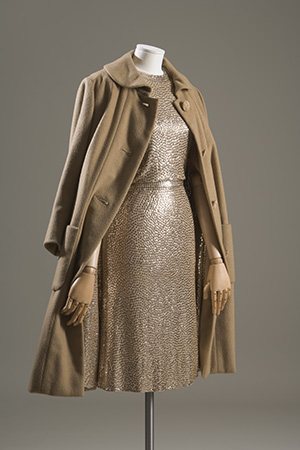 This large-scale retrospective is an in-depth study of one of America's greatest and most influential fashion designers. It is organized by guest curator Jeffrey Banks and MFITs deputy director Patricia Mears.
Born in 1900, Norman Norell had an extraordinary career that spanned six decades. Working in the theater, film, and fashion industries, he incorporated the highest quality couture construction techniques and workmanship in all of his designs. Norell won numerous industry awards and was the first American to launch his own perfume. Not only did he spearhead the concept of luxe ready-to-wear decades before his European contemporaries, but many of his classic works are still wearable today. Decades after his death, Norell's legacy lives on.
Read more about Norell.
Image: Norman Norell for Traina-Norell, subway coat and dress, c.1958, gift of Lauren Bacall.