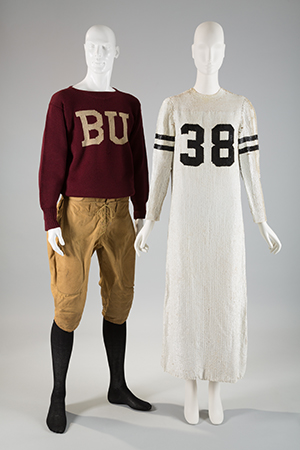 Fashion & Textile Gallery
May 20 – November 19, 2016
Uniforms are the antithesis of high fashion. Where uniform design focuses on notions of functionality, control, and tradition, fashion promotes constant change, creativity, and subversion. Yet fashion has often drawn inspiration from uniforms of all kinds, taking functional features and transforming them into decorative elements.
Simultaneously designed to blend in and stand out, uniforms occupy a unique place in our society. We encounter uniforms everywhere, from those of soldiers and school children, to the distinctive attire of flight attendants and fast-food clerks. Likewise, the uniforms of athletes and police officers have become familiar, everyday sights. They are overt symbols of social order, but they are also considered so commonplace that they are often overlooked.
Uniformity explores the dynamic history behind a variety of uniforms, considering both their social role and their influence on high fashion. The exhibition is organized thematically to focus on four categories of uniforms: military, work, school, and sports. Uniformity includes over 70 objects from The Museum at FIT's permanent collection, many of which have never been on view before.
Read more about the exhibition.
Image: (left) Football uniform, c. 1920, wool and cotton duck, USA, museum purchase; (right) Geoffrey Beene, "football jersey" dress, Fall 1967, silk and sequins, USA, museum purchase.
---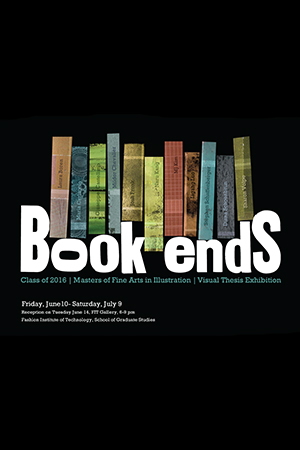 Bookends

Gallery FIT
June 10 – July 9, 2016
Bookends features thesis work by eleven artists earning the Master of Fine Arts in Illustration. The title is meant to evoke not only those heavy objects that keep your books from falling down, but also the feeling you get when you read the last page of a book. Sometimes it's a feeling of relief, of justice or of injustice, or sometimes sadness that the story has ended. Yet always, another book is waiting to be read.
Students in the MFA program develop their studio practice in drawing, painting, and digital media. They gain a broad perspective on the illustrator's role, and work in a range of areas, such as animation, concept art, children's books, graphic novels, murals, and reportage. Thus Bookends signifies an ending—the completion of a unique course of study by a group of graduate students—but also signals a beginning: though one story is ending, new stories in the artistic journeys of these gifted illustrators have already begun.
An event in which the student participants in the exhibition explain the genesis of their work will take place at the Society of Illustrators at 128 E. 63rd St. on Thursday, June 9, at 6:30 pm. If you would like to attend, please email anelle@societyillustrators.org.
Image: Master of Fine Arts in Illustration Bookends Exhibition 2016 Poster. Courtesy of the Master of Fine Arts in Illustration program.