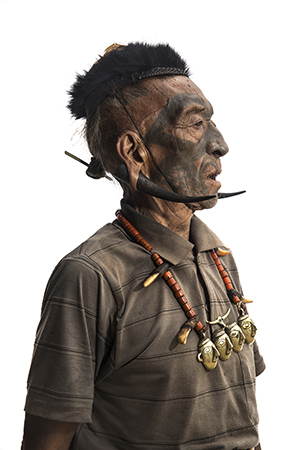 Gallery FIT
October 1 – October 29, 2016
Longwa village is located on the eastern edge of the province of Nagaland in northeast India, where it shares a border with Myanmar. Longwa is home to the Konyak Naga Tribe, who for centuries have been known as fierce headhunters​. Killing an enemy and bringing home the head used to be considered a ri​​te​​ of passage. It​ was rewarded with a tattoo on the face or chest of the warrior.
Read more about The Last Living Headhunters.
Image: "The Last Living Headhunters" courtesy of Trupal Pandya.
---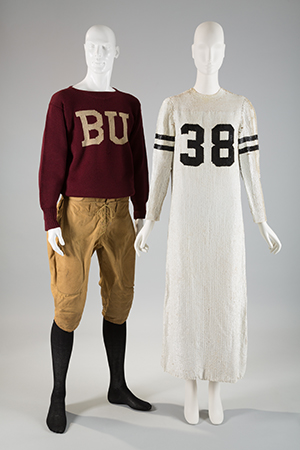 Fashion & Textile Gallery
May 20 – November 19, 2016
Uniforms are the antithesis of high fashion. Where uniform design focuses on notions of functionality, control, and tradition, fashion promotes constant change, creativity, and subversion. Yet fashion has often drawn inspiration from uniforms of all kinds, taking functional features and transforming them into decorative elements.
Simultaneously designed to blend in and stand out, uniforms occupy a unique place in our society. We encounter uniforms everywhere, from those of soldiers and school children, to the distinctive attire of flight attendants and fast-food clerks. Likewise, the uniforms of athletes and police officers have become familiar, everyday sights. They are overt symbols of social order, but they are also considered so commonplace that they are often overlooked.
Uniformity explores the dynamic history behind a variety of uniforms, considering both their social role and their influence on high fashion. The exhibition is organized thematically to focus on four categories of uniforms: military, work, school, and sports. Uniformity includes over 70 objects from The Museum at FIT's permanent collection, many of which have never been on view before.
Read more about Uniformity.
Image: (left) Football uniform, c. 1920, wool and cotton duck, USA, museum purchase; (right) Geoffrey Beene, "football jersey" dress, Fall 1967, silk and sequins, USA, museum purchase.
---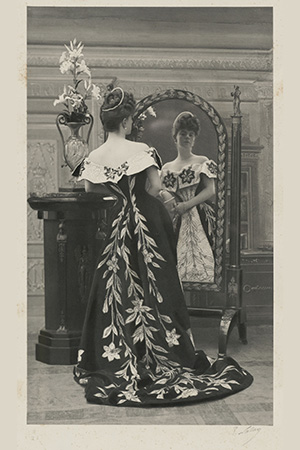 Proust's Muse, The Countess Greffulhe features 40 extraordinary fashions and accessories from the fabulous wardrobe of Élisabeth de Caraman-Chimay, the Countess Greffulhe (1860-1952). A famous beauty celebrated for her "aristocratic and artistic elegance," the countess fascinated her contemporaries, including Marcel Proust who told her cousin, Robert de Montesquiou, "I have never seen a woman so beautiful." When Proust wrote his great novel In Search of Lost Time (À la recherche du temps perdu), the Countess Greffulhe was one of the primary inspirations for his immortal fictional character, Oriane, the Duchess de Guermantes, of whom he wrote, "Each of her dresses seemed like...the projection of a particular aspect of her soul."
Proust's Muse is based on La Mode retrouvée: Les robes trésors de la comtesse Greffulhe, an exhibition organized in Paris by Olivier Saillard, director of the Palais Galliera, Musée de la Mode de la Ville de Paris, which is the repository of the countess's wardrobe. Dr. Valerie Steele, director and chief curator of The Museum at FIT, has organized the exhibition in New York in collaboration with Saillard.
The exhibition was accompanied by a day-long symposium on October 20.
Read more about Proust's Muse.
Image: the Countess Greffulhe wearing the "Lily Dress" created by Worth, 1896. Galliera, musée de la Mode de la Ville de Paris. © Nadar / Galliera / Roger-Viollet.