Not in New York?
The Museum at FIT often loans objects from its permanent collections to other institutions for use in exhibitions. Watch this space for venues featuring MFIT on the road.
__________________________________________________________________________________________________________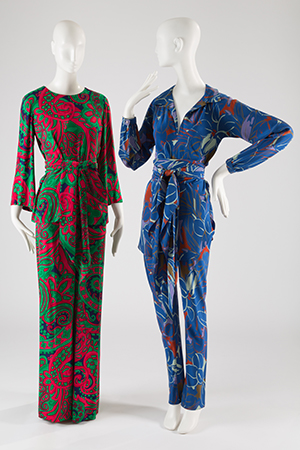 The two designers who most brilliantly defined and dominated the 1970s were Yves Saint Laurent and Halston. Not merely the decade's most influential and celebrated clothing creators, Saint Laurent and Halston are among the best known fashion designers in modern history.
Yves Saint Laurent + Halston: Fashioning the '70s
is the first exhibition to analyze and juxtapose their aesthetic developments at the peaks of their respective careers, from the late 1960s to the early 1980s. The exhibition
was originally on view at MFIT in 2015
.
The Baker Museum
Naples, FL
artisnaples.org/baker-museum
(left) Saint Laurent Rive Gauche, pajama set, printed silk crepe, c. 1970, France, P89.55.4, museum purchase.
(right) Halston, pajama set, printed crepe de Chine, c.1976, USA, 91.41.12, gift of Ms. Gayle Osman.
---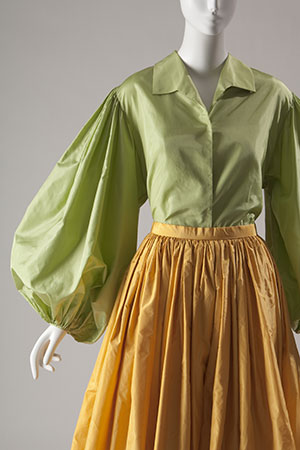 This world premiere retrospective of Oscar de la Renta's work celebrates the life and career of one of fashion's most influential designers. The exhibition will include more than 130 ensembles produced over five decades, and is presented in collaboration with the house of de la Renta and the designer's family. The Museum at FIT is lending five ensembles to the exhibition.
The de Young Museum
San Francisco, CA
https://deyoung.famsf.org/exhibitions/oscar-de-la-renta-retrospective
Oscar de la Renta, eventing set, silk tissue taffeta, c. 1978, USA, 91.190.2, Gift of Penelope Tree.

---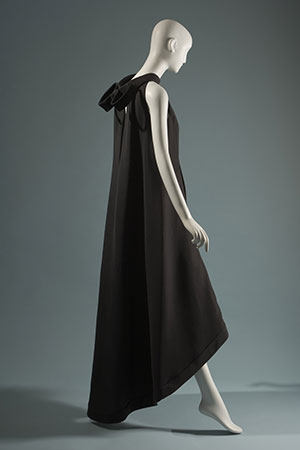 G
ame Changers – Reinventing the 20th century silhouette
looks at the groundbreaking work of fashion designer Cristóbal Balenciaga as well as pioneers of haute couture in the 1920s and 1930s and designers of the 1980s and 1990s. These 'Game Changers' looked at fashion of the 20th century from a new perspective. The Museum at FIT is lending looks by Balenciaga, Pierre Cardin, Comme des Garçons, Charles James, and Isabel Toledo to the exhibition.
ModeMuseum
Antwerp, Belgium
http://www.momu.be/en/tentoonstelling/game-changers.html
Pierre Cardin, eventing dress, silk gazar, c. 1965, USA, P85.89.1, Museum purchase.