Not in New York?
The Museum at FIT often loans objects from its permanent collections to other institutions for use in exhibitions. Watch this space for venues featuring MFIT on the road.
---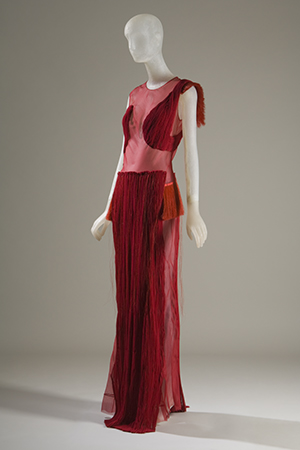 Is fashion art?
This project analyzes the forms of dialogue between the worlds of art and fashion: reciprocal inspirations, overlaps, and collaborations--from the Pre-Raphaelites to Futurism, and from Surrealism to Radical Fashion. The exhibition focuses on the work of renowned shoe designer Salvatore Ferragamo, who was fascinated and inspired by the avant-garde art movements of the 20th century. It also examines several ateliers of the 1950s and 1960s, as well as the advent of the culture of celebrities. It then takes a look at the experimentation of the 1990s, and then goes on to ponder whether we can still talk about fashion and art as two separate worlds, or if we are now dealing with an inseparable, fluid interplay of roles.
The Museum at FIT loaned six looks for
Across Art And Fashion
.
Museo Salvatore Ferragamo
Florence, Italy
http://www.ferragamo.com/museo/en/usa/exhibitions
Helmut Lang, evening dress, red silk chiffon and horsehair, c. Fall 2004, USA, 2009.32.2, gift of HL.