Not in New York?
The Museum at FIT often loans objects from its permanent collections to other institutions for use in exhibitions. Watch this space for venues featuring MFIT on the road.
---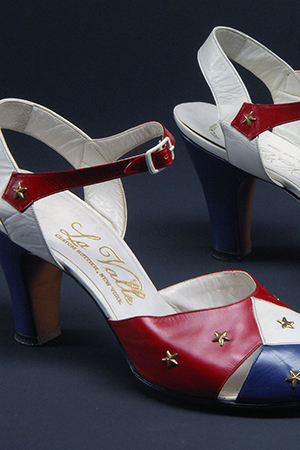 New York 1942
is the second in a series of installations commemorating the 75th anniversary of Gracie Mansion as the official mayoral residence. It includes artwork, documents, and objects focused on 1942, the year Fiorello La Guardia became the first mayor to inhabit the house. As a group, the objects depict the evolving landscape of New York City and the profound cultural and economic forces that were transforming the five boroughs into a crossroads of progressive change.
The Museum at FIT loaned one look for
New York 1942
.
Gracie Mansion
New York City
www1.nyc.gov
LaValle, shoes, red, white and blue leather and gold metal,
c. 1940, USA, 88.2.48, gift of Carroll Cook.

---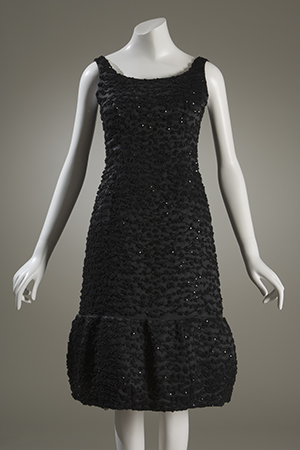 Is Fashion Modern?
Items: Is Fashion Modern?
explores the present, past—and sometimes the future—of 111 items of clothing and accessories that have had a strong impact on the world in the 20th and 21st centuries—and continue to hold currency today. Among them are pieces as well-known and transformative as the Levi's 501s, the Breton shirt, and the Little Black Dress, and as ancient and culturally charged as the sari, the pearl necklace, the kippah, and the keffiyeh. Driven first and foremost by objects, not designers, the exhibition considers the many relationships between fashion and functionality, culture, aesthetics, politics, labor, identity, economy, and technology.
The Museum at FIT loaned three looks for
Items: Is Fashion Modern?
The Museum of Modern Art
New York City
www.moma.org
Givenchy, dress, black satin with black cording, sequins
and jet beads, 1968, France, 80.181.11, gift of Jane Holzer.