2017-18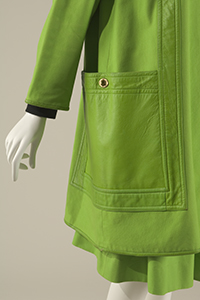 Image: Detail, Bonnie Cashin, raincoat, green cotton canvas and leather, circa 1965, USA, museum purchase.
Pockets to Purses: Fashion + Function
Gallery FIT
March 6, 2018 – March 31, 2018
Pockets and purses provide immediate access to personal possessions, satisfying the need to carry money and other useful objects. They can also display luxury or emphasize fashionable gestures. Pockets to Purses: Fashion + Function is organized by graduate students in FIT's Fashion and Textile Studies program. The exhibition will explore the history of pockets and purses as fashionable and functional objects that have evolved to accommodate the demands of modern life.
Arranged chronologically, a selection of objects from the collection of The Museum at FIT will analyze the interplay between pockets and purses in both men's and women's wardrobes from the eighteenth century to the present. Themes of public versus private, fashion versus function, and masculine versus feminine will be explored through garments, accessories, fashion plates, and video footage. Highlights include an early nineteenth century reticule fashioned from a man's waistcoat pocket, a 1930's Cartier clutch, a Bonnie Cashin raincoat, and an Hermés Kelly Bag.
Pockets to Purses: Fashion + Function will be the first exhibition to examine both men's and women's pockets and bags in tandem. It will highlight their overlapping history, clarifying the relationship between pocket and purse for a wide audience. The diversity of objects will demonstrate how pockets and purses were have been utilized throughout history and how lifestyle changes have affected their design and use. This exhibition will encourage visitors to see the significance of these familiar, but dynamic objects.
Read more about Pockets to Purses.
---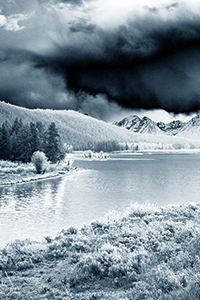 Image: Wyoming by Sylvie G. Covey
Art and Design Faculty Exhibition: New Views 2018
John E. Reeves Great Hall
February 24, 2018 – March 11, 2018
New Views 2018 is the fourth large-scale faculty exhibition at FIT in the John E. Reeves Great Hall. The School of Art and Design consists of 17 departments teaching separate creative disciplines that define the vitality of the college. Approximately 70 faculty members have submitted their work for this non-juried exhibition.
New Views' goal is to celebrate and reflect on projects and recent works of all the talented faculty of the School of Art and Design. Diverse in vision, media, and execution, the works on view demonstrate visual investigations that form the studio practices of the FIT's faculty members.
FIT's School of Art and Design comprises 17 programs — Accessories Design, Advertising Design, Communication Design, Computer Animation and Interactive Media, Fabric Styling, Fashion Design, Fine Arts, Graphic Design, Illustration, Interior Design, Jewelry Design, Menswear, Packaging Design, Photography, Textile/Surface Design, Toy Design, and Visual Presentation and Exhibition Design.
This exhibition is open to the public.
---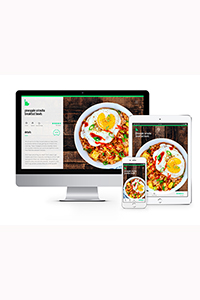 Image: 2017 Creative Technology and Design exhibition poster.
#EXPERIENCE – 2017 Creative Technology & Design Annual Exhibition
Gallery FIT
December 5, 2017 – January 6, 2018
The age of image branding is coming to an end. In a world of instant and constant sharing, even a brilliantly designed brand image cannot create value that doesn't exist or sustain a fabricated brand story. Brands today operate in an omni-channel world where the customer relationship is always on, and the rapidly growing complexity of digital communication makes understanding the dynamics of customer experiences a major challenge.
A new wave of innovative design professionals drafted a new playbook. It starts with understanding the strategic role of the consumer's journey in brand experience. This playbook has a name: "Experience Design." Experience Design is a new way of digital thinking. It uses brand architecture as a compass for identifying differentiated value and experience. It establishes a conceptual framework for designing products, services, and customer interactions.
The third annual Creative Technology and Design exhibition, #EXPERIENCE, focused on the exploration of new possibilities in Experience Design. The exhibition showcased the most innovative design projects from FIT's Creative Technology courses, such as Digital Typography, Content-centric App Design, Kinetic Typography, User Experience Design, and Design for Web-based Interface.
The exhibition concept was conceived by the co-coordinators of the Creative Technology program, Christie Shin and C.J. Yeh. The call for submissions were announced in September 2017, and the jury panel reviewed more than 150 projects in order to select the best for the exhibition. The categories for submission included digital typography, content design, digital product design, interaction design, and user experience design. Every project in the exhibition demonstrated creative and innovative uses of Experience Design principles. To demonstrate the link between these student projects and current industry practices, selected professional projects from the alumni, faculty, and advisory board members of the program were also on view.
---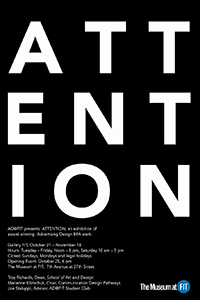 Image: Advertising Design exhibition 2017 poster courtesy of the Advertising Design program.
AD@FIT presents ATTENTION
Gallery FIT
October 21 – November 18, 2017
According to creative legend Bill Bernbach, "Principles endure, formulas don't. You must get attention to your ad. This is a principle that will always be true. How you get attention is a subtle, ever-changing thing."
This exhibition of Advertising Design at FIT showcased the award winning work that garnered the attention of the creative professionals in the advertising industry.
---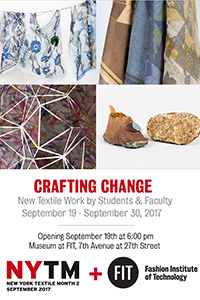 Image: Courtesy of the textile/surface design department.
Crafting Change: New Textile Work by Students and Faculty
Gallery FIT
September 19 – September 30, 2017
The work of FIT students and faculty took center stage in the Gallery FIT exhibition Crafting Change. Organized by the textile/surface design department in conjunction with New York Textile Month, the works featured in Crafting Change used long-established techniques in a modern context to explore the shifting boundaries between art, design, and technology. Projects bridging science and textiles have the potential to revolutionize the fashion and textile industries, leading us to a more sustainable future. These works were promising examples of how FIT is successfully encouraging interdisciplinary mergers between craft, technology, and sustainability to usher textile arts into the 21st century.