2016-17
---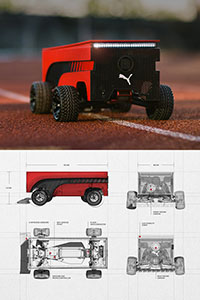 Image: Creative Technology Program Advisory Board "JWT"
#TIME: 2016 Creative Technology Program Annual Exhibition
Gallery FIT
November 15 – December 13, 2016
Time is a difficult concept to grasp or describe, but it's something we all feel, from the agony of waiting for a file to download to the joy of breezing through page after page of a beautiful story. In our daily lives, each second might seem insignificant or trivial. But for experienced temporal designers, even a split-second could be used as an effective instrument to influence how people perceive and experience content.
To highlight the importance of time as a primary design element in addition to type and imagery, the Creative Technology Program at FIT is dedicating its second annual exhibition to temporal design. #TIME: 2016 Creative Technology Program Annual Exhibition emphasizes visual storytelling, interaction strategies, and conceptual thinking for designing with time in mind. The exhibition will be divided into three parts: motion design, interaction design, and time-based information design, such as timelines and calendars. Each project in this exhibition will display its own distinctive, creative approach to solving design problems using temporal design principles. It provides an opportunity for those interested in temporal design, across a range of disciplines, methods, and practices, to reflect on what it might mean to them.
#TIME will showcase the best projects from Creative Technology program courses such as Kinetic Typography, Immersive-Publication Design, User Experience Design, and Design for Screen-based Media. To demonstrate the linkage between these student projects and current industry practices, selected professional projects from the alumni, faculty, and advisory board of the program will also be on view.