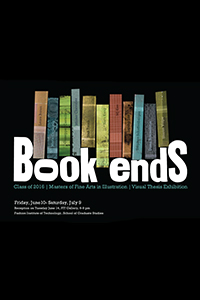 Master of Fine Arts in Illustration Bookends Exhibition 2016 Poster. Courtesy of the Master of Fine Arts in Illustration program.
Bookends
Gallery FIT
June 10 – July 9, 2016
Bookends featured thesis work by eleven artists earning the Master of Fine Arts in Illustration. The title was meant to evoke not only those heavy objects that keep your books from falling down, but also the feeling you get when you read the last page of a book. Sometimes it's a feeling of relief, of justice or of injustice, or sometimes sadness that the story has ended. Yet always, another book is waiting to be read.
Students in the MFA program develop their studio practice in drawing, painting, and digital media. They gain a broad perspective on the illustrator's role, and work in a range of areas, such as animation, concept art, children's books, graphic novels, murals, and reportage. Thus Bookends signified an ending—the completion of a unique course of study by a group of graduate students—but also signaled a beginning: though one story is ending, new stories in the artistic journeys of these gifted illustrators have already begun.
---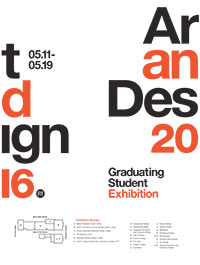 Art and Design Graduating Student Exhibition 2016 Poster. Courtesy of FIT School of Art and Design.
Art and Design Graduating Student Exhibition
Gallery FIT and other locations
May 11 – May 19, 2016
The annual Art and Design Graduating Student Exhibition presented the work of more than 800 students receiving AAS and BFA degrees from the School of Art and Design. The exhibition featured work in seventeen areas of study: Accessories Design, Advertising Design, Communication Design, Computer Animation and Interactive Media, Fabric Styling, Fashion Design, Fine Arts, Graphic Design, Illustration, Interior Design, Jewelry Design, Menswear, Packaging Design, Photography, Textile/Surface Design, Toy Design, and Visual Presentation and Exhibition Design.

The projects on view throughout the main floors of the Marvin Feldman Center, the Fred P. Pomerantz Art and Design Center, the Shirley Goodman Resource Center, the Gladys Marcus Library, and the John E. Reeves Great Hall were the culmination of each student's unique experience in FIT's undergraduate Art & Design programs and featured juried selections, thesis work, and award-winning projects.
---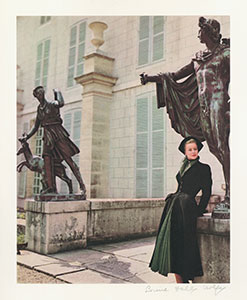 Model wearing the Mystère coat by Christian Dior in Paris at Malmaison, color proof, featured in Harper's Bazaar, November 1947. Collection of The Museum at FIT. Photograph by Louise Dahl-Wolfe. © 1989 Center for Creative Photography, Arizona Board of Regents
The Women of Harper's Bazaar, 1936–1958
Gallery FIT
March 1 – April 2, 2016
The Women of Harper's Bazaar, 1936–1958 exhibition explored the dynamic collaboration among Harper's Bazaar editor-in-chief Carmel Snow, fashion editor Diana Vreeland, and photographer Louise Dahl-Wolfe during their time at the magazine. Capturing a transformative period in the magazine's history, this was the first exhibition to focus on the interaction between these three individuals. Organized by the graduate students in the Fashion and Textile Studies: History, Theory, Museum Practice MA program, the exhibition drew from The Museum at FIT's extensive collection of Louise Dahl-Wolfe color photographs donated by the photographer herself. The exhibition presented 37 Louise Dahl-Wolfe photographs shown alongside 9 garments by Christian Dior, Charles James, Mainbocher, Claire McCardell, and Carolyn Schnurer. Related materials such as behind-the-scene photographs further highlighted the creative process that made Harper's Bazaar the definitive fashion magazine of the time.
---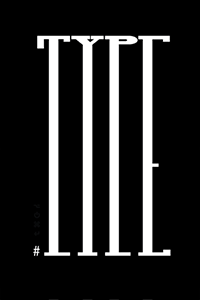 #Type — 2015 Creative Technology Annual Exhibition graphic, courtesy of the School of Art and Design at FIT, 2015
Type — 2015 Creative Technology Annual Exhibition
Gallery FIT
January 26 – February 6, 2016
The art of designing and using typeface as a means of communication can still elevate or destroy the aesthetics and function of a design—regardless of whether it is printed on a piece of cardboard or projected onto a silver screen. #TYPE showcased the best typographic design projects from FIT's new Creative Technology courses, including Intro to Kinetic Typography, Immersive-Publication Design, Digital Layout Design, Design for Screen-based Media, and Intro to User Experience Design. Examples of professional projects were on view alongside student works to demonstrate the link between the coursework and current industry practices. #TYPE was the first annual exhibition of the Creative Technology Minor program at FIT.
---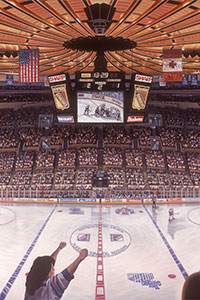 © Tony Capparelli.
Tony Capparelli - The Art Sport
Gallery FIT
November 3 – December 12, 2015
Tony Capparelli is an adjunct associate professor of illustration at FIT. As an artist, he is an interpreter of the world of sport. Tony Capparelli - The Art of Sport featured artworks in a variety of media, representing many different sporting activities and sports celebrities, such as the late former Heavyweight Champion of the World "Smokin Joe Frazier," NBA great Lenny Wilkens, and New York Rangers Hall of Famer Rod Gilbert. The sports figures Derek Jeter, Wayne Gretzky, and David Cone were also depicted, with bright, exploratory gestures using bold acrylics and a palette knife.
Tony has been the Milestone Artist of the New Jersey Devils since 1989 and was an officially licensed artist for Super Bowl XLIV. His techniques include oils, watercolors, charcoals, and digital and acrylic airbrushing. On view was a nine-foot oil mural depicting the Stanley Cup-winning goal made by NY Rangers former captain Mark Messier at Madison Square Garden in 1994. The artwork was a panoramic depiction of the historic moment of Messier's goal, signed in gold-leaf by the athlete. A personalized FIT-themed Reebok/CCM goalie mask was also on display. The professional goalie mask was donated for the event by Reebok/CCM.
Tony is a recipient of Art Direction's Award of Distinction and the Beckett Sports Art Gallery Award. His paintings have graced the covers of the National Review, Financial World, and award-winning NHL Yearbooks. Tony has been an instructor at FIT since 1997, is intimately involved with EOP Summer Program, and is currently the Club Advisor for the Zine/Comic Arts Student Club at FIT. His studio is located in New Jersey.