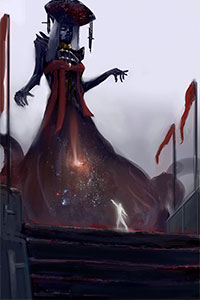 Jorge Saldana, Black Magic Woman, digital painting.
Exit Lines
Master of Fine Arts in Illustration Visual Thesis Exhibition
Gallery FIT
June 6 – July 3, 2015
Students in the Master of Fine Arts in Illustration program develop their studio practice in drawing, painting, and digital media—and the integration of all three. Through a focus on studio practice along with classes on creative writing and research, students gain a broad perspective on the illustrator's role across different media. Students work in a range of areas, such as animation, concept art, children's books, graphic novels, murals, and reportage. The program culminates in an annual visual thesis exhibition.
Exit Lines. An ending to a beginning. Like the exit line spoken by an actor as he leaves the stage, this exhibition represented the close of our own performance at FIT, and the start of a new act.
---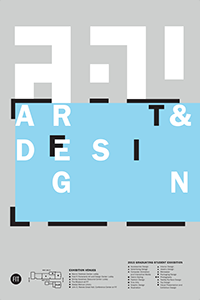 Art and Design Graduating Student Exhibition 2015 Poster. Courtesy of FIT School of Art and Design.
Art and Design Graduating Student Exhibition
Gallery FIT and elsewhere
May 6 – 21, 2015
The annual Art and Design Graduating Student Exhibition presented the work of more than 800 students receiving AAS and BFA degrees from the School of Art and Design and is on view throughout the main floors of the Marvin Feldman Center, the Fred P. Pomerantz Art and Design Center, the Shirley Goodman Resource Center, the Gladys Marcus Library, and the John E. Reeves Great Hall. The exhibition featured work in seventeen areas of study: Accessories Design, Advertising Design, Communication Design, Computer Animation and Interactive Media, Fabric Styling, Fashion Design, Fine Arts, Graphic Design, Illustration, Interior Design, Jewelry Design, Menswear, Packaging Design, Photography, Textile/Surface Design, Toy Design, and Visual Presentation and Exhibition Design.
The projects on view were the culmination of each student's unique experience in FIT's undergraduate Art & Design programs. Featuring juried selections, thesis work, and award-winning projects, this presentation was the culmination of several years of students' research, experimentation, critical thinking, and artistic proficiency.
---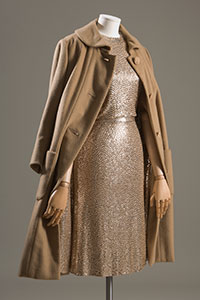 Normal Norell, evening dress and coat, cashmere, silk jersey, and sequins, circa 1958, USA, gift of Lauren Bacall, 68.143.6.
Lauren Bacall: The Look
Gallery FIT
March 3 – April 4, 2015
Lauren Bacall: The Look
was a celebration of the film and theater star's unique style. Bacall's own garments took the spotlight in this exhibition, which also explored her relationships with fashion designers who dressed her, including Marc Bohan, Pierre Cardin, Norman Norell, Yves Saint Laurent, and Emanuel Ungaro. Students in the Fashion and Textile Studies: History, Theory, Museum Practice MA program in FIT's School of Graduate Studies collaborated with MFIT to present 12 items from a collection of 700 that Bacall donated to the museum in 22 gifts, between 1968 and 1986.
Learn more about Lauren Bacall: The Look
.
---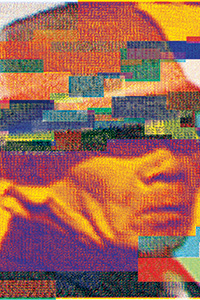 Chang-Soo Kim, Flickering Series 2002 - present, digital imagery.
---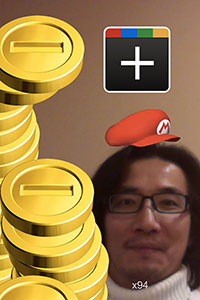 © C.J. Yeh
ESC: Digital Artworks by C.J. Yeh
Gallery FIT
October 4 – December 13, 2014
ESC: Digital Artworks by C. J. Yeh investigated and illustrated the life, career, and thoughts of Art & Design faculty member C. J. Yeh, and looked at how the digital revolution has resulted in a new cultural paradigm centered on social networking. The exhibition included artworks from four different bodies of work: CJ Was Here, a series of conceptual mixed-media art; De-Purpose, a series of interactive installations; Equals, a series of net art (artworks using the Internet as its primary medium or platform); and vWare 1.0, a series of visual software programs inspired by literature.