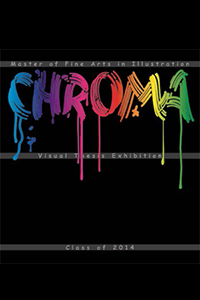 CHROMA: Master of Fine Arts in Illustration
Visual Thesis Exhibition
Gallery FIT
June 7 - July 5, 2014
On display in CHROMA are concrete expressions of the individual talents of the 2014 graduating class that offer a window on the expanding multi-media environment in which these emerging artists will work in the 21st century. E-books, animation, set designs, graphic novels all serve the stories they seek to tell: a Trinidadian folk tale, the Triangle Shirtwaist fire, stories that explore gender and race, and stories about amusement parks, cats and even a dog who goes to Hollywood. Through the talent of these students, and the skills they have mastered in the program, very diverse and often personal stories come vibrantly to life.
---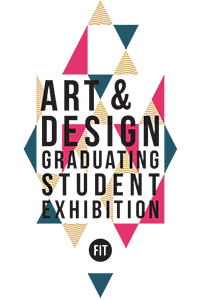 Art & Design Graduating Student Exhibition 2014
Gallery FIT
and elsewhere
May 7 - 22, 2014
This show presents the work of more than 800 students receiving AAS and BFA degrees from the School of Art & Design and is on view throughout the main floors of the Marvin Feldman Center, the Fred P. Pomerantz Art and Design Center, the Shirley Goodman Resource Center, and the John E. Reeves Great Hall.
The exhibition features work in seventeen areas of study - Accessories Design, Advertising Design, Communication Design, Computer Animation & Interactive Media, Fabric Styling, Fashion Design, Fine Arts, Graphic Design, Illustration, Interior Design, Jewelry Design, Menswear, Packaging Design, Photography, Textile/Surface Design, Toy Design, and Visual Presentation & Exhibition Design.
The art selected is the culmination of each student's unique experience in the Fashion Institute of Technology's diverse, challenging, and demanding undergraduate Art & Design programs. Featuring juried, award winning, and thesis projects, this presentation is the manifestation of several years of research, experimentation, critical thinking, and artistic proficiency.
The Graduating Student Exhibition advances the College's applied philosophy that integrates practice in industry with theory and teaching inside the studio.
---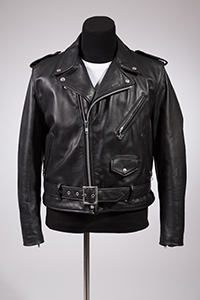 Schott, Perfecto jacket, black leather, circa 1980, USA. Museum purchase, P89.29.1 © Eileen Costa
Beyond Rebellion: Fashioning the Biker Jacket
Gallery FIT
March 4 - April 5, 2014
Read more about
Beyond Rebellion
Visit the
Online Exhibition
Beyond Rebellion: Fashioning the Biker Jacket examined high fashion interpretations of the black leather motorcycle jacket. Organized by graduate students in FIT's Fashion and Textile Studies program, the exhibition explored the many forms this utilitarian garment has taken, from countercultural wardrobe staple to avant-garde statement piece. The exhibition featured garments from labels such as Comme des Garcons, Jean Paul Gaultier, Rick Owens, and Gianni Versace, emphasizing the biker jacket's continuing influence on high fashion.
---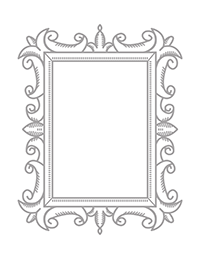 Big Data – Telling Human Stories Through Numbers
FIT Media Club

Gallery FIT
January 25 - February 8, 2014
Big Data – Telling Human Stories Through Numbers explored the world of data, information, and numbers through artistic vision. The works included were a response to the changing world of the Information Age that we are living in. Instead of using the power of information for political or business-oriented goals, designers and artists in this exhibition used results of their quantitative research to tell the their stories.
The Media Design Club at FIT (MDC) was established in 2009 by Prof. C. J. Yeh from the Communication Design Department. It brings together students interested in digital media together outside of the traditional classroom setting. Currently, MDC has over 200 members from Communication Design (AAS), Graphic Design (BFA), Advertising Design (BFA), Computer Graphics (BFA), and Illustration (AAS) programs. It is one of the most active student clubs at FIT.
---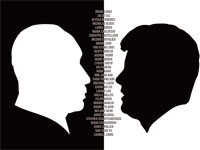 Dreams Lived, Dreams Shattered:
MLK, JFK 50 years later

Work of MFA Illustration Students and Faculty

Gallery FIT
November 9 - December 7, 2013
Students and faculty of the MFA in Illustration program at FIT visually reflected on the 50th anniversary of two seminal events in American History.
---