Gallery FIT
March 6 – April 7, 2012
Exhibition website
Youthquake! The 1960s Fashion Revolution explored the dramatic impact of youth culture on fashion during the 1960s. Once only the rich, the Establishment, set the fashion, said pioneering British designer and boutique owner Mary Quant. Now it is the inexpensive little dress seen on the girls in High Street.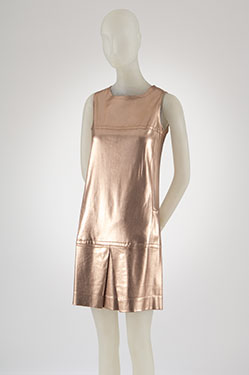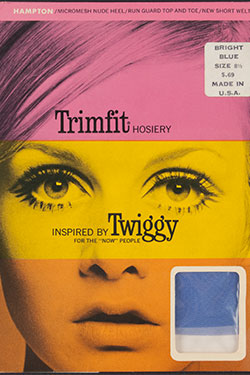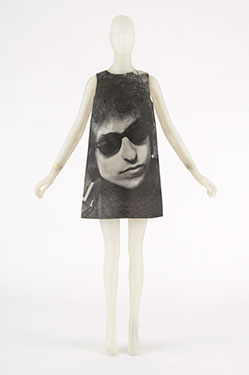 Who created fashion, how it was made, and who could participate in it was redefined by rebellious young people during this seminal decade. Youth subcultures challenged the dominance of Paris couture as the fashion authority in the 1960s. The Mods and the Hippies dressed to provoke in clothes that blurred and erased gender lines, exuded sexuality, and embraced bold silhouettes and new materials. The exhibition was organized according to three interrelated themes
—
boutiques, mass marketing, and high fashion—and features over thirty garments, accessories, videos, and other related media.
The exhibition began by looking at a new generation of designers and their innovative boutiques, where young clientele
—
an increasingly powerful consumer class
—
shopped and socialized. London was the epicenter of youth-generated style, but youthquake boutiques soon began to open internationally. New York's Paraphernalia boutique sold work by emerging talent such as Betsey Johnson, in addition to the work of London designers. Paraphernalia's cutting-edge designs was represented by a mini-dress in metallic copper knit.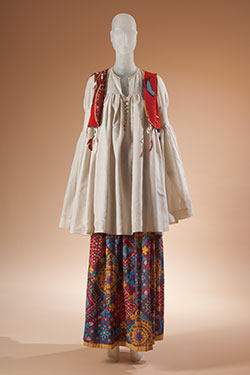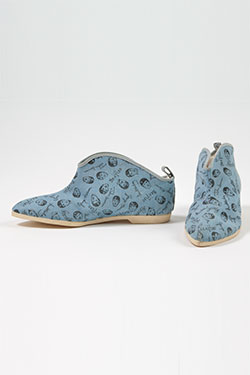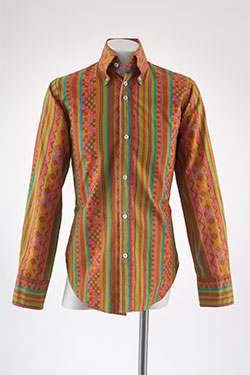 The exhibition went on to explore the infiltration of youthquake fashion into the mass market. As seventeen-year-old Twiggy observed in 1967, The world is all for youth now
—
because the young people have so much time and money to spend, all the businessmen say lets cash in on youth. American mass market labels collaborated with London designers to bring youthquake fashions and boutiques to department stores across the country. The exhibition featured a powder blue vinyl mini-dress for Puritan Fashion Groups Youthquake line.
Couture and high fashion ready-to-wear were also influenced by youthquake styles. Forward-thinking couturiers embraced the spirit of youthful exuberance. They saw the financial and creative potential in cultivating a younger market, and they began designing mini-skirts and pantsuits, as well as opening their own ready-to-wear boutiques. The exhibitions high fashion ready-to-wear included an example of an iconic Yves Saint Laurent Safari tunic from his Rive Gauche boutique, famously worn by style-setters Betty Catroux and Veruschka.
The end of the decade saw the rising influence of the Hippies, whose eclectic mix of secondhand and ethnic dress was also translated into mass market and high fashion. Natural materials such as leather, fur, shells, and feathers embellished Giorgio di Sant'Angelo's rich hippie look, which was shown in a beaded hairpiece, suede vest, and printed cotton skirt ensemble.