Fashion & Textile History Gallery
May 25 – November 5, 2011
Online Exhibition
Clothing for sporting activities has often influenced fashion—and vice versa. The fact that casual everyday clothing is called sportswear in the apparel industry is a testament to how comprehensively the development of specialist sports clothing has shaped our ideas about clothing, observes fashion writer
Jennifer Craik
.
Sporting Life
explored this relationship between sportswear and fashion from the mid-19th century through the present. Featuring more than 100 garments, accessories, and textiles from the Museums permanent collection, the exhibition was organized thematically around styles associated with
sailing
,
swimming
,
golfing
,
skating
,
motoring
, and other sporting activities.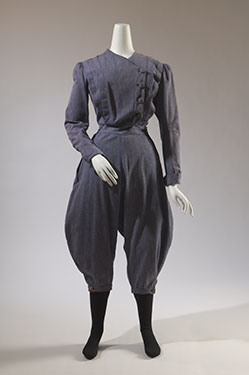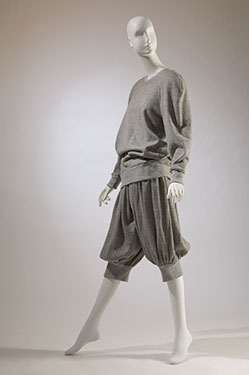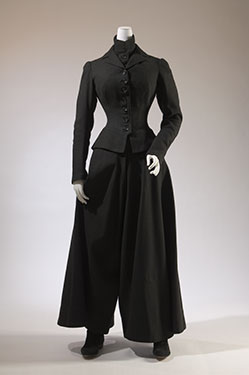 The introductory gallery was dedicated to exercise and dance. During the nineteenth century, light exercise was recommended for the improvement of physical well-being, beauty, and grace, thus the exhibition included a number of women's gym wear garments, beginning with a bifurcated gymnasium suit, circa1896. A Claire McCardell ensemble with matching striped Capezio ankle boots exemplified stylish active wear of the mid-20th century, and a Norma Kamali sweatsuit from 1981 and an Isabel Toledo gym dress demonstrated the less rigid distinctions between fashion and sport attire during the second half of the 20th century.
In the late 19th century, bicycling fashions were notable for the trouser-style garments designed for women. The divided skirt of circa 1888 woman's tailored bicycling ensemble was designed for mobility as well as modesty. Clothing for bicycling changed substantially during the 20th century, as demonstrated by a 1985 mans competitive racing outfit utilizing stretch materials and a streamlined design to maximize performance.
Hunting, one of the oldest sporting activities, has a number of distinct dress styles associated with the privileged classes of the 18th and 19th centuries. These include the riding coat, jodhpurs, dark tweed or tartan, and velvet hats. Hunting fashions blend style and function, as a circa 1926 Norfolk suit demonstrated. Its relaxed style, first introduced in the 1860s, was constructed to allow for ease of motion. Hunting garments have inspired clothing designers such as Yves Saint Laurent and Jean Paul Gaultier, as well as shoe designers such as Manolo Blahnik, whose high-heeled shoes based on classic utilitarian duck boots were also on view.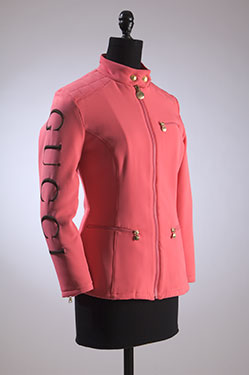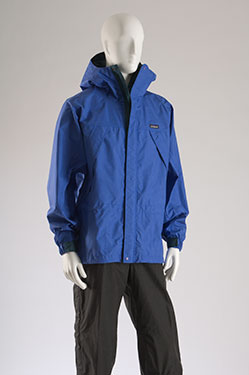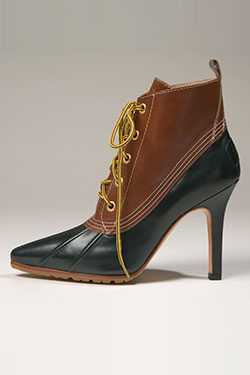 Textile innovations became a driving force in the active sportswear market of the 20th century. A 1930s wool ski suit, bearing the label Neva-Wet, an example of an early attempt at waterproofing, seemed primitive next to the high-tech properties of Patagonia's Super Alpine nylon ski ensemble from 1995. Synthetic materials utilized in active sportswear are being increasingly used in fashion garments. Spandex is one example; another is neoprene, a fabric commonly used in aquatic sports clothing like surfing. The exhibition paired a neoprene wetsuit with a sporty 1994 Donna Karan neoprene dress.
Sportswear manufacturers have been responsible for many innovations in performance apparel, while emphasizing fashionability. Meanwhile, recent runway collections have featured adaptations of classic sports attire, such as the varsity baseball jacket, demonstrating that the sporting life continues to inspire fashion designers.