Special Exhibitions Gallery
February 10 – April 15, 2017
<<Exhibition Blog>>
Share using #ParisRefashioned on Twitter and Instagram.
Paris Refashioned, 1957-1968 highlighted one of the most groundbreaking time periods in fashion history. While many books and exhibitions about this era position London as the center of innovative, youth-oriented design, this limited perspective overlooks the significant role that Paris continued to play in the fashion industry. Paris Refashioned, 1957-1968 examined the combined influence of French haute couture, ready-to-wear, and popular culture during this era, with particular emphasis on how fashion was perceived and promoted by the American fashion press. All objects on view were selected from The Museum at FIT's permanent collection of more than 50,000 objects.
In 1957, 21-year-old Yves Saint Laurent was promoted to creative director of the couture house of Christian Dior. Saint Laurent's first solo collection for Dior included his A-line "trapeze" dresses, ushering in an unmistakable shift toward more relaxed and, ultimately, more youthful designs—and with it, drastic changes to the couture fashion industry that are rarely explored in depth. The exhibition's introductory gallery included a selection of more than 30 haute couture garments and accessories dating from 1957 to 1960. The clothing was arranged in a setting designed to resemble a 1950s couture salon. In addition to an example of Saint Laurent's "trapeze" dress crafted from black wool, this section featured a slinky black cocktail dress from the designer's fall 1959 collection. This collection—which featured dramatically shorter hemlines than his previous work—caused a stir among fashion critics and clients.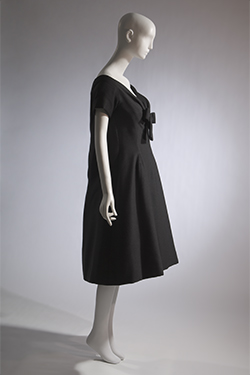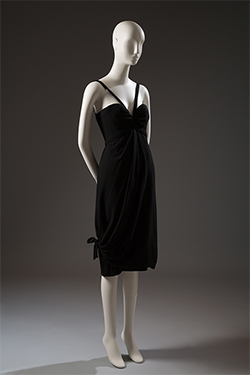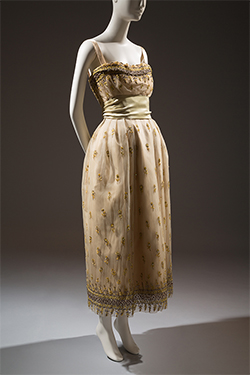 Saint Laurent's innovative creations was shown alongside work from other young designers who were poised to become household names. Pierre Cardin worked briefly for Dior before establishing his own house in 1950, and he was initially known for his designs for suits and coats. By the late 1950s, Cardin's collections included opulent eveningwear. A beaded evening gown from circa 1957 exemplified his mastery of cut and detail, although there is not yet any hint of the bold, futuristic aesthetic that would bring him fame during the following decade.
Hubert de Givenchy, best known today for his designs for Audrey Hepburn, established his couture house in 1951. His early associations with Cristóbal Balenciaga, one of the most revered couturiers of the 20th century, resulted in many comparisons between the two designers' work. One of Balenciaga's masterpieces—a circa 1957 lace "baby doll" dress that foreshadowed the unrestrictive styles of the 1960s—was also be displayed. Gabrielle "Coco" Chanel's effortlessly stylish suits were made in seemingly endless variations, and they became a signature of her work during the 1950s and 1960s. Several examples were included in Paris Refashioned, including a 1959 version in red wool tweed with artfully notched "tulip"-shaped pockets. Women of all ages embraced Chanel's modern, easy-to-wear clothing.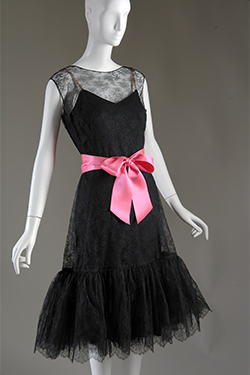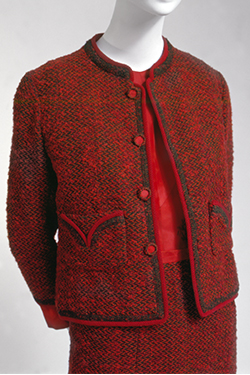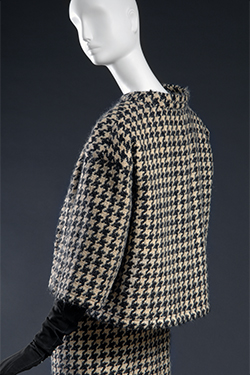 While the introduction of 1950s haute couture is essential to the history of French fashion, the majority of the exhibition was devoted to the dynamic designs of the 1960s. A larger gallery space, designed to evoke a 1960s boutique, included approximately 80 examples of clothing and accessories from 1961 to 1968. This gallery highlighted a number of fashions by André Courrèges, a protégé of Balenciaga who eschewed the formalities of the couture industry. His preference for clean, forward-thinking design was already evident in his first collection, presented in 1961. Paris Refashioned featured a three-piece suit from this collection, which includes a wool jacket cut in a unique, sculptural silhouette. Later designs by Courrèges, including a pair of his famous white leather boots and a dress trimmed in black vinyl, exemplified his influential role as a "Space Age" designer. Pierre Cardin, too, began to design garments that corresponded to the Space Age. On view was a minidress from his "Cosmos" collection, worn by Lauren Bacall, that features geometric cutouts over the breastbone. Originally styled with black accessories that included a turtleneck, patterned knit stockings, shiny knee-high boots, and a helmet-style hat, the look helped to further Cardin's reputation as an avant-garde couturier.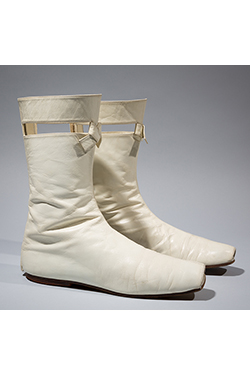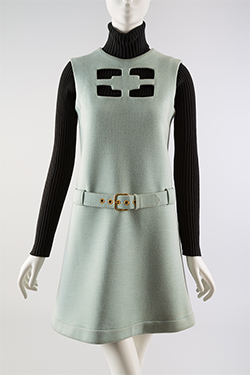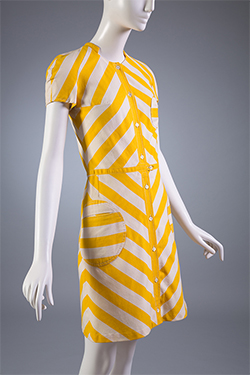 As early as 1963, a group of young French ready-to-wear designers known as the stylistes had begun to make a significant impact on fashion in their home country and abroad. Their of-the-minute fashions, which were favored by style arbiters such as Brigitte Bardot, presented an unexpected challenge to the more staid, costly, and labor-intensive creations of the couturiers. The vibrant aesthetic of Emmanuelle Khanh, one of the leaders of the French ready-to-wear fashion revolution, was represented by a striped "Op Art" dress from 1966. The slim, youthful fit of the dress is highlighted by its precise, mitered construction. Paco Rabanne worked with Khanh and two other prominent stylistes, Christiane Bailly and Michèle Rosier, before gaining notoriety for his collection of "12 Unwearable Dresses in Contemporary Materials" in 1966. Replacing fabric, needle, and thread with plastic discs, wire, and pliers, his avant-garde creations came to symbolize the future-forward ideals of 1960s fashion.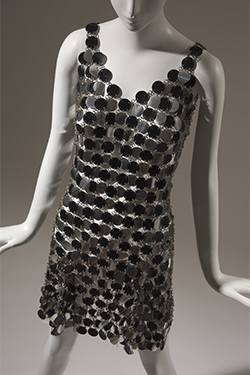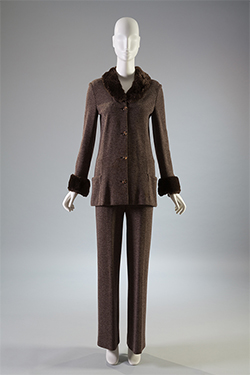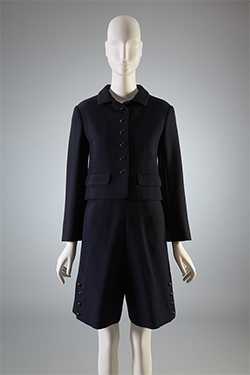 Sonia Rykiel, who would later become known as the "Queen of Knits," began her career by designing clothing for her husband's clothing boutique, Laura, located on Paris's Left Bank. Rykiel's 1965 design for a pantsuit, made from double knit wool and trimmed with faux fur, is at once daring, relaxed, and elegant. Gaby Aghion founded the Chloé label in 1952, and she is considered the first to introduce the concept of luxury ready-to-wear to French women. Aghion hired a host of esteemed designers to work for Chloé. They included Gérard Pipart, who would later design for the couture house of Nina Ricci, and Michèle Rosier, founder of the popular ready-to-wear label V de V. Yet none of Aghion's hires would become more famous than Karl Lagerfeld, who worked at Chloé from 1964 to 1984. Paris Refashioned displayed Lagerfeld's striking "Astoria" dress from 1967—a floor-length design, hand-painted with a bright, floral motif inspired by Aubrey Beardsley's artwork.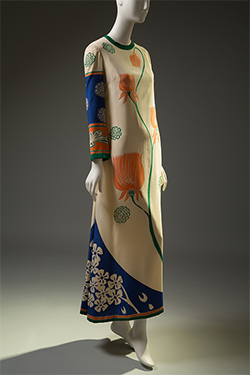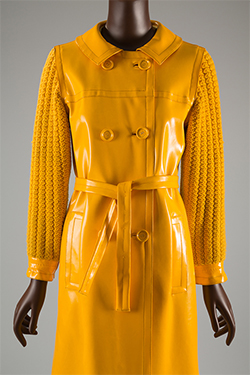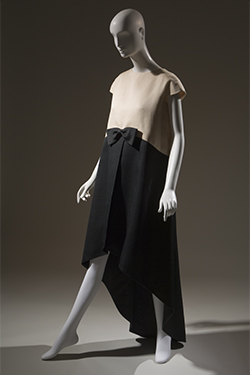 The success of French ready-to-wear had a profound impact on the couture industry, and it proved to be an exciting new challenge for some designers. Cardin, Courrèges, and Saint Laurent continued to present couture collections, but they also created new labels for their highly stylish ready-to-wear designs. Saint Laurent's ready-to-wear label, Rive Gauche, allowed him to experiment with new ideas and materials—some of which can be traced directly to the influence of the stylistes. This exhibition featured a raincoat from one of his earliest Rive Gauche collections, made from bright yellow vinyl with chunky, knitted wool sleeves. A version of this coat in black was worn by Catherine Deneuve in the 1967 film Belle de Jour, for which Saint Laurent designed the costumes.
Paris Refashioned concludes in 1968, the year Courrèges opened his first ready-to-wear boutique in New York. Meanwhile, his mentor, Balenciaga, was not as keen to adapt to the changing fashion climate. Balenciaga lamented that it had become impossible to create true couture, and he was unnerved by the student riots in Paris in May of 1968. The great couturier decided to close his house after more than 30 years. Nevertheless, Balenciaga's work from the 1960s was some of his most innovative. A 1968 gown made from black and ivory silk gazar features the canted hemline that the couturier perfected over the course of the decade. The overall effect is of streamlined simplicity, yet it is a technical masterpiece.
Paris Refashioned, 1957-1968
was accompanied by a
book of the same title, published by Yale University Press in spring 2017
. In addition to a comprehensive overview of 1960s French fashion by the exhibition's curator, Colleen Hill, the book featured essays by Dr. Valerie Steele, director and chief curator at The Museum at FIT; Patricia Mears, deputy director at The Museum at FIT; Emma McClendon, assistant curator at The Museum at FIT; and Dr. Alexis Romano, independent fashion scholar and curator. The book includes stunning photographs by William Klein, Peter Knapp, and Irving Penn, among many others.
Paris Refashioned, 1957-1968 was made possible by the Couture Council. Additional funding is provided by the New York State Council on the Arts, with the support of Governor Andrew Cuomo and the New York State Legislature.