Special Exhibitions Gallery
September 17, 2010 – January 8, 2011
Online Exhibition

Click the first two images below for 360-degree, interactive viewing, courtesy of Synthescape
The Japanese "fashion revolution" of the 1980s dramatically transformed the world of fashion. Avant-garde Japanese designers such as Issey Miyake, Yohji Yamamoto, and Rei Kawakubo of Comme des Garçons introduced a radically new conception of fashion to the catwalks of Paris. Utilizing innovative textile technologies, together with aspects of traditional Japanese clothing culture, these designers were instrumental in creating a new relationship between body and clothes, a new attitude toward the beauty of imperfection, and a new appreciation of avant-garde fashion as "art."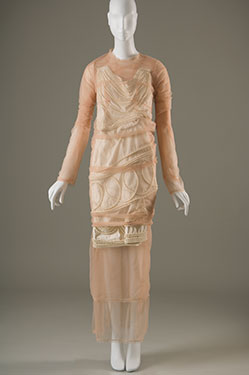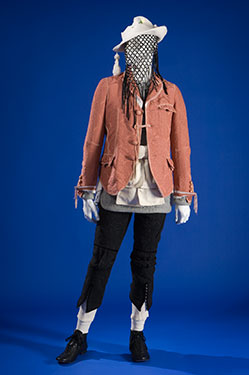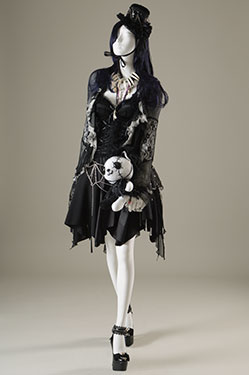 The 1980s are now history. How has Japanese fashion evolved in the 20+ years since then? Who are the new Japanese designers? What is the role of Japanese youth fashion? Where does Tokyo fit in the hierarchy of fashion's world cities? Is Japan still the future?
Japan continues to be on the cutting edge, maybe even the bleeding edge, of fashion. However, Japanese fashion today embraces not only the cerebral, avant-garde looks associated with the first wave of Japanese design in the 1980s, but also a range of youth-oriented street styles. Indeed, contemporary Japanese fashion remains significant globally precisely because it mixes elements of the avant-garde (pushing the aesthetic envelope at the level of "high" art) with aspects of subcultural and street style. Equally significant, however, is the Japanese obsession (not too strong a word) with perfecting classic utilitarian garments, such as jeans, sneakers, and leather jackets. Extreme, even fanatical, attention to detail is characteristic of much of the best Japanese fashion.
Japan Fashion Now explored contemporary Japanese fashion in all its radical creativity, from designer fashion to street style, including menswear. An introductory gallery devoted to the Japanese "fashion revolution" of the 1980s included asymmetrical, "deconstructed" garments by Yohji Yamamoto and Rei Kawakubo of Comme des Garçons, as well as avant-garde styles by Issey Miyake, "Orientalist" fashions by Kenzo and Hanae Mori, and pop-culture jumpsuits by Kansai Yamamoto.
The main gallery featured a dramatic mise-en-scène evoking the iconic cityscape of 21st-century Tokyo. Ensembles by Yohji Yamamoto, Rei Kawakubo, Junya Watanabe, and Tao Kurihara exemplify the evolution of deconstruction and reconstruction, as well as the influence of sub-cultural styles such as punk and the Japanese cult of cuteness. A range of looks by Jun Takahashi of Undercover linked the cute and the scary, the beautiful and the ugly, the animate and the inanimate, the strange and the strangely beautiful. New designers featured included Hiroyuki Horihata and Makiko Sekiguchi of Matohu (who are inspired by Japanese aesthetics), the flamboyant Toshikazu Iwaya of Iwaya33, and Chitose Abe of sacai.
An entire platform was devoted to some of Tokyo's up-and-coming menswear designers. Former boxer Arashi Yanagawa of John Lawrence Sullivan, Daisuke Obana of N.Hoolywood, Koji Udo of Factotum, Yasuhiro Mihara of Miharayasuhiro , Takeshi Osumi of Phenomenon (who presented his first spectacular runway collection in Tokyo in Spring 201), and Yosuke Aizawa of White Mountaineering was among those featured, as was the pioneering label, Number (N)ine.
Footage from the opening


Interview with Valerie Steele
Street and sub-cultural styles from the elegant and bizarre costumes called Kamikaze suits worn by members of Japan's notorious Speed Tribes to this year's Forest Girl look were on view. Kawaii (cute) culture is demonstrated by the hyper-cute Princess Decoration style and famous Lolita brands such as Angelic Pretty and Baby, the Stars Shine Bright (the latter featured in the cult movie Kamikaze Girls), as well as Gothic Lolita fashions by brands such as Alice Auaa and Black Peace Now. Hirooka Naoto, the designer behind h.NAOTO, Japan's most successful Gothic-Punk-Lolita fashion empire, was prominently featured with the clothes he designed for idol singers Hangry and Angry.
The clothing category known as Cosplay (short for "costume play") is not a subcultural or street style, nor is it type of fashion. Instead, it might be described as a kind of role play involving dressing up as characters, often those from popular manga (comic books), anime (animated films), or computer/video games. Examples on view were outfits for the characters Madame Red and Oscar (the latter from the famous manga Rose of Versailles), as well as one of today's popular catmaid uniforms. Cosplayers have been compared to "Trekkies," fans of the science fiction series Star Trek, and they face some of the same disapprobation. Nevertheless, their numbers seem to be growing, not only in Japan, but elsewhere in Asia and in the West, as well.
As Japanese pop culture has swept the world, young people everywhere read manga, watch anime, and play videogames. Contemporary artists have also been inspired by what Takashi Murakami calls "Japans Exploding Subculture." Today this new visual aesthetic has become internationally recognized. Some scholars even argue that just as Japonisme led to a visual revolution in nineteenth-century Europe and America, so also has the "New Pop" or "J Pop" placed Japanese artists in the position of reorienting the way everyone sees the world as if on a computer or television screen, flat, colorful, formally simple, even cartoonish, often cute, although sometimes also erotic and grotesque, and absolutely artificial.
Japan Fashion Now was designed by Charles B. Froom, with graphic design by Jen Pressley of Mirror NYC. Additional assistance was provided by Assistant Professor of Communication Design C.J. Yeh and the FIT Media Design Club. Japan Fashion Now also featured photography by Masayuki Yoshinaga , Ulfert Janssen (www.gannetdesign.com) and Kjeld Duits (as seen on his website JapaneseStreets.com) documenting the street and sub-cultural styles of Japan. Photographs of Japanese buildings featured on the walls of the gallery and in the backgrounds on the website were by John S. Major.
Japan Fashion Now was generously sponsored by Yagi Tsusho Limited, a global marketing and merchandising company specializing in fashion that has been introducing excellent brands from Europe and the U.S. to the Japanese market for more than 60 years, MONCLER and MACKINTOSH among the most recent. Additional support was provided by the Couture Council of MFIT, Sokenbicha, and the Consulate General of Japan in New York.
A lavishly illustrated book, also titled
Japan Fashion Now
, has been published by Yale University Press, with essays by Valerie Steele ("Is Japan Still the Future?"); Patricia Mears, deputy director of The Museum at FIT ("Formalism and Revolution"); Hiroshi Narumi, associate professor at Kyoto University of Art and Design ("Japanese Street Style"); and Dr. Yuniya Kawamura, associate professor of Sociology at FIT ("Japanese Fashion Subcultures"). Proceeds from the book go to the Fashion Institute of Technology.