Fashion & Textile History Gallery
November 30, 2010 – May 10, 2011
Online Exhibition
His & Hers explored changing perceptions of "masculine" and "feminine" dress from the mid-18th century to the present. Side-by-side comparisons of mens and women's clothing highlighted their differences and similarities. Featuring more than 100 garments, accessories, and textiles, the exhibition began with complementary "his and hers" clothing by 20th-century designers who have created fashions for both men and women. For example, Yves Saint Laurent's role as an influential proponent of trousers for women was exemplified by a navy blue woman's pantsuit from 1967. It was shown alongside a mans suit in dark blue velvet, also by Saint Laurent.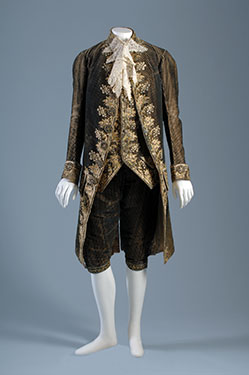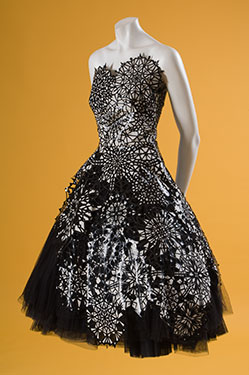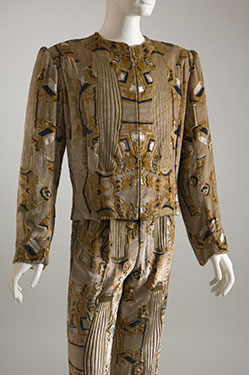 The historical timeline began with a pairing of elaborate 18th-century court costumes, illustrating that the fashions of upper-class men and women were similar in many respects. The mans suit, in ornately embroidered velvet, underscored that while lavish materials and adornments usually appear "feminine" to the modern eye, they were considered aristocratic in the 18th century.
During the 19th century, menswear was typically dark and somber, in contrast to women's brightly-colored dresses. However, men did wear colorful, exotic garments at home. For example, a brightly patterned mans dressing gown from the 1840s will be shown alongside a woman's demure, white cotton morning robe.

Moving into the 20th century, His & Hers featured a sporty man's suit from the 1920s paired with a checked silk day dress by Louiseboulanger. While this decade is sometimes considered the first to feature "androgynous" styles, the dress reveals that it was more a desire to look youthful and modern that was influencing women's styles. In the 1930s, women's preferences for broad-shouldered suits preceded a similar trend in menswear, and an example of each was shown side-by-side.
An ostentatious, stenciled velvet man's suit by the English label Mr. Fish exemplified the "Peacock Revolution" of the 1960s. Meanwhile, many women began wearing miniskirts that showed off their legs, as well as trousers for day and evening. Similarly styled "mod" pantsuits for both men and women highlighted the trend for androgynous clothing.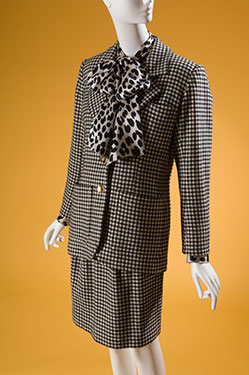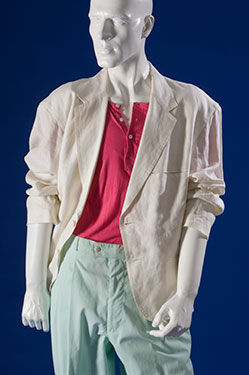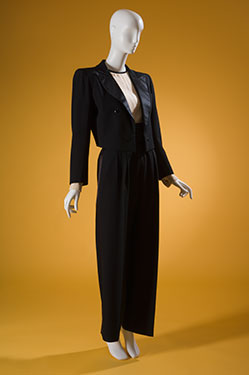 His & Hers also included a 1980s woman's "power suit" by Yves Saint Laurent, which corresponds to the growing presence of women in the workplace. The suit, with its feminine soft bow tie and animal print blouse, was shown next to a mans power suit by Alan Flusser. A pastel man's suit (made for the trend-setting television show, Miami Vice) exemplified the new male of the 1980s.
Sportswear manufacturers have been responsible for many innovations in performance apparel, while emphasizing fashionability. Meanwhile, recent runway collections have featured adaptations of classic sports attire, such as the varsity baseball jacket, demonstrating that the sporting life continues to inspire fashion designers.
Although many contemporary designers continue to subvert gender codes in various ways, most collections today are still clearly defined as menswear or women's wear.
His & Hers
concluded with clothing from labels such as Burberry Prorsum, which successfully bridges the male/female divide in unique ways.