Gallery FIT
March 7 – April 1, 2017
Share using #AdrianBeyond on Twitter and Instagram.

Gilbert Adrian (1903-1959) built his career as a costume designer at Metro-Goldwyn-Mayer, where he worked on more than 250 films, including The Wizard of Oz. His creations for glamorous actresses such as Joan Crawford and Katharine Hepburn inspired women of all ages. Macy's and other retailers recognized this as a marketing opportunity and opened small boutiques within department stores across the country — "cinema shops," featuring ensembles based on costumes seen in Hollywood films. To promote them, MGM released a short film in 1940 entitled "Hollywood: Style Center of the World." Encouraged by the success of the cinema shops, Adrian opened a fashion house in 1942 and began to create looks that appealed to his new leading lady: the American woman.
This exhibition, Adrian: Hollywood and Beyond, highlighted both Adrian's ready-to-wear and his costumes, while focusing on his innovative use of textiles. Beginning during his Hollywood days, fabric was central to Adrian's aesthetic. He employed an arsenal of techniques — such as appliqué, piecing, mitering, pleating, and draping — to build dynamic garments in which the materials are as celebrated as they are integral to the design. Adrian worked with and endorsed different textile manufacturers throughout his career. Indeed, his final collection in 1952 was dedicated to the "beauty" and "integrity of fabric."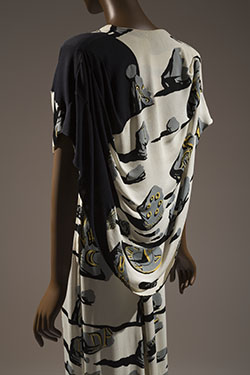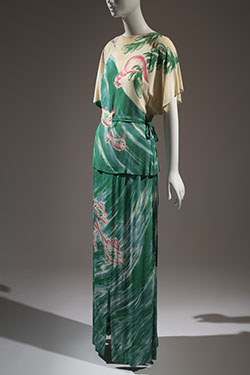 Wesley Simpson, a New York textile converter who transformed the illustrations of artists such as Marcel Vertes and Ludwig Bemelmans into pattern repeats, provided Adrian with exciting rayons to animate his designs. Also during Adrian's career, the textile industry embraced growing public interest in the fine arts — a connection that becomes clear when considering his rayon evening gown made from a Wesley Simpson print, based on an illustration by Surrealist artist Salvador Dalí (himself a frequent contributor to the fashion and textile worlds). Adrian recognized the value of this spectacular textile and composed a gown that is a harmonious union of print and fashion design. Using drapery and appliqué, he extended Dalí's shadowy boulder motif into a dark capelet.
Adrian frequently used organzas, taffetas, and mousselines from Bianchini-Férier, a French silk mill that has produced fabric for couturiers since the nineteenth century. Although Adrian preferred to use rayon crepes to achieve his slim silhouette in the early 1940s, later in his career he turned to the lightness of Bianchini silks to create voluminous eveningwear. Adrian made Bianchini fabrics the focal point of his fall 1949 collection. Inspired by Africa, he chose textiles that ranged from a lamé snakeskin to a warp-printed silk tiger stripe.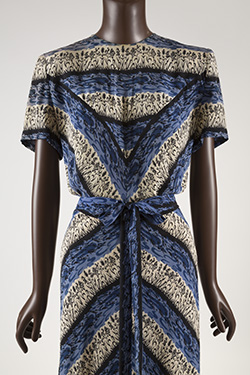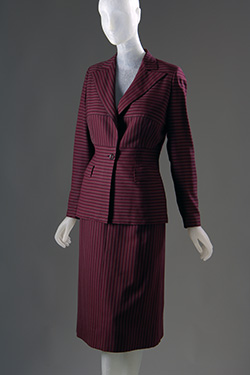 Adrian collaborated with woven textile designer Pola Stout throughout the 1940s. She sent striped and checkered wools to Adrian, who sketched garments inspired by her work and then returned the samples to be rewoven to his specifications. In Adrian's hands, a restrained suiting fabric could become a bold and unique garment, often by means of mitering, the cutting and piecing together of fabric at an angle. Adrian's collaborations with Stout resulted in some of his most celebrated suits, described by Vogue as "never melodramatic, never dull." Designers who were trying to meet wartime fabric restrictions adopted the distinctive triangular silhouette — square, padded shoulders narrowing into a slim-hipped skirt — that Adrian had already perfected.
While best remembered for his tailored daytime looks, Adrian was also a skillful and inventive draper. He used this technique in both his film and fashion work to create glamorous evening gowns. In a stunning example from his last film, Lovely to Look At, Adrian draped a continuous length of fabric from the waist to a billowing sleeve, encircling the wearer to create a dramatic hood. In the exhibition, the costume is paired alongside a deceptively simple black dress from one of his earliest ready-to-wear collections. In both, Adrian's unconventional and refined use of silk jersey is a highlight.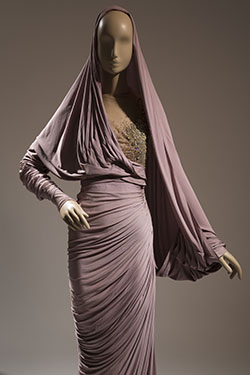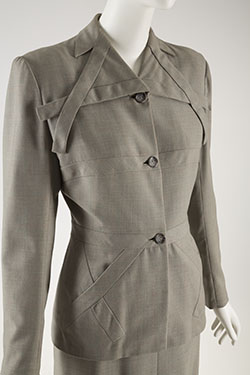 From an examination of Adrian's construction techniques and applications of textiles, a clear picture of the designer emerges — as both artist and engineer. As Eleanor Lambert, fashion publicist and founder of New York Fashion Week, wrote in a review of Adrian's spring 1952 collection, "The fabric is the first signal that the costume is an Adrian." His appreciation of textiles and their design potential set Adrian apart in Hollywood and beyond.
Adrian: Hollywood and Beyond was organized by the graduate students in the Fashion Institute of Technology's MA program in Fashion and Textile Studies: History, Theory, Museum Practice, with the support of Sarah Byrd, Ariele Elia, and Emma McClendon.