Gallery FIT
March 9 – April 3, 2010
Online Exhibition
Scandal Sandals & Lady Slippers: A History of Delman Shoes
featured a vibrant and detailed selection of the glamorous, innovative, and classic styles that made Delman Shoes
—
celebrating its 90th anniversary
—
a leader in women's footwear. As the first exhibition devoted to the history of the brand,
Scandal Sandals
explored and revealed the company's renowned style, advertising and craftsmanship. The objects on display, dating roughly between 1926 and 2007, chronicled the company's rich and creative past. Drawing from the permanent collections of both the Museum at The Fashion Institute of Technology (FIT) and the Delman Archives, dazzling shoes were presented alongside period examples of print advertisements, newsreel footage, and illustrated patents. Special focus was given to Delman's most successful period, the 1930s-1950s, during which its high-end, ready-to-wear shoes helped bring international acclaim to American fashion.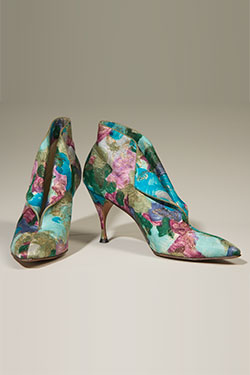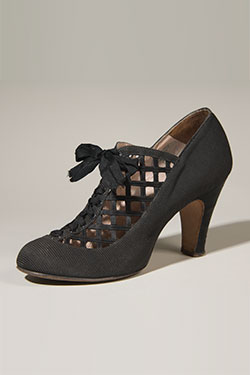 Delman's scandal sandal—which laced provocatively up the calf was originally designed for dancer Irene Castle. Many other movie stars and distinguished women of society, such as Mamie Eisenhower, Jacqueline Kennedy, Joan Crawford, Marilyn Monroe, and Marlene Dietrich, also wore Delman shoes. Herman Delman, the company's founder, used this celebrity cachet to add an aura of desirability to his shoes.
Delman shoes were designed to flatter, and to help a woman move gracefully in day suits, cocktail dresses, and evening gowns. Delman offered a wide variety of styles, all of which conveyed the ideal of a lady: elegant, refined, and sophisticated. Still synonymous with luxury and quality, Delman continues to design sumptuous shoes for the discerning woman, often combining current trends with past designs. Scandal Sandals juxtaposed complementary pairs of shoes to emphasize this relationship between historic and contemporary styles.