SUNY IITG grant, 2017-18
Kyunghee Pyun and Elaine Maldonado "Bamboo Canvas": Instructional Innovation for a Globalized Classroom.
Bamboo Canvas Mission Statement
Our mission is to present an interactive platform of video links, podcasts, online lectures, or database explaining art-making techniques of Asian art and design for educational institutions and global audiences and to highlight artistic contributions and intellectual achievements of Asian art and culture. We encourage our audience, whether practitioners of art and design or not, to participate in discovery, learning, debate, and inspiration.
Couture Korea at the Asian Art Museum
A CET event supported by a 2017-18 SUNY-IITG grant directed by Professors Kyunghee Pyun and Elaine Maldonado. Held synchronously with The Asian Art Musuem in San Fransisco and FIT on November 13, 2017. Watch the video. (captioned)
---
---
COCID conference grant 2008 Creative Catalyst FIT Conference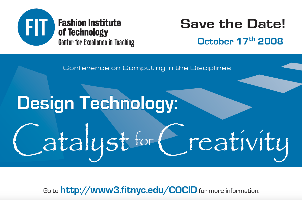 FACT 2 grant 2012 Teaching and Learning in the Cloud
FIT Conference March 16 2012.