The Center for Excellence in Teaching was established in late 2001 to serve college-wide faculty pedagogical interests and needs. It provides instructional support to faculty as they work to innovate teaching methodologies. The CET also facilitates the integration of technology into the curriculum and fosters conversations among faculty about effective teaching and learning.
Goals and Objectives of the Faculty Development Program, including the CET and Teaching Institute
1. Promote excellence in teaching
2. Promote student-centeredness in teaching
3. Increase faculty use of technology in teaching
4. Foster faculty professional growth
5. Recognize faculty excellence
Facilities
FIT Remote Labs, powered by Leostream provides you to access the CET lab computers wherever you are. Follow the intructions outlined in this page

for details and contact the Tech Help if you have difficulties. 212-217-HELP

7 Mac Workstations with 22" flat screen monitors
6 PC Workstations with 22" flat screen monitors
8 Wacom Intuos2 4"x5" tablets
3 large format (12"x17") flatbed scanners
2 document scanners
Digital projection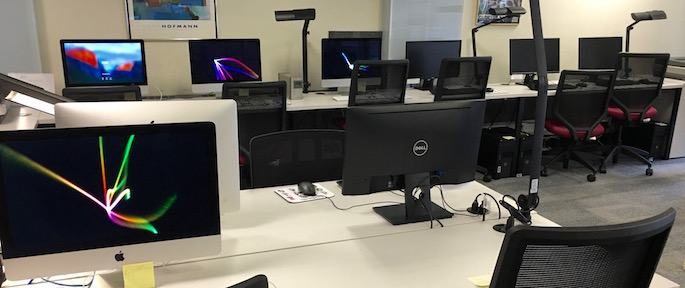 Usage Policy
The CET provides FIT faculty with equipment, expertise and support for their pedagogical interests and needs. The Center may be used for these academic purposes only.
Center Access
The Center is available to faculty members 24/7. Users must have a current FIT faculty card that has been activated by Security to operate the front door. Please go to the Security Office on the 4th floor to have your card activated for this purpose.
Equipment Access
Workstation seats are available on a first come, first serve basis.
Software
The Center is committed to providing access to software used in classrooms and labs at FIT. If you don't see software you need please let us know. Download a complete list of all software currently available at the CET Lab.
Storage Policy
The Centers computers cannot store any users files except during work sessions. Machines are rebuilt every evening and any files saved to the local hard drive are deleted. Store your work on personal drives or use Google Drive (recommended) which is among the Google Apps available to all of FIT.
General Policies
The CET is not able to lend equipment or manuals. We ask that faculty not remove any lab references or manuals from the Center's premises. Please be aware that at the Center, as elsewhere, duplication of commercial CDs is illegal and not permitted. Similarly, copying of proprietary software is illegal and not permitted.
Food and drink are not generally allowed in the CET in order to preserve equipment and maintain a hygienic environment.
CET Annual Reports
Attachments are available at the CET.
CET Annual Surveys