All tutoring will be held online during the summer 2021 sessions.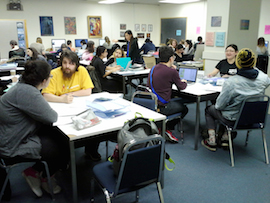 Individual Tutoring
Walk-In (Drop-In Online) Tutoring
Workshops
Disability Support Services
Individual Tutoring
Fall and Spring
If you are registered in credit or developmental courses at FIT, you may receive up to 15 hours of individual tutoring during the fall and spring semesters, up to one hour per week. Individual appointments must be scheduled at least 48 hours in advance and canceled at least 24 hours in advance. Failure to cancel 24 hours in advance will count as an absence; you are allowed one absence per semester.
If you need tutoring for a specific class, you must be enrolled in that class. You may also schedule an appointment for up to two weeks in a row.
Winter and Summer Sessions
During the winter and summer sessions, you may receive up to two hours a week of individual tutoring. Appointments must be scheduled at least 24 hours in advance and cancelled at least 24 hours in advance. Failure to cancel in advance will count as an absence; you are allowed one absence per session.
Joining your Online Tutoring Sessions
After making an appointment, the tutor will contact you through your FIT email and send you a link for the online platform you will be using for your online session, so please check for emails from your tutor. When it is time for your online appointment, please log on to the link the tutor sent you at least 5 minutes prior to your appointment. Try to have all books, equipment and materials set up, and prepare your questions ahead of time to make the most of your session.
Tutoring Contract and Making an Appointment
1. Please read the following "Tutoring Contract" to understand the purpose and rules of the tutoring center.
I understand that I am only allowed one absence per semester.
I understand that I must cancel my appointment 24 hours in advance. If not, it will be considered an absence.
I understand that I should contact the tutoring center if I am going to be late or absent by sending and email to:

[email protected]

or by emailing the tutor at their FIT email.
I will supply my tutor with information and the syllabus for my course and will have the necessary notes, books, and equipment.
I will do as much of my homework and preparation as possible before my tutoring session.
I understand that the purpose of tutoring is to help with the clarification of material that the instructor has already presented in class or to get a better understanding of required reading and homework.
I understand that I cannot expect the tutor to have the same expertise as my instructor.
I understand that under no circumstances will a tutor do my work for me and cannot help with take home exams or tutor me during class time.
I understand that a tutor's job is to help me to become a more self-sufficient, independent learner by helping me to discover the skills necessary to eventually succeed on my own.
2. To register for tutoring and schedule an appointment, go to: MY WCONLINE
3. If you want to sign up for a writing or speaking tutor, choose Writing & Speaking Studio from the drop-down menu. For all other classes, choose Academic Skills Center.
Walk-In Tutoring (Virtual)


There will be no virtual walk-ins during the summer 2021 sessions only individual appointments.
During the fall and spring semesters, we offer walk-in tutoring in the following subject areas: draping, sewing, pattern-making, math, economics, accounting, modern languages, computer software (Microsoft Office, Adobe Suite, etc), and some Fashion Business Management courses. Walk-in sessions offered may vary from semester to semester.
» Fall 2021 Virtual Walk-In Schedule
Workshops
How to Navigate in Blackboard and Online Platforms
Need help navigating through your course information and requirements in Blackboard? Need guidance on using various platforms? Schedule an appointment with one of our tutors to go over where to find the syllabus, assignments, handing in work, communicating with your instructor and more.

Organizing Your Digital Life at FIT (Fall and Spring Semesters)
Please join one of our organizational workshops to help you be prepared throughout the semester. Discover how to effectively:
Organize your course information
Create files and subfiles for each class
Make good use of Google Calendar
Set up reminders for upcoming work, projects and exams
Keep your desktop free from clutter
To schedule an appointment for a personal workshop, use the link for scheduling individual appointments: MY WCONLINE. Sign up for OYDL101 (Organizing Your Digital Life) on the Academic Skills Center page.
Disability Support Services
If you require special services for tutoring due to a disability, Academic Skills will work with FIT-ABLE—the college's disability support services office—to make the necessary accommodations. You should first contact FIT-ABLE at (212) 217-4090 or visit the FIT-ABLE website for more information.