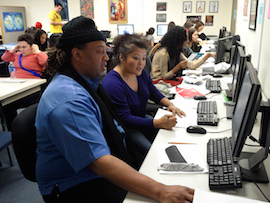 Fall and Spring Semesters
For the spring 2021 semester, virtual walk - in tutoring will start on Monday, February 1st. Individul appointments will begin on Monday, February 8th. All tutoring, including walk-ins (drop-in) will be online.
For an individual appointment, you must sign up at least 48 hours in advance. Each student may sign up for 1 hour of tutoring per week, but may also attend our virtual walk-in sessions for certain subjects. See Walk-in Schedule for link to walk-ins.
Winter and Summer Sessions
For the winter and summer sessions, you may sign up for an individual appointment as of the second day of the session. You must sign up at least 24 hours in advance.
To make an appointment with a tutor using Google Chrome or Firefox, go to the following website to register and choose a tutor: fit.mywconline.com
*Choose the option "Academic Skills Tutoring Center" to schedule an appointment. Then, click on the "calendar" to select a date. Next, use the drop down menu "Limit To" to choose the course you need help with. Only those tutors who tutor that specific course will appear. Sign up for either a 1/2 hour or an hour long appointment.
* If cancelling, you must cancel the appointment at least 24 hours in advance so that it will not count as an absence. You are allowed one absence per semester. You can email the Center at [email protected] or contact your tutor by their FIT email to cancel your appointment.
* For writing/speaking help, choose the option "Writing & Speaking Studio." The writing/speaking tutors will be listed there.
Please also check our walk-in (drop-in online) tutoring schedule on this site for tutoring in various subjects. We offer walk-in (drop-in online) tutoring in the fall and spring semesters.