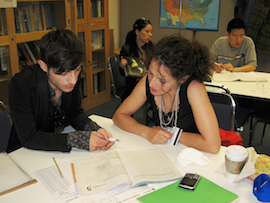 We understand that you may be anxious to meet with a tutor as soon as possible, but sometimes we are not able to find a tutor right away or may not have a tutor for your particular subject area. While you are waiting to find out if there is a tutor available, you may want to follow some of the suggestions listed below.
Get Help from Your Instructor
Let your instructor know that you are having trouble with the course. If you feel too shy to speak up during class, speak with the instructor after class. Find out when your instructor has office hours and make an appointment to see them.
Get Help from Your Classmates
Ask a classmate if he or she can help you with a question you may have.
Form a study group with a few students from your class. Study groups are a great way to review and learn.
Try Walk-In Tutoring
Check the list of walk-in sessions available. Both part-time and full-time students in credit bearing and remedial courses can attend walk-ins at various times throughout the day and evening without having to register ahead of time. The schedule will be posted by the fourth week of the Fall and Spring semesters.