Isabel Toledo received The Couture Council of The Museum at FIT's third annual Artistry of Fashion Award at a benefit luncheon at New York City's Rainbow Room on Wednesday, September 3, 2008.
André Leon Tally
, American editor-at-large for
Vogue
, presented the award, and
Simon Doonan
, creative director for Barneys New York, emceed the event.

Once again, FIT's glamorous annual gala luncheon, hosted by its founding Couture Council chairs

Liz Peek, Yaz Hernandez, and

Sarah Wolfe, kicked off fashion week in New York. Attending the award luncheon were members of the artistic committee, including

Diane Von Furstenberg, Narciso Rodriguez, James de Givenchy, Lisa Perry,

Patricia Field,

Cathy Hardwick,

Kim Hastreiter,

Pat Kerr, Charles Kleibacker, Lisa Perry,

as well as

Glenda Bailey,

editor-in-chief of

Harper's Bazaar, and

Nadja Swarovski

. The Junior Chairmen were

Fabiola Beracasa,

Tennessee Hamilton, Alexis Tobin,

and

Whitney Wolfe. CIT and L'Oreal generously underwrrote the luncheon which, for the third consecutive year, was the first event of Fashion Week. The Gala, which was sold out, raised $400,000.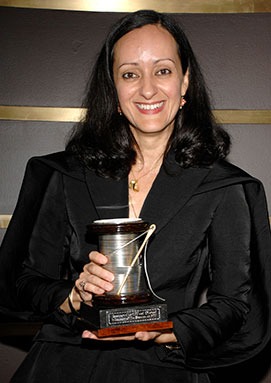 Photo by: Joe Schildhorn/PatrickMcMullan.com
To honor Ms. Toledo, the Rainbow Room decorated the tables with sunflowers – her favorite flower – and served Cuban-inspired cuisine. The menu begins with a yellow gazpacho followed by Cuban style sea bass with warm mango sauce, coconut rice, and black beans. Joey Arias opened the luncheon with his rendition of the Billie Holiday song, "You've Changed," dedicated to Isabel. He was backed by Basil Twist's marionette chorus line, a part of their show, "Arias with a Twist," which ran at Here Arts Center. Guests received a cameo necklace designed by Ruben Toledo with his wife's silhouette and signature etched onto an oval Swarovski crystal. These were specially created by Swarovski for the Couture Council and were mailed to guests after the event with a note from Nadja Swarovski.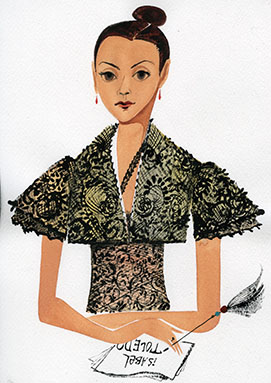 FIT President Dr. Joyce Brown and FIT Museum Director Valerie Steele greeted guests at this much-anticipated annual event. In addition to the artistic committee, fashion mavens who attended were Kelly Bensimon, Hamish Bowles, Edmundo Castillo, Cecilia Dean, Stephen Gan, Julie Gilhart, Linda Fargo, Joan Helpern, Cathy Horyn, Jeffrey Kalinsky, Derek Lam, Helmut Lang, Boaz Mazor, Dawn Mellow, Paul Cavaco, Josie Natori, Candy Pratts Price, Arnold Scaasi, Peter Som, Howard Socol, Stephano Tonchi, Max Vadukul, Michael Vollbrecht and Eleanor Ylvisaker.
Other guests included Iris Apfel, Joey Arias, Serena Boardman, Sandy Brant, Dawn Brown, Fabiola Beracasa, Lisa Cashin, Paul Cavaco, Beth Rudin Dewoody, John Demsey, Linda Fargo, Sandy Golinkin, Audry Gruss, Agnes Gund, Gene Krell, Alexandra Lebenthal, Susan Lyne, Matthew Modina, Charlotte Moss, Jonathan and Ronnie Newhouse, Elyse Newhouse, John and Laura Pomerantz, Jeanne Greenberg Rohatyn, Ingrid Sischy, Elizabeth Stribling, Marcy Syms, Diana Taylor, Judith Thurman, Alice Tisch, Lizzie Tisch, Becca Carson Thrash, Barbara Tober, Carmen Unanue, Lauren Veronis, Dr. Patricia Wexler, and Sarah Wynter among others.
The Artistry of Fashion Award preceded a major retrospective of Ms. Toledo's work at The Museum at FIT, entitled Isabel Toledo: Fashion from the Inside Out (June 19, 2009 through September 26, 2009). This exhibition featured more than 75 looks dating from 1985 to the present, including fluid jersey dresses, seductive lace, and architectural denim. Illustrations by her husband, artist Ruben Toledo, were also featured, as was films of Ms. Toledo's fashion shows and other visuals that explore her creative process. A lavishly illustrated catalog, written by co-curators Dr. Valerie Steele and Patricia Mears and published by Yale University Press, accompanied the exhibition.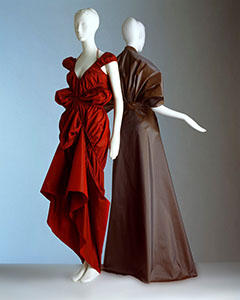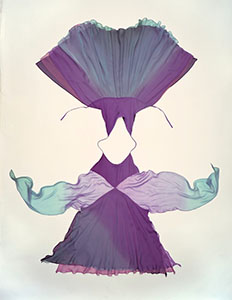 ABOUT ISABEL TOLEDO:
Born in Cuba in 1961 and raised in New Jersey, Isabel Toledo was regarded by many fashion insiders as one of America's greatest designers. "Isabel Toledo is a designer's designer," says Dr. Steele, who, in addition to being co-curator of the exhibition, is director and chief curator of The Museum at FIT. "She is greatly admired by members of the fashion community because of her originality and technical expertise. Although superficially simple and even prim, Toledo's clothes are actually extremely sophisticated and subtly seductive."
Ms. Toledo's work was based on a profound understanding of pattern-making and construction. She combined a passion for curvy architectural shapes with an affinity for draping liquid fabrics. "Only great designers can dispense with themes and theatrics and let the work speak instead. Ms. Toledo does just that, letting fashion itself be the theme," said Amy Spindler of The New York Times.
Married since 1984 to artist Ruben Toledo, Isabel Toledo presented her first collection in 1985 and was almost immediately acclaimed as a rising star. After more than twenty years working under her own name, Ms. Toledo joined Anne Klein as creative director in 2006. The following year she went back to creating her own label, which was carried by stores such as Barneys and Nordstrom.