The Couture Council honored Carolina Herrera with its 2014 Couture Council Award for Artistry of Fashion on Wednesday, September 3, 2014, at a benefit luncheon at the David H. Koch Theater, Lincoln Center, New York City. As has become the tradition, the luncheon heralds the arrival of Fall Fashion Week.
The 2014 luncheon chairs were Julie Macklowe and Elizabeth Musmanno.
FIT President Joyce F. Brown said, "It is our great honor to recognize Carolina Herrera, whose exquisite sense of style and commitment to sophisticated elegance has earned her international acclaim. With her rigorous standards of excellence, she is an inspiration to FIT's own talented students as well as to all those who appreciate fashion."
Dr. Valerie Steele, director of The Museum at FIT and chair of the Couture Council Advisory Board explained, "Carolina Herrera exemplifies the woman of style, who is a very special kind of fashion designer. Like Gabrielle Coco Chanel, Carolina Herrera became famous for creating the kind of elegant, beautiful clothes that she herself wears. Mrs. Herrera is her own best model, and many women today want to look like her."
Couture Council Chairman Yaz Hernández said, "Every woman in New York wants to be like Carolina Herrera. She's created a world in her home, in her atelier, and in her boutiques that is sophisticated perfection. As a philanthropist, she is one of the few leaders who never says no."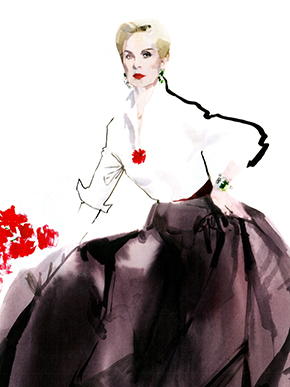 Illustration by David Downton
Carolina Herrera says, "I have great admiration for The Museum at FIT - its a vital link between fashion, culture and history. The work of the museum gives our industry a stage to express cultural relevance in a historical context, engaging an audience beyond fashion, beyond New York. With Valerie's fantastic leadership and exceptional creativity, FIT's museum is the very best in class. I am deeply touched to be acknowledged by The Couture Council and look forward to September."
Honorary luncheon chairs were Maria Cristina Anzola, Amy Fine Collins, Emilia Fanjul, Carolina Herrera De Bez, Julie Koch, Alexandra Kotur, Patricia Lansing, Lucy Liu, Marigay McKee, Alexi Ashe Meyers, André Leon Talley, Lynn Wyatt, and Rene Zellweger.
Luncheon guests included Glenda Bailey, Hilaria Baldwin, Dennis Basso, Dr. Joyce F. Brown, Serena Boardman, Graydon Carter, Amy Fine Collins, Oscar and Annette de la Renta, John Dempsey, Prince Dimitri of Yugoslavia, Linda Fargo, Jay Fielden, Fe Fendi, Kathleen Hearst, Yaz Hernandez, Reinaldo Herrera, Donna Karan, Mariana Kaufman, Steven Kolb, Kenneth Jay Lane, Ralph Lauren, Alexandra Lebenthal, Aileen Mehle, Seth and Alexi Meyers, b Michael, Josie Natori, Liz Peek, Marc Puig, Emilie Rubinfeld, Martha Stewart, Gina Sanders, Abigail Spencer, Dr. Valerie Steele, Stefano Tonchi, Ivanka Trump, Linda Wells, Jacqueline Weld Drake, and Anna Wintour.
The Couture Council luncheon began with cocktails on the David H. Koch Theater terrace, which overlooks the Fashion Week tents. Guests were then ushered into the theaters promenade for a three-course luncheon. The luncheons menu began with roasted rainbow carrots, black beluga lentils, asparagus vichyssoise, and salsa verde. As a main course, guests enjoyed a lobster salad, fennel, grapefruit, avocado and Thai green goddess. For dessert, guests were served mignardises.
Bronson Van Wyck of Van Wyck & Van Wyck designed the flowers in all white with Carolina Herreras signature brown accent to compliment the room.
About the Couture Council Luncheon:
Each year the award winner is chosen by the Couture Council Advisory Board, which includes fashion journalists, editors, retailers, and curators, including Glenda Bailey, Hamish Bowles, Ken Downing, Linda Fargo, Nicole Fischelis, Akiko Fukai, Pamela Golbin, and Suzy Menkes.
Dr. Steele explains, The committees mandate is to look, not only at the previous years accomplishments, but at a lifetime of contributions to fashion. They chose Carolina Herrera to receive the 2014 Couture Council Award for Artistry of Fashion for a combination of reasons: because she creates beautiful and elegant clothes, because her clothes are couture quality, because she is herself an international fashion icon, and because she is an important woman in fashion. Although the board looks at a designers entire career, it didn't hurt that Mrs. Herrera is having a moment right now.