The Couture Council of The Museum at the Fashion Institute of Technology (FIT) selected designer Alber Elbaz of Lanvin as the recipient of its 2007 Couture Council Award for Artistry of Fashion. He was honored on Wednesday, September 5, at a noon luncheon in the Rainbow Room, 30 Rockefeller Plaza.
The event, which benefited the exhibitions and programs of The Museum at FIT, was sponsored by CIT Group Inc. (NYSE: CIT), one of the nation's leading providers of factoring and financing to the fashion and apparel industries. Glenda Bailey, editor-in-chief of Harper's Bazaar, actress Chloë Sevigny, and supermodel Linda Evangelista were among the luncheon co-chairs.
An advisory committee of leading fashion authorities recommended Mr. Elbaz for this honor. They were Ms. Bailey; Tim Blanks of style.com; Akiko Fukai, director and chief curator of the Kyoto Costume Institute; Julie Gilhart, senior vice president of Barney's New York; Pamela Golbin, curator of the Musée de la Mode et du Textile; Kim Hastreiter, editor-in-chief of Paper Magazine; Patricia Mears, deputy director of The Museum at FIT; Caroline Milbank, fashion historian; David Wolfe of the Doneger Group; and Dr. Valerie Steele, director and chief curator of The Museum at FIT.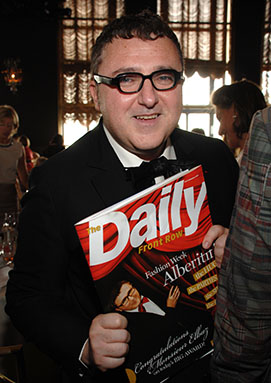 Alber Elbaz. Photo by: Joe Schildhorn/PatrickMcMullan.com
"Alber Elbaz has described himself as 'a citizen of the world of women', " Dr. Steele said. "Certainly, women feel that he loves them and dresses them with respect. He has brought a profound sense of real-life beauty to the house of Lanvin."
Dr. Steele continued, "We are delighted to have the opportunity to honor Alber Elbaz, and we are thankful to CIT and its chairman and CEO, Jeffrey Peek, for supporting this event for the second consecutive year."
"It is a special privilege to be honored by FIT's Couture Council to receive this award," Mr. Elbaz said. "Dr. Valerie Steele and her team at FIT are doing an excellent job not only educating the next generation of talents but also the public about our work and passion. I feel loved and inspired by women all over the world who feel beautiful and loved dressed in Lanvin. I want them to still believe in their dreams."
"Alber Elbaz's career has been consistently defined by success," said Jeffrey M. Peek, Chairman and CEO of CIT. "We are pleased to support FIT Couture Council's luncheon again this year which recognizes the contributions of fashion's most talented individuals. CIT's support underscores our long-standing commitment to the design, apparel and retail industries."
Alber Elbaz was the artistic director of the women's Pret-à-Porter collection of Lanvin from 2001 until October 2015. After graduating from Shenkar College, the Tel Aviv School of Fashion and Textiles, he trained in New York as the right-hand person to Geoffrey Beene. In 1996, he became head Prêt-à-Porter designer for Guy Laroche. Two years later, he took over from Yves Saint Laurent as artistic director of the Yves Saint Laurent Rive Gauche collections. Reconciling modernity and femininity, Mr. Elbaz led Lanvin back to its original place as one of the major international luxury fashion houses.
His work and talents have been recognized throughout the world. Among his many honors are the Legion of Honor, and the International Fashion Award from the Council of Fashion Designers of America.