The Couture Council of The Museum at FIT honored iconic footwear designer
Christian Louboutin
with its 2019 Couture Council Award for Artistry of Fashion on Wednesday, September 4, 2019, at a luncheon at the David H. Koch Theater at Lincoln Center in New York City. <<
See photos from the event!
>> The luncheon benefits The Museum at FIT (MFIT), New York's only museum dedicated exclusively to the art of fashion. As has become tradition, the award ceremony and luncheon herald the arrival of fall New York Fashion Week.
Read more
about the prestigious award and event
.


Follow the conversation on
Twitter
and
Instagram
using
#COUTURECOUNCIL
About:
The Couture Council is an elite membership group that supports The Museum at FIT. The Couture Council helps make it possible for the museum to mount world-class exhibitions that educate and inspire, to build and conserve its extraordinary permanent collection, and to organize free public programs that serve FIT's 10,000 students as well as the general public.

The Couture Council, working in conjunction with the museum, organizes activities and events to raise the institution's profile and provide financial support for the museum's initiatives. The most important of these events is the Couture Council's award ceremony and benefit luncheon. Designers who have received the Couture Council Award for Artistry of Fashion include Karl Lagerfeld, Valentino, and the late Oscar de la Renta.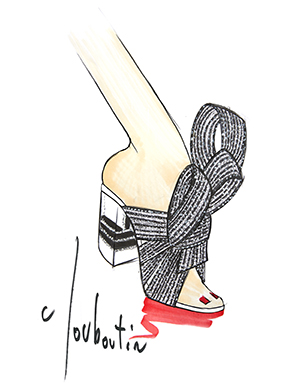 Illustration by Christian Louboutin
Join the Couture Council:
Members of the Couture Council are invited to all of the museum's opening receptions and other special member-only fashion events.

The Couture Council is pleased to offer the following new membership levels:
Couture Membership - $1000
Fashion Icon Membership - $2500
Fashionista Membership - $350
Fashion Professional Membership - $350

Board of Directors
Chair
Kamie Lightburn
President
Julie Macklowe
Secretary
Carole Divet Harting
Treasurer
Jeffery Fowler


Past Chairmen
Yaz Hernández
Liz Peek


Board Members
Jane E. DeFlorio
Angela Dotson
Helene

"Haiki"

Feldman
Joele Frank
Violet Gross
Audrey Gruss
Marjorie R. Harris
Sharon Jacob
Eleanora Kennedy
Lisa Klein

Michèle Gerber Klein
Stephanie Loeffler
Julie Macklowe
Lara Meiland-Shaw
Melissa
Mafrige
Mithoff
Laura Nicklas
Amelia Ogunlesi
Karen Phillips
Kathy Prounis
Kathy Reilly
Darcy Rigas
Lois Robbins
Kara Ross
Emilie Rubinfeld
Peter G. Scotese
Jean Shafiroff
Nicole Weiss
Dr. Valerie Steele, Director, The Museum at FIT

Advisory Board Members
Couture Council Members SEPTEMBER 2019
Mona Aboelnaga
Tom Ajamie
April Armstrong
Virginia N. Barbato
Jessica Barber
Kathryn Berry
Ruby Bola
Amelia Brown


Anna Brusco
Janna Bullock
Robin Burns-McNeill
Lindsay Caprioni
Christina Castle


Beth Charleston
Suzanne Chute
Angela Clofine
Christina R. Davis
Mary E. Davis
Marisol Deluna
Karen Eckhoff
Pamela Egan
Delia Folk


Ann Gallo




Barbara Georgescu



Gillian Gorman Round
Melissa Gottesman


Jody

H

.

Grass
Victoria Guranowski
Susan Gutfreund
Kimberly Haufrect
Terri Havens
Celia Hegyi
Tania Higgins
Evelyn Blose Holman
Joan Hornig


Meghan Horstman
Sharon Coplan Hurowitz
Ami Javeri
Erica Kasel
Rod Keenan
Gordon Kendall


Cindy

and

Steve

Ketchum


Adnan Ege Kutay

Aryn LaPenta
Laura Layfer


Brenda Levin




Lauren Levison



Amelie Lonergan
Carolyn

Mackenzie


Hilary Macklowe
Shirley Madhere-Weil
Ann Mailly-Long
Lisa Malitz


Hannah Mannion
Jacqueline Martin


Stella

Matzari


Avery McCann


Tara K. Milne
Danielle Morrin
Natalie Mouilso
Tracy Murphy
Meena Neti
Katherine Palmiter
Barbara J. Parsky
Cristiane Peixoto
Sarah Sulzberger Perpich


Leticia Presutti
Kerri Quigley
Lauren Rantz


Harling Ross


Sydney Sadick
Nicole Salmasi




Colleen Salonga




Pam B. Schafler


Sara Schwarz
Patricia Selden


Shokoufeh Shadabi


Katherine Simon


Marie Smart
Christine
Smith
Cally Stavropoulos
Ava Stefanelli
Randall Ian Stempler
Sheila Stephenson
Debbie Stevenson
Nora Tezanos
Rebecca Vanyo
April Vinder
Patti Wagner
Kelsey Weber
Graham Wetzbanger
Darin White-Eydenberg
Nina Whitman


Lauren Wilson
Sarah Wolfe
Tiffany Wong
Lynn Wright
Yliana Yepez
Frank Zambrelli
Highlights from Previous Special Events
Invitation to the annual Couture Council Artistry of Fashion benefit luncheon. Past awardees: Ralph Rucci (2006), Alber Elbaz of Lanvin (2007), Isabel Toledo (2008), Dries Van Noten (2009), Karl Lagerfeld (2010), Valentino (2011), Oscar de la Renta (2012), Michael Kors (2013), Carolina Herrera (2014), Manolo Blahnik (2015), Albert Kriemler (2016), Thom Browne (2017), and Narciso Rodriguez (2018).

Private tours of exhibitions at The Museum at FIT.

Private visits to the ateliers of fashion designers such as Isabel Toledo and her husband, fashion illustrator Ruben Toledo, Ralph Rucci, Zac Posen, Angel Sanchez, Chadwick Bell, Prabal Gurung, J. Mendel, Francisco Costa of Calvin Klein, Reem Acra, Bibhu Mohapatra, Lafayette 148 and NYC Ballet Costume Shop.
Store events with Calvin Klein, Verdura, Tiffany, Reed Krakoff, the FD Gallery, and Mish New York.
Lectures with Michael Kors, Zac Posen and Ruben and Isabel Toledo at the Doubles Club.
Cocktails and Conversation with Peter Copping of Oscar de la Renta at the Core Club.
Cocktails and Conversation with designers Jack McCollough and Lazaro Hernandez of Proenza Schouler and Dr. Valerie Steele, Director, The Museum at FIT at the Proenza Schouler Boutique.
Tea and Conversation with renowned hat designer Patricia Underwood.
NYC Ballet Costume Shop Tour.
Cocktails and Couture with Bibhu Mohapatra at the Core Club.
Cartier Mansion Tour.
Cocktails and Conversation with Jason Wu.
Great Designers event featuring fashions by Lee Alexander McQueen.
Introduction to Fashion History featuring The Little Black Dress.
2019 Couture Council Winter Luncheon with

Roopal Patel, SVP Fashion Director, Saks Fifth Avenue.

Great Designers event featuring fashions by Azzedine Ala

ï

a with supermodel Veronica Webb.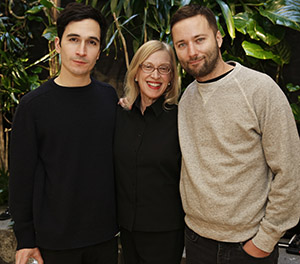 Photo by Brian Ach/Getty Images for The Museum at FIT