Special Exhibitions Gallery
September 13, 2013 – January 4, 2014
A Queer History of Fashion: From the Closet to the Catwalk
featured approximately 100 ensembles, from 18th-century menswear styles associated with an emerging gay subculture to 21st-century high fashion. This was the first museum exhibition to explore in depth the significant contributions to fashion made by LGBTQ (lesbian-gay-bisexual-transgender-queer) individuals over the past 300 years and won three significant awards. The exhibition won the 2013
Award of Merit
from the Museum Association of New York, the website won a silver
MUSE award
(2014) from the American Alliance of Museums, and the publication won the 2014
Millia Davenport Award
from the Costume Society of America.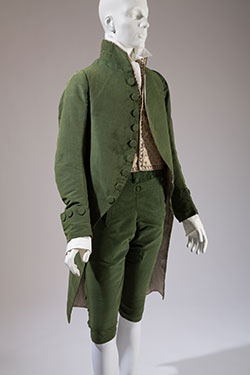 Man's three piece silk velvet suit, 1790-1800, France. Museum purchase, 2010.98.1.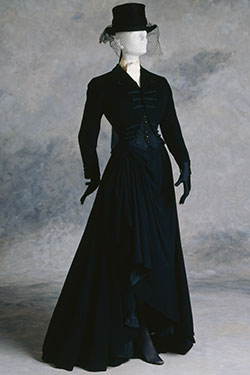 Pierre Balmain, Jean Cocteau, Christian Bérard, Riding Costume for L'Aigle à Deux Têtes, 1947. Photo courtesy Beverley Birks.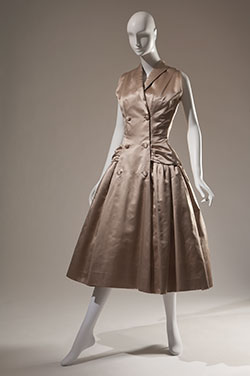 Christian Dior, dress in champagne silk satin, 1954, France. Gift of Sally Cary Iselin, 71.213.20.
Exhibition curators Fred Dennis, senior curator of costume, and Valerie Steele, director and chief curator of The Museum at FIT, spent two years researching and curating the exhibition. They worked with an advisory committee of eminent scholars, including professors George Chauncey (author of Gay New York), Shaun Cole (author of Don We Now Our Gay Apparel), Jonathan Katz (author/curator of Hide and Seek), Peter McNeil (co-editor of The Men's Fashion Reader), and Vicki Karaminas (co-editor of the forthcoming Queer Style), as well as FIT faculty and fashion professionals.
"This is about honoring the gay and lesbian designers of the past and present," said Dennis. "By acknowledging their contributions to fashion, we want to encourage people to embrace diversity."
"We also hope that this exhibition will transform our understanding of fashion history," added Steele. "For many years, gays and lesbians were hidden from history. By acknowledging the historic influence of gay designers, and by emphasizing the important role that fashion and style have played within the LGBTQ community, we see how central gay culture has been to the creation of modern fashion."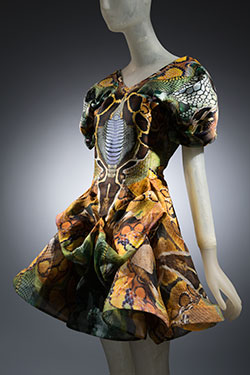 Alexander McQueen, silk dress from Plato's Atlantis Collection, Spring 2010, England. Museum purchase, 2012.36.2.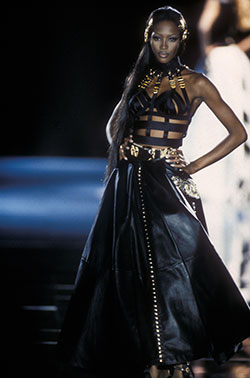 Gianni Versace, leather evening dress, Autumn/Winter 1992. Photo courtesy Fashion Group Foundation.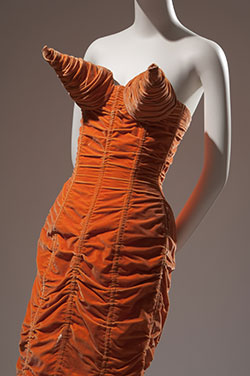 Jean Paul Gaultier, shirred orange velvet dress with cone bust, 1984, France. Museum purchase, P92.8.1.
From Cristobal Balenciaga and Christian Dior to Yves Saint Laurent and Alexander McQueen, many of the greatest fashion designers of the past century have been gay. Organized in roughly chronological order, the exhibition explored the history of modern fashion through the lens of gay and lesbian life and culture, addressing subjects including androgyny, dandyism, idealizing and transgressive aesthetic styles, and the influence of subcultural and street styles, including drag, leather, and uniforms.
The exhibition traced how the gay vernacular styles changed after Stonewall, becoming increasingly "butch." Lesbian style also evolved, moving from the "butch-femme" paradigm toward an androgynous, anti-fashion look, which was, in turn, followed by various diversified styles that often referenced subcultures like punk.
The AIDS crisis marked a pivotal mid-point in the exhibition. Clothing by a number of designers who died of AIDS, including Perry Ellis, Halston, and Bill Robinson, were featured, as will a wide range of activist T-shirts for ACT UP, Queer Nation, the Lesbian and Gay Rights March in Washington and the iconic Read My Lips. Emphasizing that gay rights are human rights, the exhibition concluded with a section on gay wedding fashions as the sartorial expression of the issue of marriage equality.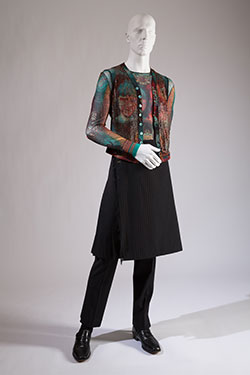 Jean Paul Gaultier, ensemble with kilt and trousers, worn by Darrell Moos. Lent by Xavier Chaumette.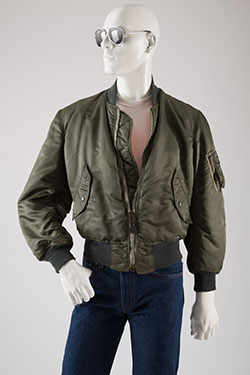 Man's ensemble: nylon flight jacket, t-shirt and jeans, c.1978, USA. Gift of Tony Santore, In Memory of Jack Fenstermacher, 88.134.28.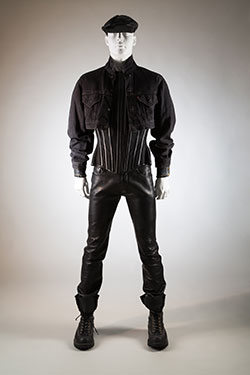 Man's ensemble: 1987 Levi's denim jacket, 1992 Mr. Pearl leather corset, 1994 Abel Villarreal leather pants, 1992 Wesco boots, 1970s leatherman cap. Worn and lent by Scott Ewalt.
Exhibition design by Joel Sanders, a well-known architect and the author of Stud: The Architecture of Masculinity.
---
Interview with Fred Dennis and Valerie Steele
Video produced by Keren Aronoff and Robbie Imes. Copyright HERE MEDIA
---
This exhibition has been made possible thanks to the generosity of: