Special Exhibitions Gallery
January 15 – April 16, 2016
Share using #FairyTaleFashion on Twitter and Instagram.
Online Exhibition | Google Arts & Culture Exhibit
Fairy Tale Fashion was a unique and imaginative exhibition that examined fairy tales through the lens of high fashion. In versions of numerous fairy tales by authors such as Charles Perrault, the Brothers Grimm, and Hans Christian Andersen, it is evident that dress was often used to symbolize a character's transformation, vanity, power, or privilege. The importance of Cinderella's glass slippers is widely known, for example, yet these shoes represent only a fraction of the many references to clothing in fairy tales.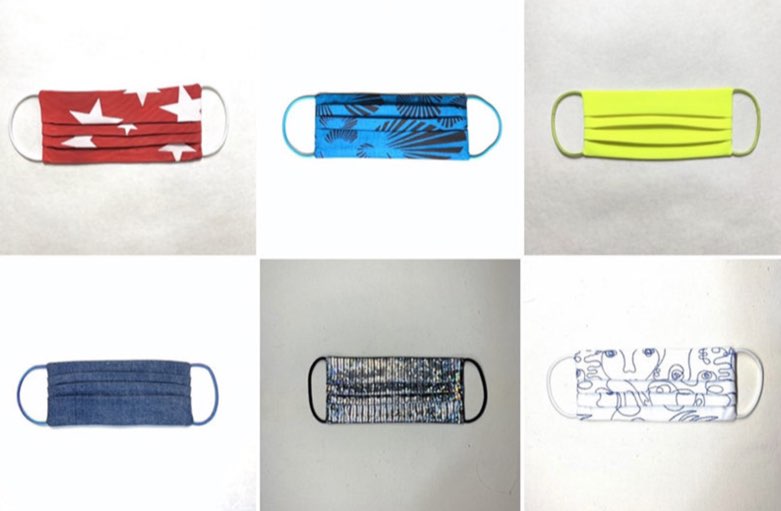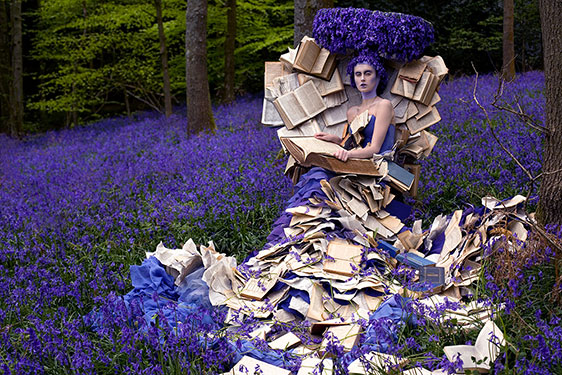 Kirsty Mitchell, The Storyteller, from the Wonderland series.
Photograph © Kirsty Mitchell, kirstymitchellphotography.com
Organized by associate curator Colleen Hill, Fairy Tale Fashion featured more than 80 objects placed within dramatic, fantasy-like settings designed by architect Kim Ackert. Since fairy tales are not often set in a specific time period, Fairy Tale Fashion included garments and accessories dating from the 18th century to the present. There was a particular emphasis on extraordinary 21st-century fashions by designers such as Thom Browne, Dolce and Gabbana, Tom Ford, Giles, Mary Katrantzou, Marchesa, Alexander McQueen, Rick Owens, Prada, Rodarte, and Walter Van Beirendonck, among others.
The exhibition's introductory space featured artwork that has played a role in shaping perceptions of a "fairy tale" aesthetic. These included illustrations by renowned early 20th-century artists such as Edmund Dulac, Arthur Rackham, and A.H. Watson. Several recent, large-scale photographs from Kirsty Mitchell's award-winning Wonderland series were also on display. This was the first time that Mitchell's marvelous work—for which she designs and makes all of the elaborate costumes and sets—has been shown in the United States. Connections between fashion and storytelling are further emphasized by a small selection of clothing and accessories, including a clutch bag by Charlotte Olympia that resembled a leather-bound storybook.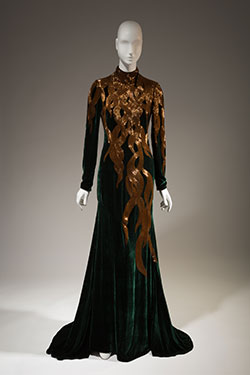 Alexander McQueen, dress, fall 2007, England. The Museum at FIT, (illustrating "Rapunzel") 2013.2.1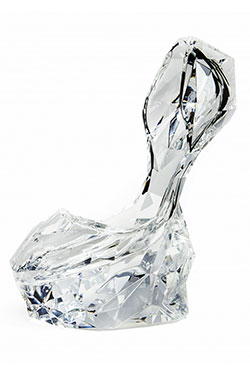 Noritaka Tatehana, Cinderella slipper, 2014. Lent by Noritaka Tatehana, photograph © Noritaka Tatehana (illustrating "Cinderella")
The main gallery space used fashion to illustrate 15 classic fairy tales, arranged within four archetypal settings. Visitors first walked into the Forest, which included the tales "Little Red Riding Hood," "Snow White," "The Fairies," "Rapunzel," and "Snow White and Rose Red." Several variations of Little Red Riding Hood's red cloak were shown, beginning with a fashionable woolen cloak from the late 18th century—the style that is used to illustrate innumerable versions of the story—and concluded with a fall 2014 Comme des Garçons ensemble with an enormous, peaked hood in scarlet patent leather. Inspired by the fairy tale–themed fall 2014 presentation by Alice + Olivia designer Stacey Bendet, Snow White was portrayed wearing a black organza gown encrusted with rhinestones while lying in her glass coffin. The subsection on "Rapunzel" included a stunning dress from Alexander McQueen's fall 2007 collection, made from deep emerald velvet embellished with copper-colored beads that created a motif of cascading hair.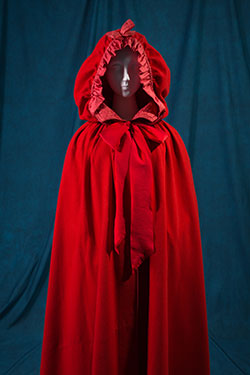 Cape, late 18th century, England or USA. The Museum at FIT (illustrating "Little Red Riding Hood") 2002.36.1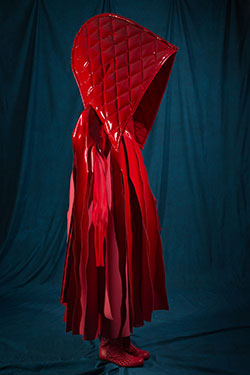 Comme des Garçons, ensemble, spring 2015, Japan. The Museum at FIT (illustrating "Little Red Riding Hood") 2015.8.1
<< Interactive Experience with eight objects from the exhibition. Brought to you by Synthescape! >>
The center of the gallery was dominated by a large Castle, in and around which the tales "Cinderella," "Furrypelts," "The Snow Queen," "Beauty and the Beast," and "Sleeping Beauty" were displayed. Cinderella was first shown in her rags, exemplified by a Giorgio di Sant'Angelo ensemble with a skirt made from shredded chiffon, and dating from his 1971 The Summer of Jane and Cinderella collection. Cinderella's spectacular glass slippers were exemplified by a pair of 2014 heel-less shoes by Noritaka Tatehana, 3D-printed in clear acrylic and faceted to reflect light. Clothing was central to a lesser-known Brothers Grimm tale titled "Furrypelts," which calls for a cloak of many furs, in addition to magnificent dresses that look like the sun, the moon, and the stars. The latter was represented by a dazzling, early 1930s evening gown by Mary Liotta, covered in silver stars crafted from beads and sequins. In "The Snow Queen," the beautiful villainess wears a coat and cap of pristine white fur, exemplified in Fairy Tale Fashion by an opulent hooded fur cape by J. Mendel from 2011.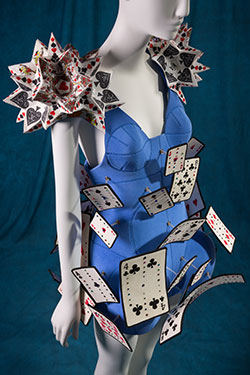 Manish Arora, dress, 2010 (remade 2015), France. The Museum at FIT (illustrating Alice in Wonderland) 2015.10.1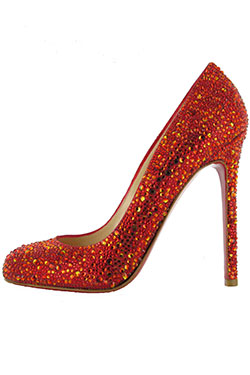 Christian Louboutin, Lady Lynch stilettos, fall 2009-2010. Lent by Christian Louboutin, photograph © Christian Louboutin (illustrating The Wizard of Oz)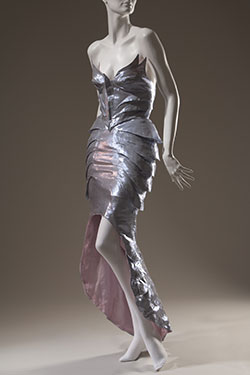 Thierry Mugler, ensemble, circa 1987, France. The Museum at FIT (illustrating "The Little Mermaid") 2011.13.1
"The Little Mermaid" and "The Swan Maidens" were explored in the Sea section of the exhibition. Charles James's Swan dress, from the mid-1950s, has a full skirt made from alternating layers of black, beige, and brown net that form an exceptionally graceful silhouette. Undercover's spring 2015 collection featured numerous swan-inspired designs, one of which is now in the collection of The Museum at FIT—an especially detailed ensemble comprised of a feather-printed miniskirt worn beneath a tutu hand-painted with a plumage motif. It was paired with a motorcycle-style jacket with sleeves made from laser-cut silk "feathers." "The Little Mermaid" was represented by a variety of beautiful, mermaid-inspired gowns, including Thierry Mugler's 1987 bustier and fishtail skirt in metallic lilac fabric, and an elaborately crafted dress embellished with pearls, sequins, feathers, and Swarovski crystals from the spring 2015 Rodarte collection.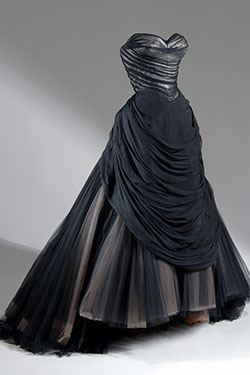 Charles James, Swan evening dress, 1954-1955, USA. The Museum at FIT (illustrating "The Swan Maidens") 91.241.136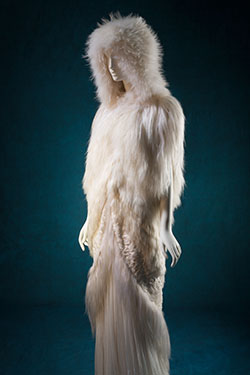 J. Mendel, ensemble, 2011 (cape) and spring 2008 (dress), France. Lent by J. Mendel (illustrating "The Snow Queen")
The exhibition also highlighted two fairy tales that take place in Parallel Worlds—Alice in Wonderland and The Wizard of Oz. Although Alice makes little reference to clothing, there is a distinct "Wonderland aesthetic" that has influenced fashion. This subsection featured a playful, bright blue mini-dress by Manish Arora, adorned with fabric playing cards that reference the tale's Queen of Hearts and her playing card army. By contrast, The Wizard of Oz makes numerous references to fashion, including Dorothy Gale's blue-and-white gingham frock, represented by a checked cotton dress from the early 1940s by Adrian, who also designed many of the costumes for the famous 1939 film version of the tale. Although Dorothy's magical shoes are silver in the story, they are better remembered as the sparkling "ruby slippers" from the movie. A pair of bright red, crystal-encrusted stilettos by Christian Louboutin was unmistakably evocative of Dorothy's iconic footwear.
A multi-author book, also titled Fairy Tale Fashion, was published by Yale University Press in early 2016. Featuring more than 150 beautiful photographs and illustrations, the book expands upon the rich and fascinating topic of fashion in fairy tales. In addition to extensive text by Colleen Hill, the publication includes essays by Patricia Mears, deputy director of The Museum at FIT; Ellen Sampson, fashion theorist and footwear designer; and Dr. Kiera Vaclavik, senior lecturer of French and Comparative literature at Queen Mary, University of London.
Fairy Tale Fashion was also featured in Google's Arts & Culture "We Wear Culture" project, a collaboration with The Museum at FIT and over 180 renowned cultural institutions from New York, London, Paris, Tokyo, São Paulo, and around the world. View the exhibit below and through the Google Arts & Culture app on iOS and Android devices.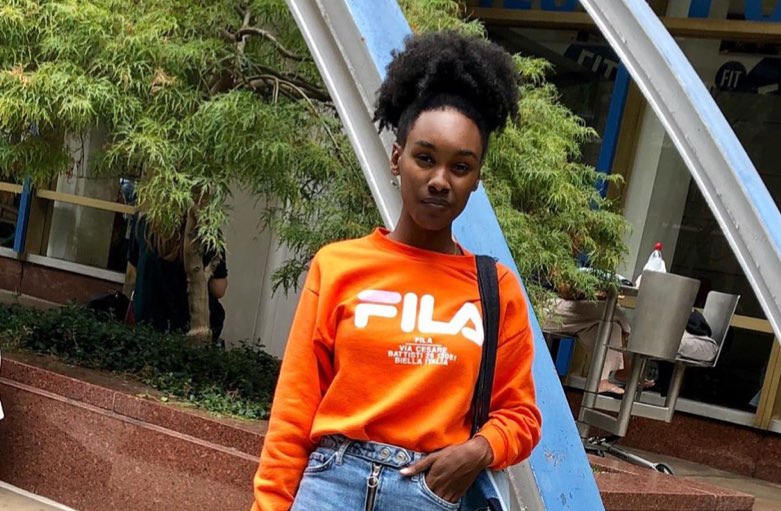 Exhibition Sponsors
Fairy Tale Fashion was made possible by the Couture Council, The Coby Foundation, Ltd and the New York State Council on the Arts, with the support of Governor Andrew Cuomo and the New York State Legislature.