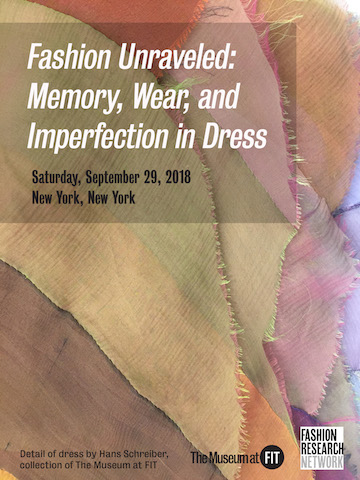 Saturday, September 29, 2018
Katie Murphy Amphitheatre
Fred P. Pomerantz Art and Design Center

Inspired by the MFIT exhibition Fashion Unraveled and organized by MFIT and the Fashion Research Network, this one-day colloquium explored the concepts of memory, wear, and imperfection in fashion. Speakers focused on imperfect garments and the significance of dressing as a habitual, intimate, and ephemeral act.


This event was recorded and will be able to view on The Museum at FIT's YouTube channel soon.
Symposium Schedule

Saturday, September 29, 2018
10 am-1 pm
Dr. Alexis Romano
, Welcoming remarks and introduction
Colleen Hill
, "Fashion Unraveled"
Dr. Ellen Sampson
, "Affect and Embodiment: Why Worn Things Matter"
Exhibitions & Archives
Dr. Jeffrey Horsley, "Perfect Bodies for Imperfect Dress: Exhibiting 'Disorderly' Apparel"
Michelle McVicker, "'The Traces of Use,' A Case Study of Appearances Can Be Deceiving: The Dresses of Frida Kahlo and the Potentiality of Visibly Worn Dress"
Sarah Scaturro, "Full of Vice: The Conservator's Collection"
William DeGregorio, "Altered States: Assessing Refashioned and Remodeled Costume at the Museum of the City of New York"
2-5pm
Traces & Tears: Wear & Object Biography
Dr. Katie Knowles, "Altered; Faded; Bleeding; Surviving: An African American Family Story of Slavery and Freedom as Told by a Calico Skirt"
Dr. Sonya Abrego, "Denim, Smartphone Fade, and the Markings of Contemporary Labor"
Dr. Bethan Bide, "One Dress, Multiple Stories: Exploring Everyday Fashion Objects as Sites for Narrating Speculative Biographies"
Repair, Recycling & Reinterpretation
Dr. Carolyn Dowdell, "Gertrude Savile's Green Damask: Exploring Clothing's Multiple Lives in Eighteenth-Century England"
Selene States, "The Inauthentic Interwar Dress Collection"
Jeppe Ugelvig, "Memory Garments: The Non-Archive of Susan Cianciolo"