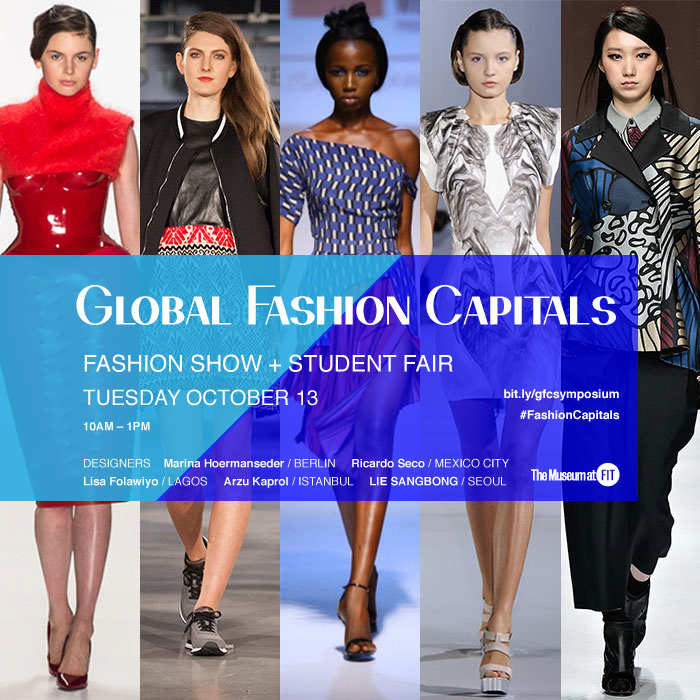 On Tuesday, October 13th, The Museum at FIT held a student fair and fashion show, followed by a panel discussion featuring fashion designers and MFIT curators.
Student Fair
At the student fair from 10am-noon, visitors interacted with members of the international fashion community.
Argentina | Sponsored by Nichi Kashihara
Jonathan Newman, creator of "ele"—Buenos Aires born room shoes, explained the story of "zapitos para las casa" and showed his latest collection.
China | Sponsored by SUNY Confucius Institute for Business
Award-winning Chinese actress, Lancy, discussed the dynamic nature of China's fashion and entertainment environment, as well as her new business, My Fashion Station. She also showcased fashions from the top Chinese designers.
Finland | Sponsored by The Finnish Cultural Institute of New York's Mobius program
Visitors were able to learn about fashion blogging from Taina Laaksonen, The Museum at FIT's Finnish fellow, who launched the digital publication Global Fashion Bloggers. Also, Marjut Uotila, the designer of the Dusty Finnish menswear label, was available for a live Skype chat.
Japan | Sponsored by Nichi Kashihara
"KOKO", a Tokyo street style specialist, demonstrated the latest Japanese make-up trends. A special performance by KOTO player, "MASAYO ISHIGURE," played Japanese traditional instrument, KOTO, with urban stylish taste.
Spain | Sponsored by the Consulate of Spain in New York
Career advice was available from Gloria López Berenguer, Director of Beiñ and an expert on fashion brands internationalization.
Turkey | Sponsored by the Consulate of Turkey in New York
Marbling (ebru) artist Bingül Sevimli presented an interactive art demonstration.
Fashion Show
At noon, a fashion show featuring designers from emerging capitals included a panel moderated by MFIT curators Ariele Elia and Elizabeth Way. Participating designers were Ricardo Seco (Mexico City), Arzu Kaprol (Istanbul), Marina Hoermanseder (Berlin), and Nana Lee of LIE SANGBONG (Seoul).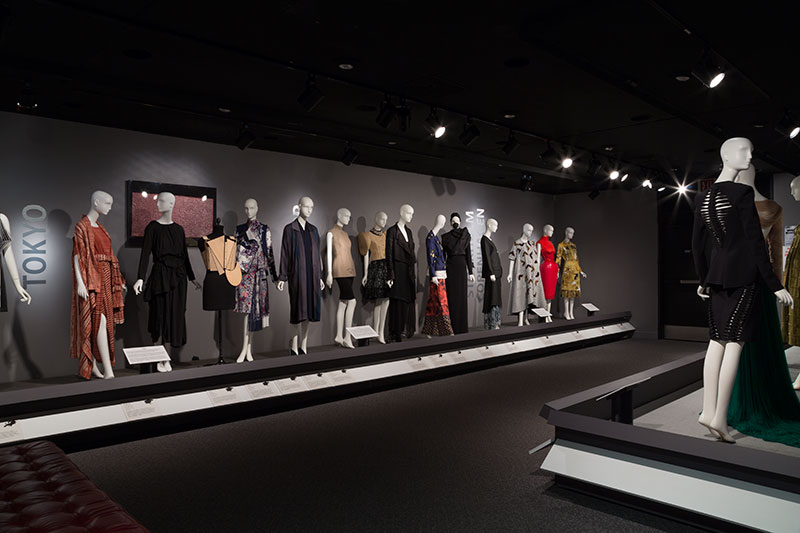 Installation view, Global Fashion Capitals. Photo by Eileen Costa.
The afternoon session, held at the CUNY Graduate Center, featured three panels addressing topics of industry, branding, and media. MFIT director Valerie Steele spoke that evening. For more information, please visit the CUNY website.
Organized in collaboration with the CUNY Graduate Center and the School of Visual, Media and Performing Arts at Brooklyn College. Fashion show produced by Yo Soy Mexico with funding from the Mexican Agency for International Development Cooperation (AMEXCID).