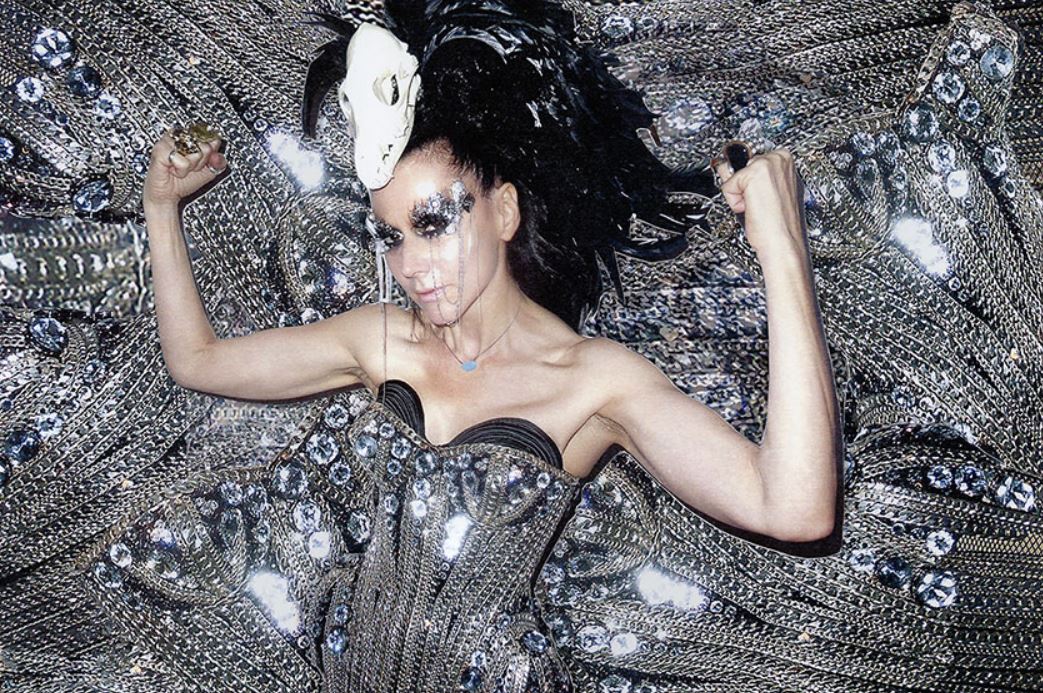 Susanne Bartsch. Photo by Marco Ovando.
Dr. Ann Ilan Alter is a cultural historian who specializes in 19th- and 20th-century French fashion, popular entertainments, and social change. She has written about women, cross-dressing, and the role of the Carnival balls at the Paris Opera in fomenting political conflict and social transformation during the July Monarchy, while also working as a curator and consultant for numerous projects about France and French history. Dr. Alter is currently on the faculty of the Writing Program at Rutgers University, where she teaches a seminar in the history of fashion.
Joey Arias has been a fixture of New York City's vibrant downtown performance scene for more than thirty years. He lived and worked with renowned musician Klaus Nomi until Nomi's death in 1983. However, Arias gained fame in his own right as a performance artist, cabaret singer, and drag artist. From his outrageous performances at seminal New York nightclubs Jackie 60 and Squeezebox, to his legendary nights at Bar d'O--where he held court with Raven-O and Sherry Vine--Arias has distinguished himself with scandalous wit, sleek style, and an extraordinary voice. He has performed worldwide at venues that include Carnegie Hall, the Freedom Theatre in London, and the cabaret clubs of Paris, Tokyo, Moscow, Germany, Finland, Estonia, Canada, and England.
Josef Astor is a photographer and filmmaker whose work has appeared in Vanity Fair, The New York Times, The New Yorker, GQ, Esquire, and other publications. His first documentary feature, Lost Bohemia, premiered in 2010 and won a Special Jury Prize at DOC-NYC Festival. Originally from Ohio, Astor opened his studio above Carnegie Hall in 1985 and launched his theatrically staged, historically informed photography work, focusing primarily on portraits of artists from the world of music, architecture, dance, theatre, and art. Exhibitions featuring his work have included Vanity Fair Portraits at the National Portrait Gallery, The Digital Darkroom at the Annenberg Space for Photography, and the recent solo show, Displaced Persons, at Participant Gallery in New York. In 1995, Astor received the prestigious Infinity Award from the International Center of Photography. He has taught in the MFA program at Bard College and is currently on the faculty of the School of Visual Arts in New York.
Rachel Auburn has had several changes of career during her life. Born in Brighton, England, she studied at Brighton Art college, and then, from 1977 to 1980, took a three-year fashion degree at Harrow School of Art (now Westminster University). While at Harrow, she worked for designer Jean Muir. Following graduation, Auburn began making and designing her own clothing. In 1982, she opened a stall in Kensington Market, where she met Leigh Bowery and Michael and Gerlinde Costiff, who, in turn, introduced Auburn to Susanne Bartsch. Auburn took part in Bartsch's London/New York fashion shows, as well as London/Tokyo. When Bowery asked Auburn to play at his club, Taboo, she was such a hit that she immediately became Taboo's resident DJ. She stopped making fashion and became a dance music producer and DJ. Known for her high energy mixing, campy disco, and glam rock-ish type tunes, she soon became popular all over Europe. She was the first female DJ to play in China and Johannesburg and in December 1999, Auburn was voted one of the top 100 DJs by DJ magazine. Also a mother, today she again lives in Brighton, where she teaches yoga.
Suzanne Bartsch has been a highly visible player in New York City nightlife since the 1980s. Her penchant for extreme fashion and make-up made her name the equivalent of a couture label for party people around the world. Born in Switzerland, in 1981 she came to New York via London. She opened an influential boutique in SoHo, featuring the work of young, cutting-edge English designers and milliners, such as John Galliano, Stephen Jones, and Leigh Bowery. In 1986, Bartsch organized her first party at Savage, a club underneath the Chelsea Hotel. Her parties at the Copacabana soon became known for their mix of uptown and downtown, gay and straight, high fashion, street style, and Mardi Gras extravaganza.
Billy Beyond (Erb) is a New York City-based artist who has been working in and around fashion for thirty years. As a designer, he has created costumes, jewelry, and accessories and a few interiors. As a stylist, Beyond has worked in television, film, and print. He was an accomplished makeup artist for many years, garnering international acclaim, before moving behind the camera to pursue his current passion, photography. Some of Beyond's career highlights include working as the stylist for Antonio's Tales From The Thousand And One Nights, by Antonio Lopez, wardrobe consultant for Sex and the City, season five, and principal photographer and project director for I Like You, by Amy Sedaris, as well as many collaborative projects with designer and long time personal friend, Todd Oldham.
Hamish Bowles is the international editor at large for Vogue and a widely respected authority on the worlds of fashion and interior design. At Vogue, he oversees all interior design features, writes profile stories, and covers fashion and contemporary culture, as well as the history of fashion and style. He also contributes to Vogue.com through his rubric "The Hamishsphere." Bowles has an extensive private collection of historic haute couture and fashionably significant clothes. He has lent pieces to exhibitions at several museums, including the Costume Institute of the Metropolitan Museum of Art, The Museum at FIT, and the Museum of the City of New York in Manhattan; the Palais Galliera and the Musée de la Mode et du Textile at the Louvre in Paris; and the Victoria and Albert Museum and the Museum of London in the United Kingdom. In 2001, he organized the internationally renowned and critically acclaimed Costume Institute exhibition, Jacqueline Kennedy: The White House Years—Selections from the John F. Kennedy Library Museum. In 2010, Bowles curated Balenciaga: Spanish Master, an exhibition on the work of Cristóbal Balenciaga for the Queen Sofía Spanish Institute in Manhattan.
Simon Doonan is the creative ambassador-at-large for Barneys New York, an author, a fashion commentator, and a window dresser extraordinaire. His books include Confessions of a Window Dresser, Wacky Chicks, a memoir entitled Beautiful People, and the tongue-in-cheek style guides, Eccentric Glamour and Gay Men Don't Get Fat. His latest book is called The Asylum: True Tales of Madness from a Life in Fashion and is a collection of stories from Doonan's more than 35 years in the fashion industry. He has written regularly for The New York Observer and The Daily Beast, and currently writes a bi-weekly humor column for Slate.com. His contributions have consistently been among the most popular podcasts of the storytelling events series, The Moth. A TV comedy series based on Beautiful People has aired in the UK, the US, and Australia. Doonan has been a featured guest on Chelsea Lately and The Conan O'Brien Show, and regularly appeared on America's Next Top Model, Full Frontal Fashion, and Bravo. His groundbreaking and unconventional window displays have won numerous awards, and in 2009, he was invited by President and Mrs. Obama to decorate the White House for the holidays. Doonan and his partner, ceramicist and designer Jonathan Adler, live in New York City with their rescue-dog Foxy.
James Gager is senior vice president and creative director of M·A·C Cosmetics. M·A·C President John Demsey has described him as "one part Philip Johnson, one part Alex Liberman, and one part Walt Disney." He weaves into the M·A·C brand a vast array of cultural influences, from architectural design to haute couture. Under Gager, M·A·C has become the fastest growing Estée Lauder brand. Within his first year with the company, he launched "Time Rocker," a color collection illustrated with an image that pays homage to the tradition of glam rock. He is hands-on with the provocative images that promote M·A·C's some sixty annual collections, including collaborations with fashion designers from Gareth Pugh to Alexander McQueen; with artists from Marilyn Minter to Cindy Sherman; and with many fashion icons, from Daphne Guinness to Iris Apfel. Always looking to mix it up while staying true to the brand, he conceptualized the online "M·A·C Me Over!" contest, in which thousands of unknowns vied to become one of the six faces of the fall campaign. The contest reflected M·A·C's "All Ages, All Races, All Sexes" mantra. Gager has received numerous awards, including a FiFi for his fragrance bottle for Prescriptives' Flirt, and his work has appeared in magazines and museums around the world.
Jessica Grindstaff is a New York City-based artist known for her haunting, meticulously constructed music box dioramas and paintings in wax and chalkboard. She also has a jewelry line/ongoing performance piece that incorporates prize ribbons and medals. She is co-founder, artistic director, and set designer for Phantom Limb, an innovative theatrical and production design company that emphasizes collaboration and creating holistic artistic experiences. Grindstaff has collaborated with such diverse artists as Mark Z. Danielewski, Ulrike Quade, the Kronos Quartet, Ping Chong, Geoff Sobelle of RainPan, and Charlotte Ford. For Berkeley Repertory Theatre, she designed a production of Lemony Snicket's The Composer is Dead. She has collaborated with composer Phil Kline and director Jim Jarmusch on an opera about Serbian scientist Nikola Tesla. Research for her most recent project, 69˚S., has taken Grindstaff to Australia, Dartmouth College, the Grand Theatre in the Netherlands, and Antarctica. She is in development on several new projects, most notably a Peer Gynt set in a forest and Memory Rings, a piece about the world's oldest living tree.
Colleen Hill is associate curator of accessories at The Museum at FIT (MFIT). Her exhibition Fairy Tale Fashion will open at MFIT in January, 2016, to be accompanied by a sumptuously illustrated book. Previously, Hill explored the history of ballet shoes for the Dance & Fashion exhibition and publication. She was also the curator of Exposed: A History of Lingerie (2014), as well as author of its companion publication. Her other exhibitions include Shoe Obsession (2013), co-curated with Valerie Steele, as well as Fashion A-Z: Part One and Part Two (2011-2012), Sporting Life (2011), His & Hers (2010-2011), Eco-Fashion: Going Green (2010), Seduction (2008-2009), and Arbiters of Style: Women at the Forefront of Fashion (2008). She is co-author of the book Sustainable Fashion: Past, Present and Future, and she received the Richard Martin Exhibition Award from the Costume Society of America for Eco-Fashion: Going Green.
Jeffrey Hinton is a DJ, filmmaker, and artist from London. As a child, he developed a love for the arts--especially music, experimental film, and alternative performance--and during the 1970s found a place for himself among the free-thinking outcasts and individuals of London's underground clubs and alternative cultures. In New York in 1978, Hinton was absorbed into the twilight world of Studio 54, CBGB's, and the Mudd Club, and found himself living with William Burroughs. Back in London during the 1980s, he began experimenting with odd ways of mixing music, film, and video. He became heavily involved in the underground club and fashion culture scene, and soon began to DJ. For more than three decades now, Hinton has DJed at venues in New York, Brazil, London, Europe, Asia, and other clubs, spaces, and events around the world. His sound scoring achievements include fashion shows for Body Map, Alexander McQueen, Meadham Kirchhoff, and Louis Vuitton; dance shows for the Michael Clark Company; films such as Hail The New Puritan, directed by Charles Atlas; and a world tour with Bananarama. Recent talks, film screenings, and experimentation in video/art installations include work for the National Portrait Gallery, I.C.A., the Victoria and Albert Museum, and the British Film Institute.
Stephen Jones is a milliner who has created hats for many fashion legends, from Vivienne Westwood during the 1980s to John Galliano when he was at Dior during the 2000s. Lately, he has worked with Thom Browne. Jones's beguiling hats routinely grace magazine covers and enliven window displays at the world's most stylish stores. He was born in Cheshire and schooled in Liverpool. He burst upon the London fashion scene during late 1970s, a student at St Martins by day, an uncompromising style-blazer at the legendary Blitz nightclub by night, always crowned with a striking hat of his own idiosyncratic design. By 1980, Jones had opened his first millinery salon in the heart of London's Covent Garden, which soon began to attract rock stars and royalty alike, from Boy George to Diana, Princess of Wales. Jones made millinery seem modern and compelling. His exquisitely crafted, quixotic hats encapsulated the fashion mood of the moment. Jones continues to attract a celebrity clientele that includes Rihanna, Dita von Teese, Mick Jagger, and the Princesses.
Kabuki is a make-up artist who creates looks that range from high fashion runway to TV shows and print photography for magazines. Kabuki hails from the north of England; inspired by his friendship with British illustrator Errol Le Cain, he was already an accomplished artist by his teens. His first job in New York was as a textile designer, but his unique flair for outlandish dress and make-up soon led him to the then-flourishing NYC club scene, which in turn led to modeling on European runways for Thierry Mugler and joining the performance troupe Black Lips. When stylist/designer Patricia Field was scouting talent for HBO's Sex and the City, she brought Kabuki onto the show to establish the make-up looks for Sarah Jessica Parker, Cynthia Nixon and Kristin Davis. Kabuki went on to work as a make-up artist in feature films (Party Monster and Palindromes), and he has worked with many pop stars, such as Rihanna, Lady Gaga, Christina Aguilera, Katy Perry, and Michael Jackson, actresses such as Uma Thurman and Naomi Watts, and many of today's leading photographers, including Steven Klein, Terry Richardson, and Bruce Weber. Kabuki's shoots have appeared in most major fashion magazines, including Vogue, Harper's Bazaar, Marie Claire, and ELLE. Advertising projects include fashion campaigns for Dolce & Gabanna and Zac Posen, and beauty campaigns for Cover Girl, Swarovski, and MAC. He has also designed the make-up looks for a number of fashion week shows in New York, London, Paris, Los Angeles, and Milan. His book, 73 Drawings by Kabuki, is available now through Blurb.com.
Waleed Khairzada is an American fashion designer and creative director. Born in Kabul, Afghanistan, to an Afghan father and Turkish mother, Waleed moved to the United States in the early 1980s. Upon completing his studies at the Fashion Institute of Technology, he embarked on a 25-year career in the fashion industry, culminating in the founding of his own luxury label, NAUM, to rave reviews and critical acclaim. In 2007, he founded Waleed Khairzada Consulting, a New York-based agency that provides creative and strategic solutions to American and international companies in all segments of the fashion, beauty, and lifestyle industries.
Nathalie Khan teaches fashion history and theory at Central Saint Martins and London College of Fashion. She is also a guest lecturer at Sotheby's Institute of Art in New York and NYU in London. Khan is a leading theorist and writer on contemporary fashion media and the impact of new technology on the traditional catwalk show and fashion photography.
Melissa Marra is the associate curator of education and public programs at The Museum at FIT. Melissa was a contributing author to the MFIT book Fashion Underground: The World of Susanne Bartsch. She was also co-curator of the exhibition Fashion and Politics (2009) at MFIT. Melissa has worked as an archivist for private fashion collections, and was the founding archivist for the late fashion designer Geoffrey Beene. She was also a contributing author to Fashion Designers: A-Z, The Collection of the Museum at FIT and Bloomsbury's upcoming Fashion Photography Archive. Melissa received her MA in Museum Studies from FIT.
Dr. Peter McNeil is a professor of design history at the University of Technology Sydney and Distinguished Professor, Aalto University. He has published extensively on fashion. His most recent publications are Fashion Writing and Criticism (2014), with Sanda Miller, and Luxury: A Rich History (in press), with Giorgio Riello. McNeil is also editor of the award-winning, four volume Fashion: Critical and Primary Sources (2009). He is currently writing for LACMA's major exhibition Reigning Men, opening in 2016.
Ted Polhemus has been using popular culture as a window on the world for more than thirty years. An anthropologist, writer, photographer, lecturer, and consultant, his books include StreetStyle, Fashion & Anti-Fashion, BOOM! – A Baby Boomer Memoir, 1947-2022, and Style Surfing. Polhemus has been a Beat, a Modernist, a hippie, a glam rocker, a punk, a goth, and a perv. He believes that a true understanding of history and of the world demands that we look deep into the seemingly superficial and take seriously the seemingly frivolous. Fashion, style, design, pop music, and body decoration give vital clues to where we are and where we might be going.
Dr. Valerie Steele, director and chief curator of The Museum at the Fashion Institute of Technology, has curated or co-curated many innovative and award-winning exhibitions, including London Fashion, China Chic, The Corset, Femme Fatale, Love and War: The Weaponized Woman, Gothic: Dark Glamour, Japan Fashion Now, Daphne Guinness, A Queer History of Fashion: From the Closet to the Catwalk, and Dance and Fashion. She is also author or editor of numerous books and exhibition catalogs. Founder and editor in chief of Fashion Theory: The Journal of Dress, Body & Culture, Steele holds a Ph.D. from Yale University. She curated the exhibition Fashion Underground: The World of Suzanne Bartsch, and contributed an essay to and served as co-editor of the exhibition catalog.
Zaldy is a renowned designer who for over a decade has straddled the genres of fashion and music to create timeless, beautifully crafted women's clothing. Since the launch of his eponymous collection in 2002, Zaldy has evinced a singular vision of modern femininity as effortlessly confident and inherently cool. While studying at Parsons and the Fashion Institute of Technology during the 1990s, Zaldy became a fixture of the downtown New York club scene in its heyday. This glamorous culture pushed the boundaries of art, beauty, and style, and its fearless creativity can still be felt in the clothes that Zaldy creates today. HIs aesthetic ranges from obsessively ornate to sleekly tailored, always executed with a bohemian edge and theatrical flair. He has imagined stage looks for many of the most celebrated performers of our time: Michael Jackson, Lady Gaga, and Britney Spears among them. From 2004 to 2007, Zaldy was head designer of Gwen Stefani's highly successful L.A.M.B. collection, which fused streetwear elements with the singer's signature glam-punk look.