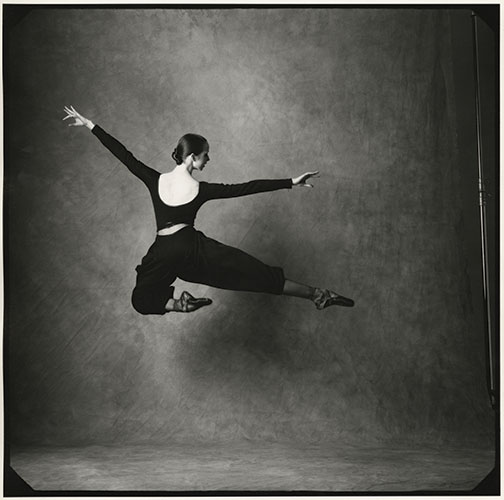 Photograph Andrew Eccles. Dancer Deanna McBrearty modeling clothes by Geoffrey Beene, 1993.
Dr. Mary E. Davis is dean for the School of Graduate Studies at the Fashion Institute of Technology. She is the author of Ballets Russes Style: Diaghilev's Dancers and Paris Fashion.
Janet Eilber is a former principal dancer with the Martha Graham Dance Company. Now its artistic director, she is dedicated to creating new audience access to Grahams masterworks.
Lynn Garafola is a professor of dance at Barnard College. She is author of Legacies of Twentieth-Century Dance and has curated exhibitions on the New York City Ballet and Jerome Robbins.
Marc Happel has worked in costume in New York for more than 30 years. He is currently director of costumes at New York City Ballet.
Colleen Hill, associate curator of accessories at The Museum at FIT, explored the history of ballet shoes for the Dance & Fashion exhibition and publication.
Melissa Marra is the associate curator of education and public programs at The Museum at FIT. She contributed an essay on Martha Graham to the catalog of Dance & Fashion and also coordinated production of the book.
Emma McClendon is the assistant curator of costume at The Museum at FIT, where she has co-curated the exhibitions Fashion and Technology and Trend-ology.
Patricia Mears, deputy director of The Museum at FIT, has curated a number of exhibitions, including Elegance in an Age of Crisis, Ivy Style, and the upcoming YSL + Halston: Fashioning the 70s.
Dr. Masafumi Monden lectures and teaches design studies at the University of Technology in Sydney, Australia. He publishes in the areas of fashion, Japan, and popular culture.
LeeAnt Noble is an internationally known percussive dancer, drummer, and actor who served as lead choreographer and co-director for Rick Owenss Vicious women's showcase in Paris.
Banu Ogan danced with the Merce Cunningham Dance Company for more than seven years. Currently, she teaches at the Merce Cunningham Studio and at Juilliard.
Katerina Pantelides is a PhD candidate at the Courtauld Institute of Art. Her thesis examines how Russian migr ballet practitioners influenced the appearance and experience of female embodiment.
Dr. Adelheid Rasche is an art and fashion historian and is currently curator of the Lipperheide Costume Library in Berlin, Germany.
Ann Ray is a French artist using photography, film, and words in her work. Her four books of photography include Love Looks Not With the Eyes, which grew out of a 13-year collaboration with Lee Alexander McQueen.
Narciso Rodriguez is a fashion designer and recipient of three CFDA awards. He was named one of the 25 Most Influential Hispanics in America by Time magazine.
Valeria Solomonoff is an award-winning choreographer and dancer known for her innovations in tango. She currently teaches at NYU and Hunter College.
Dr. Valerie Steele is director and chief curator of The Museum at FIT. She has organized more than 20 exhibitions, including the current Dance & Fashion.
Elizabeth Way is the curatorial assistant at The Museum at FIT. Her most recent publication is her essay in the book Dance & Fashion.
Wendy Whelan has been with the New York City Ballet for 30 years. A multiple award winner, she is currently an artistic associate at New York's City Center.
Anna Winestein is a historian of Russian art and theater and an independent curator. Executive director of the Ballet Russes Cultural Partnership in Boston, she previously was creative director for the Hermitage Museum Foundation.