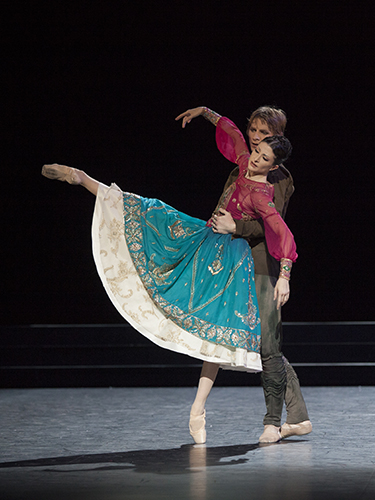 Photo: La Source, Opra National de Paris, October 2011; Choreography: Jean-Guillaume Bart; Costumes: Christian Lacroix; Photograph Ann Ray.
Thursday and Friday, October 23 and 24
Morris W. and Fannie B. Haft Auditorium
Marvin Feldman Center, Second Floor
The fourteenth annual fashion symposium, Dance & Fashion, explored how dance costume has inspired fashion, and how fashion designers have increasingly been creating dance costumes. Topics include Rei Kawakubo's collaboration with Merce Cunningham and Rick Owens' fashion shows featuring steppers.
There were twenty speakers, including all nine contributors to the companion book to the concurrent MFIT exhibition Dance & Fashion. Invited speakers included Marc Happel, costume director of the New York City Ballet, designer Narciso Rodriguez, dancer Wendy Whelan, and artist and photographer Ann Ray.
See moments from the symposium on Flickr:
|
9-10 am
Check-in, registration
Haft Auditorium, Feldman Center, second floor
10 am-1 pm
Dr. Joyce F. Brown, president of FIT, welcoming remarks
Dr. Valerie Steele, "Dance & Fashion"
Wendy Whelan and Narciso Rodriguez, in conversation
Marc Happel, "Fashion at the New York City Ballet"
2-5pm
Lynn Garafola, "Beauty and the Ballerina"
Dr. Adelheid Rasche, "On Dance Fashion and Fashionable Dances: Remarks on the Berlin Dance Scene During the Weimar Republic
Patricia Mears, From Sylph to Swan: The Tutu and Fashion
Janet Eilber and Melissa Marra, in conversation: Martha Graham and Modern Dance
Friday, October 24
9-10 am
Check-in, registration
Haft Auditorium, Feldman Center, second floor
10 am-1 pm
Colleen Hill, Ballet Shoes: Function, Fashion, and Fetish
Anna Winestein, Russia's Icons of Dance
Katerina Pantelides, Dancing in the City: Balletic Body Image in 1940s New York
Dr. Masafumi Monden, In Praise of Sheer Perfection: Ballet, Clothing, and Japanese Culture
2-5pm
Ann Ray, Metamorphosis: From the Dressing Room to the Stage
Emma McClendon and Banu Ogan, in conversation, Merce Cunningham and Rei Kawakubo's Scenario
Elizabeth Way and LeeAnt Noble, in conversation, African-American Dance and Fashion in the 20th Century
Dr. Mary E. Davis, Tangomania 1913
Valeria Solomonoff, tango performance
Watch recordings of the speakers presentations on YouTube:
---