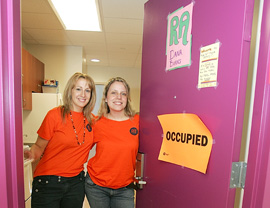 Residential Life at FIT cultivates a living and learning community that allows for and supports the creativity and academic success of our residents.
We provide a safe, sustainable residential experience that supports the mission of the college and meets the demands of an urban campus through cohesive work practices and collaboration.
We promote learning in its broadest sense through educational programming, student leadership, community standards, and civic engagement. We are committed to a diverse community that fosters inclusivity by encouraging personal growth and mutual understanding for all residents.
WHO'S HERE TO HELP?
Resident Assistants
To most residents, the Resident Assistant is the most visible representative of the Residential Life Office.
An RA lives on each floor and is:
a resource for residents in academic and personal concerns
sensitive to the particular problems and needs of residents
a referral agent for professional help
Resident Assistants have scheduled office hours every evening from 6pm - 11pm. The RAs who serve the three residence halls on 27th street can be located in the RA Office in Coed Hall. The RAs who serve Kaufman Hall can be located in the RA Office in the Kaufman Lobby.
Want to be a Resident Assistant?
Residential Education Coordinators
The Residential Education Coordinator (REC) is responsible for providing leadership and supervision for a residence hall community. Reporting to the Associate Director of Residential Life, RECs oversee the daily operation of a residence hall and serve as an active and visible Residential Life staff member. RECs lead educational and community-building initiatives within a residence hall through supervision of staff, building relationships with and assisting residents, enacting community standards procedures, and serving on an on-call duty rotation. RECs are also instrumental in contributing to the success of Residential Life and the FIT Division of Student Success through department-wide and campus activities including move in/out, student leadership retreats, summer housing, departmental committees, assessment, and more.
Residence Hall Association
The RHA is made up of residents who plan events and voice the concerns of the resident student. We encourage all residents to attend RHA meetings.
Public Safety
All residence halls have a 24-hour security guard in each lobby. Residents are required to show a valid resident ID every time they enter the building. The security guard is only the first line of defense when it comes to security measures. Residents are expected to keep doors locked, report any unescorted strangers in the building, and observe safety guidelines as stated in the Resident Handbook (.pdf).