The Love Your Library program is designed to provide insight and inspiration from creatives in various industries to the FIT community. Events in this series are free to our students and faculty. Outside visitors may be invited. Please contact your Love Your Library event liaison for details on FIT policies and campus access.
2019-20 CURRENT AND FUTURE EVENTS
---
Library & IT Event Series 2019
MakerMinds Space
Needle Felting with Conductive Roving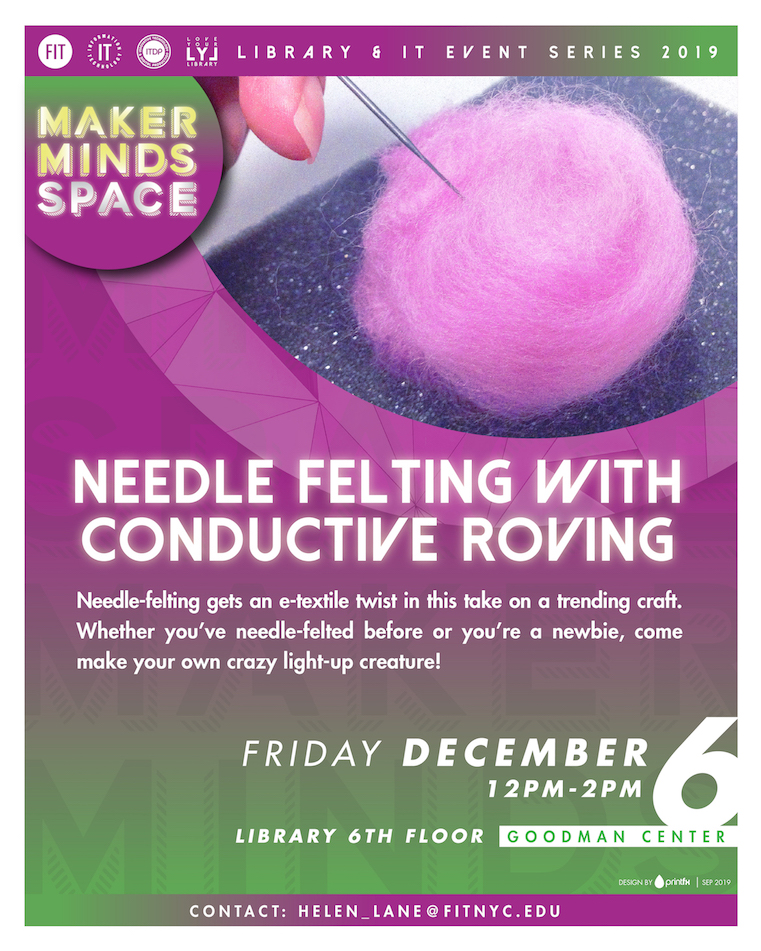 Needle felting gets an e-textile twist in this take on a trending craft. Whether you've needle-felted before or you're a newbie, come make a crazy light-up creature!
Friday, December 6th | 12pm - 2pm
Library, 6th floor | Goodman Center
Contact: [email protected]
---
Citation Salon
Research! Cite! Have a bite!
Thursday, November 13th | 5 pm - 11 pm
5 pm - 6 pm : How to Cite Sources in Any Style with Prof. Maria Rothenberg
Libarians will be available for assistance
6th fl of the Gladys Marcus Library, Shirley Goodman Resource Center
---
FIT Authors
FIT Authors Talks
Melissa Tombro discusses her book
Teaching Autoethnography: Personal Writing in the Classroom
Tuesday, November 5th, 2019
5pm-6pm
Library, 4th Floor, E435
---
Return of the Haunted Photo Boooth!
Wear your costume for a free professional photo!
You wil be sent a digital download
12-2pm | Thursday, October 31st
Goodman Center | E620 | MakerMinds Space
ITDP |FIT Library
---
Library and IT Event Series 2019
MakerMinds Space
Audio 3D Printing
(Click to enlarge and print)
Create an audio file in our audio booth and turn it into a downloadable 3D printable model. The 3D files will be printed during this session for you to take with you!
Friday, October 11 | 12 PM - 2 PM
Library 6th Floor | Goodman Center
Contact [email protected]
---
Library and IT Event Series 2019
MakerMinds Space
GitHub
(click to enlarge and print)
OPEN SOURCE OPPORTUNITIES WITH GITHUB
Learn about GitHub, the largest, most popular platform for open-source projects. Understand the basics of creating and using open-source repositories, and create a free webpage, using GitHub Pages
Friday, September 20th | 12-2pm
Library 6th Fl | Rm E601 |Goodman Center
Contact: [email protected]
---
Love Your Library Event
Join authors Lauren Stowell and Abby Cox for a discussion and demonstration of some techniques presented in their book:
The American Duchess Guide to 18th Century Beauty: 40 Projects for Period-Accurate Hairstyles, Makeup and Accessories
"Master Iconic 18th Century Hair and Makeup Techniques"
Thursday, September 12th, 2019 from 12pm to 1pm
Library | Goodman Center | 6th Fl MakerSpace (E620)
*Book sale and signing too!*
---
FIT Authors Talks
Professor Ron Amato gives an author talk and presentation on his book:
The Box
Wednesday, September 11th, 2019 | 5-6pm
Goodman Center | Library | 4th floor | E435
Focused on themes of isolation, desire, conflict and empowerment, Ron Amato's photographic series and book, The Box speaks to human experiences of self-discovery and community building. Using a series of boxes to create visual metaphors, Ron echoes his development from adolescence to adulthood through over 100 color, and black and white photographs.
---