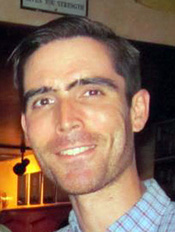 Brendan Leach is an Ignatz and Xeric Award winning Graphic Novelist and Illustrator, with comics and graphic novels published by Top Shelf Comics, Secret Acres, and Retrofit Comics. His comics have been included in many collections and anthologies, including Best American Comics 2011, Stephen Heller's Comic Sketchbooks, Smoke Signals, Suspect Device, and Flashed: Sudden Stories in Prose and Comics.

Brendans illustration work has been recognized by the Society of Illustrators and 3x3 Magazine. Clients include The New York Times, Moleskine, Xbox, ESPN Sportscenter, Wiley Publications, Time Out New York, and Time Out New York Kids.

Brendan received an MFA in Illustration from the School of Visual Arts, and a BFA in Fine Arts from Mason Gross School of the Arts, Rutgers University. He used to drive a Zamboni in New Jersey, but now he draws pictures in
Brooklyn, NY.