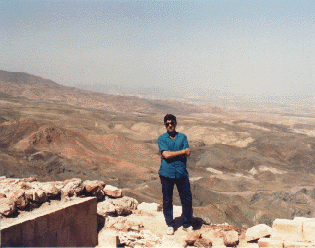 Professor
Office Location:Business and Liberal Arts Center, Room B648
Phone: (212) 217-4668
Email: [email protected]
Richard Turnbull is Professor in the History of Art department. He received his M.A. and Ph.D. in art history from the Institute of Fine Arts, NYU, where he majored in Islamic art and architecture and minored in modern art. He also earned a B.A. in history from Cornell University. He has received fellowships from the Foreign Language and Area Studies (FLAS) program, the Institute of Turkish Studies, the American Research Institute in Turkey and the Metropolitan Museum of Art. His most recent published articles are on Islamic mosques and fortifications and the photographer Luke Smalley. An article on the wall paintings of the Muradiye tomb complex in Bursa, Turkey was published in 2006 in a festschrift for Dr. Priscilla Soucek of the Institute for Fine Arts.
Before entering graduate school, Dr. Turnbull wrote pop music criticism for The Village Voice, Praxis, and The Cornell Daily Sun (among others), and worked as a graphic designer. He also lectures and teaches regularly at the Museum of Modern Art and the Metropolitan Museum of Art and has lectured as well on the Queen Mary 2 and other cruise ships. He teaches at Columbia University in the summer. Dr. Turnbull is also a practicing photographer and printmaker and whenever possible brings his fine art and travel experience to bear in the classroom. He has lived in Turkey and traveled extensively in the Islamic world and participated in the joint NYU-Harvard excavation at Aphrodisias in southwestern Turkey.
Before coming to FIT Dr. Turnbull taught at City College, the College of Staten Island and the College of New Rochelle. During that time he also published an article on the vicissitudes of adjunct life and teaching in the anthology, Ghosts in the Classroom.
Undergraduate Courses
HA 111 – Prehistoric to Medieval
HA 112 – Renaissance to Modern
HA 214 – Art in New York
HA 226 – Art and Civilization of Islam
HA 228 – Oceanic Art
HA 243 – History of Photography
HA 252 – History of Russian and Soviet Film
HA 306 – Far From Home: Travel Narratives and Art History (Honors)
HA 311 – Medieval Art
HA 345 – History of Industrial Design
HA 348 – History of the Modern Printed Image
HA 381 – The Word and the Page: A History of Writing and Books (Honors)
HA 398 – Architecture and Faith: Ancient and Islamic Cities (Honors)