Adjunct Instructor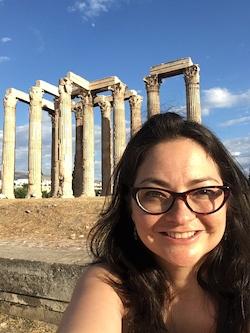 Office Location: Business and Liberal Arts Center, Room B634
Email: [email protected]
Jennifer Miyuki Babcock is an Egyptologist who specializes in the visual and material culture of ancient Egypt. Her dissertation, The Imagery of Anthropmoprhized Animals in New Kingdom Ostraca and Papyri: Their Artistic and Cultural Significance demonstrates how small, initially casual looking drawings of anthropomorphized animals are linked with major aspects of Egyptian art, such as narrative, parody, and aesthetics. Dr. Babcock has revised her dissertation into a book, and her manuscript, Tree Climbing Hippos and Enobbled Mice: Animal Fables in Ancient Egypt is currently in review with Brill Publishers. Her research interests, including the construction of visual narrative and the development of ancient Egyptian iconography, have been supported by faculty development grants and awards from FIT, the Pratt Institute, and the Parsons School of Design.

Prior to teaching at FIT, Dr. Babcock was a Postdoctoral Curatorial Associate at The Institute for the Study of the Ancient World, where she curated and organized exhibitions about the intercultural connections within the ancient world and the relationship of modern and contemporary culture to the ancient past. Additionally, she has held research and fellowship positions at The Metropolitan Museum of Art, The Museum of Fine Arts Boston, and the Brooklyn Museum.
Education
BA, University of California, Los Angeles
MA, PhD, Institute of Fine Arts, New York University
Selected Publications
Tree Climbing Hippos and Ennobled Mice: Animal Fables in Ancient Egypt. Culture and History of the Ancient Near East Series, Brill (In review)

"The Nudity of Cats and What It Reveals," The Society for the Study of Egyptian Antiquities Newsletter (Spring 2017): 1-2.

"Overlapping and Contradictory Narratives in Ancient Egyptian Visual Programs," Proceedings of the International Congress of Egyptologists XI, Archaeopress Egyptology 19 (2017): 26-29.

"Designing Identity: The Power of Textiles in Late Antiquity," ISAW Newsletter (Winter 2016): 8-9.
Courses
HA 111 – History of Western Art and Civilization: Ancient to Renaissance
HA 112 – History of Western Art and Civilization: Renaissance to the Modern Era
HA 121 – Cities and Civilizations: The Eastern Mediterranean World, c. 3000 BCE-1000 CE
HA 206 – The Art, Architecture, and Archaeology of Ancient Egypt
HA 226 – Art and Civilization of the Islamic World