Adjunct Assistant Professor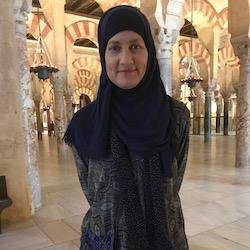 Office Location: Business and Liberal Arts Center, Room B634
Email: [email protected]
Dr. Ann Shafer ("Dr. Ann") is an art historian and designer, and a member of the department since 2013. She specializes in the arts of the Middle East and North Africa, and has published widely on the subject, with a special focus on architectural ornament and artisanal technologies. At FIT she teaches courses on the ancient Mediterranean (HA121), Islamic Art (HA226), and the winter travel session to Morocco. She believes in contextualizing art within broader historical and contemporary cultural practices. Among the related issues discussed in her courses are gender, race, the environment and sustainability, education, and politics. As a designer, she operates in the intersection of design and social activism, working especially with refugee and other traditional artisans to scale their businesses and their dreams.
Education
BA, University of Nebraska
MA, University of Chicago
MArch, Rhode Island School of Design
PhD, Harvard University
Selected Publications
"Image and Object in Islam: On the ka'ba and Its Popular Representations," in The Bloomsbury Handbook of Muslims and Popular Culture, eds. K. Peterson and H. Rashid. New York: Bloomsbury Press, forthcoming (2021).

Testing the Canon of Ancient Near Eastern Art and Archaeology. Co-edited by Ann Shafer and Amy Gansell. Oxford: Oxford University Press (2020). Specific chapters also authored by Ann Shafer: "Perspectives on the Ancient Near Eastern Canon: More than Mesopotamia's Greatest Hits" 1-41; and "The Ancient Near Eastern Canon in the University Classroom and Beyond: My Colleagues Speak" 274-296.

"No Man is an Island: Globalization and Resilience in the Fez zillij Tradition" Journal of North African Studies. Published online 2018. (forthcoming in print).

"Emotional Architecture: Cairo's Sha'ar Hashamayim Synagogue and Symbolism's Global Reach" in Synagogues in the Islamic World: Architecture, Design and Identity, ed. M. Gharipour; 94-124. Edinburgh: Edinburgh University Press, 2017.

"Re-Envisioning Information: The Maps We Make of Ancient Assyrian Palaces" in How Do We Want the Past to Be? On Methods and Instruments of Visualizing the Ancient Reality, eds. D. Nadali and M. Micale; 77-88. Piscataway, NJ: Gorgias Press, 2015.

"The Present in Our Past: The Assyrian Rock Reliefs at Nahr el-Kalb and the Lessons of Tradition" in Proceedings of the 57th Rencontre Assyriologique Internationale, Rome 4-8 July 2011, eds. A. Archi and A. Bramanti; 491-499. Winona Lake: Eisenbrauns, 2015.

Corps, image et perception de l'espace: de la Mésopotamie au monde Classique. Co-edited by Ann Shafer and Nicolas Gillman. Paris: L'Harmattan, 2014.

"Sacred Geometries: The Dynamics of 'Islamic' Ornament in Jewish and Coptic Old Cairo" in Sacred Precincts: Non-Muslim Religious Sites in Islamic Territories, ed. M. Gharipour; 158-177. Leiden: Brill, 2014.

"Cairo to Canton and Back: Tradition and Identity in the Islamic Vernacular" in Calligraphy and Architecture in the Muslim World, eds. M. Gharipour and I. C. Schick; 499-514. Edinburgh: Edinburgh University Press, 2014.

"The Assyrian Landscape as Ritual" in Critical Approaches to Ancient Near Eastern Art, eds. B. Brown and M. H. Feldman; 713-740. Berlin: De Gruyter, 2013.
Courses
HA 121 – Cities and Civilizations: The Eastern Mediterranean World, c. 3000 BCE-1000 CE
HA 226 – Art and Civilization of the Islamic World
HA 238 – Art and Design in Morocco