Digital Fashion and Non-fungible Tokens (NFTs)
The Offices of Online Learning & Academic Technologies and the Center for Excellence in Teaching (CET) invite you to explore Digital Fashion and Non-fungible Tokens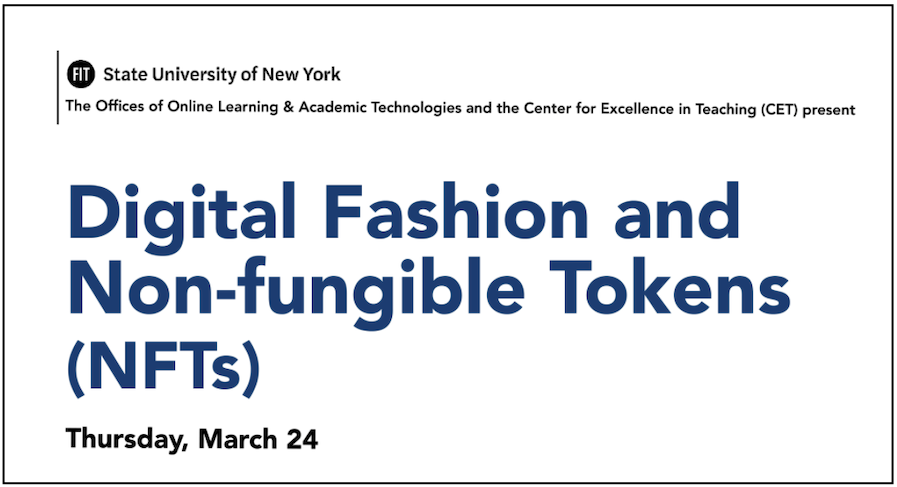 Guest speaker, Syama Meagher, will provide an introduction to this topic, including where fashion could be heading and how NFTs are changing the game for creators and brands. Ms. Meagher is the CEO and founder of Scaling Retail, a global consultancy----focused on the intersection of consumer and Web3.
She is a co-Founder of Rendall Co., a COVID-initiative PPE and workwear brand that was able to donate 60,000 masks. Her agency clients include fashion, lifestyle, cannabis and beauty brands. Syama is at the forefront of what's happening now in retail and speaks on business development, sales, & marketing, Web 3, digital fashion & NFTs and more for fashion & retail. She's presented talks with MAGIC, Tory Burch, Shopify Women, Liberty Fairs and more, and has been quoted in NPR, INC. Magazine, & WWD.
Professor Vincent Quan FBM, will follow with a faculty-to-faculty session on the business and transactional aspects of NFTs, including the role of crypto currency.
Vincent Quan, Associate Professor, Fashion Business Management, will follow with a faculty-to-faculty session on the business and transactional aspect of NFTs, including the roles of blockchain technology and crypto currency.
He will be joined by Nathan Yu, FBM graduate, and Chief Strategy Officer of KStarLive, a hallyu media firm based in Seoul, South Korea which specializes in partnering with firms to mint NFTs and related assets. Recently, KStarLive conducted a successful NFT campaign which allowed participants to purchase "mystery" NFTs. The session will elaborate on the transactional nature of NFTs and how blockchain technology, cryptocurrency, and NFTs are playing an increasingly important role as the Metaverse continues its evolution.
Check out the Preparing Students for the Metaverse Event Page.