Two New Scams:
Pell Grant and CARES Pandemic Grant for Students
A
n advisory has just been released by one the Higher Education cybersecurity communication groups alerting us to two phishing campaigns targeting students using the lure of the Pell Grant.
Pell Grant
The first one attempts to contact students by text message, a form of phishing called "SMiShing," congratulating them on their acceptance into the Pell Grant Award program and instructing them to look for an email and to respond immediately. Within minutes the individual receives an email requesting that they reply with personal information about themselves.
CARES Grant
Pandemic Grant for Students
The second phishing email that has been reported includes the subject line: **CARES Pandemic Grant for Students*** and includes a malicious link that also attempts to gather personal information about the student.
At the current time we are not aware of any FIT students receiving either of these phishing campaigns.
What can you do to protect yourself?
Use extreme caution when receiving emails with attachments and links. These links or attachments can be malware that will infect your computer. What looks like a legitimate hyperlink can be a link to a criminal website. When in doubt, hover your mouse over the text of the hyperlink; you should see the full URL, which will help to show whether it leads to a legitimate website.
Never send personal information over email if you are not 100% certain that the email is legitimate, or better yet, use the grant provider's online information system or secure portal to provide anything personal about yourself or your finances.
If you are unsure about an email, contact the sender to confirm using a valid method that is known to you. Don't use a phone number or email supplied in the suspicious email.
About Cybersafe
The Division of Information Technology is dedicated to informing the community of the latest cybersecurity threats. Visit fitnyc.edu/cybersafe and stay tuned for emails from

[email protected]

for the latest from the Cybersafe campaign at FIT.
Be aware—and be cybersafe!
COVID-19 Scam Targeting Students
A warning from the Federal Trade Commission (FTC) has been issued regarding a current email scam that is being sent to students advertising how to receive the economic stimulus check. These phishing emails have misleading subject lines such as "Memo from The Financial Aid (COVID-19 Relief Fund)" and ask students personal information.
Students should not answer emails with any request for Financial Aid or personal information if the email is not an FIT email. Do not answer email asking for your login information or follow a link that will download malware. For more information you can go to NASFAA and the Federal Trade Commission websites.
Loan forgiveness OFFERS
Students and graduates are getting targeted messages offering loan forgiveness for FIT students. Some of these loan forgiveness offers are really links to malicious and not legitimate sites.
Below is a sample of a Facebook ad and the website that FIT is not endorsing.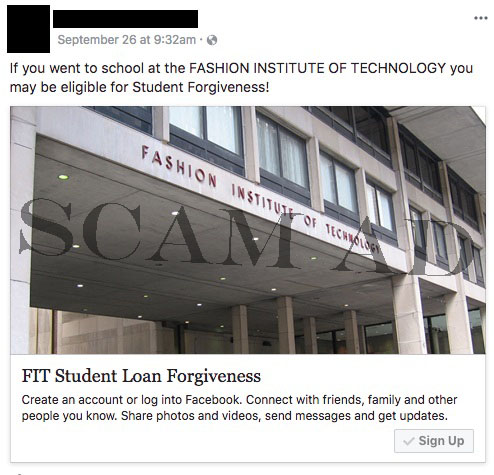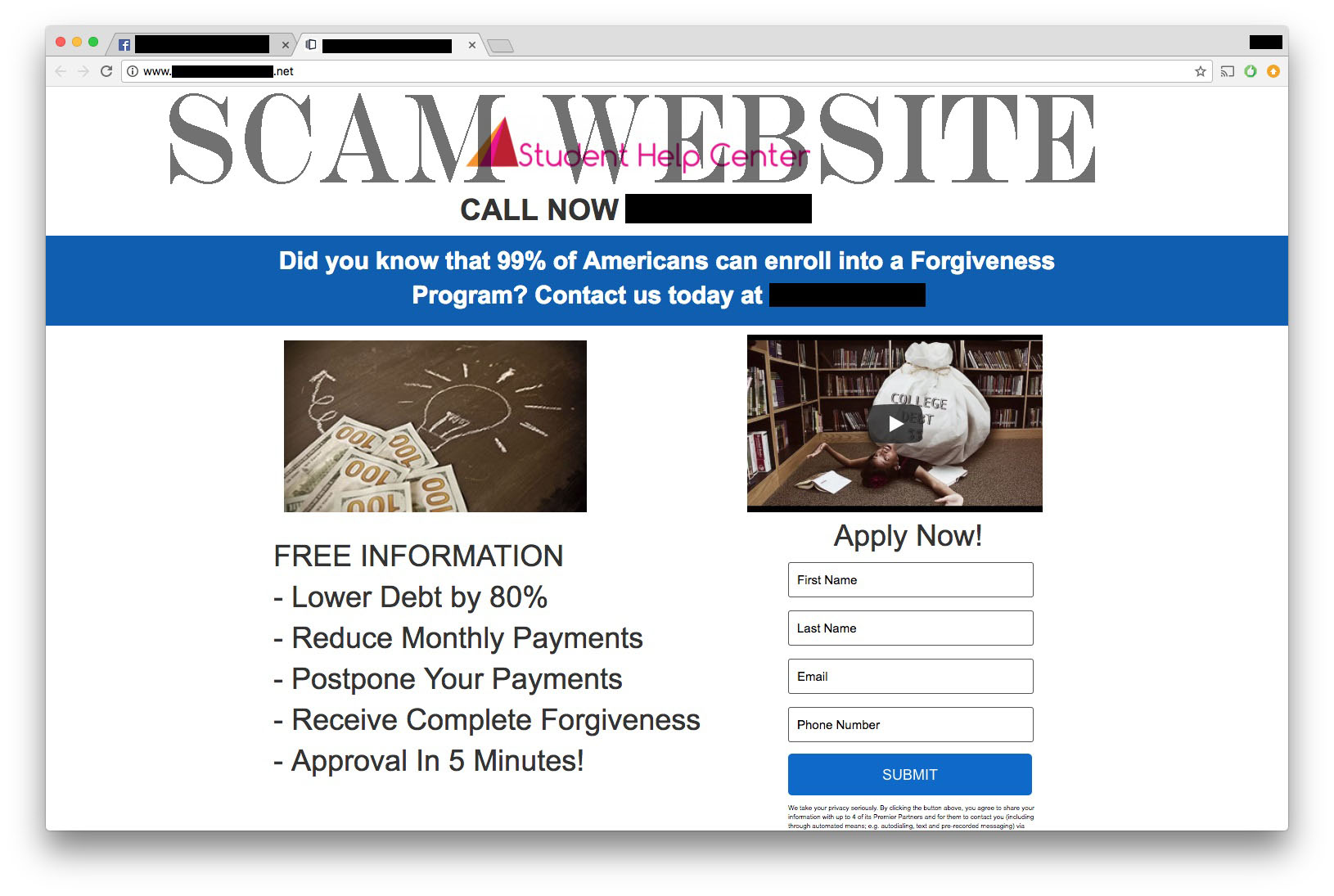 The only loan forgiveness, cancellation, or discharge programs are the ones that the Department of Education mentions on these websites:
Federal Student Aid - Public Service Loan Forgiveness (PSLF) Program
Federal Student Aid - Forgiveness, Cancellation & Discharge of Loan
Financial Aid Applications
There are unscrupulous companies that may guarantee scholarships, grants, work-study, and loans or will charge a fee to provide applications services to handle your paperwork. The only application for Federal Student Aid is the Free Application for Federal Student Aid (FAFSA) at fafsa.gov.
For more information about scams, we suggest you read Scholarship and Financial Aid Scams on the Federal Trade Commission website.
Scholarships
There are free scholarship searches online, so don't waste your money on fee-based scholarship matching services. If you have to pay money to get money, it is probably a scam. Do not give money, bank account, or credit card information to anyone claiming to have a scholarship for you or to anyone guaranteeing you will get you a grant or scholarship.
For more information regarding scholarship scams visit FinAid.org and Common Scholarship Scams.
Selective Service Registration
Almost all male citizens and resident aliens living in the U.S., who are 18 through 25, are required to registrar with the Selective Service. Do not be scammed by websites that claim to register men for Selective Service for a fee. The United States Government does not charge a fee for men to register for Selective Service. There are several ways to register:
On Your FAFSA: When you apply for financial aid, choose "Register Me" on your FAFSA application and the Department of Education will send your request to the Selective Service.
Online: Selective Service Website.
Post Office: A form can be obtained at any U.S. Post Office.
Your School: More than half of the high schools in the nation have a staff member or teacher appointed as a Selective Service Registrar; check with your high school counselor to see if there is a Selective Service Registrar at your school.